The best hammock chair is a must-have for people who want a comfortable place to relax in their patio or back yard garden. Especially while reading a book, admiring the view, and just enjoying peace and quiet! While it isn't actually designed for naps, many actually use it for dozing off an hour or two as well. Indeed, many homes have more two or more hammock chairs to accommodate nearly everybody. Hammock chairs are also popular because these can be installed in an outdoor garden and even indoor. This hanging chair mostly used inside a bedroom, on the patio, and under a tree. The hanging hammock chair is also easy to install. It is even portable considering that many models only require a single point of attachment. These provide a feeling of weightlessness, as well as comfort and coziness, that other types of rigid furniture (e.g., chairs) don't
It's something that kids and adults love. And these are affordable, too! Many deluxe model are very cheap and affordable and these will last for several years with proper care and use. In this article, we will talk about our selected five of the best hammock chair in the market. Not only that we'll also talk about how to hang and where to place a hammock chair in the latter part of the article.
Best Hammock Chair reviews
1.Sorbus Hanging Rope Hammock Chair
If you're looking for a truly portable hammock chair, then this SorbusHanging Rope model is your best choice! You only need strong and sturdy support, such as a large tree branch or a strong beam, to hang it an outdoor patio or indoors. You can transfer it nearly everywhere, from the bedroom to the beach, and hang it through its large loop at the top.
Tip: Use a large D-ring, hook, or wrap straps for extra strength when hanging it, especially when it will be used by children or large persons.
The material used for the chair itself is a blend of cotton and polyester, a machine-washable fabric that feels relatively soft and supple against the skin. You should wash the chair – sans the hardware, obviously – as regularly as possible or when it becomes dirty. Pathogens including bacteria can quickly develop in it otherwise. The blue-and-green striped pattern has a summery feel about it, too. Men, women, and children can use the hammock, thanks to its 265-pound capacity. But we don't suggest two adults using it at the same time – two small children can do so, nonetheless –for safety reasons. The chair's 40×50 inches dimension can accommodate an average-sized adult or two small children.
When the user sit down on the chair, they will feel that it forms a cozy cocoon around your body. But you won't feel like you're being smothered by the material, a plus when you have claustrophobia-like issues.
Pros
Portable design
Easy to install indoors and outdoors
High weight capacity
Sturdy materials used
Cons
No hanging hardware included
No chair back
2. Hammock Sky Large Brazilian Hammock Chair
At first glance, the cotton-polyester fabric looks like 100% cotton but no matter! The combination of soft-on-the-skin cotton and extra-durable polyester means that this Hammock Sky Large Brazilian hammock chair will last for years with proper care. Be sure not to expose it outdoors permanently since cotton weathers faster than polyester. You can also easily attach and detach it from whatever branch or beam it's attached to. Especially when it's used with a carabineer-type clip. You can then attach it nearly everywhere, such as from a tree, from the ceiling, or from a "C" stand. You may even bring it to camping, picnics, and beach outings where a tropical vacation feel adds to the experience.
Plus, it comes with its own carry bag! You can easily fold it, place it inside its carry bag, and stow it in your car if you're planning on using it outdoors on an out-of-town trip. You also have three color choices –blue and green stripes, hot colors or rainbow colors, and natural – so there's always something for every décor. While it doesn't have a chair back, it's large enough to allow for several seating and semi-reclining positions. You can then lounge, take a nap, or read a book while on it, as well as either keep your legs down or crossed, while in a semi-reclined position. Smaller persons, such as children and petite adults, may be able to use it as a regular hammock (i.e., fully reclined position).
Pros
Lasts for years of regular use
Indoor and outdoor use
Attractive colors and design
Easy to attach and detach (i.e., no assembly needed)
Cons
Spreader bar isn't eye-catching
Top rope may be too short for tall people
3. Krazy Outdoors Mayan Hammock Chair
The diamond-weave pattern on this Krazy Outdoors Mayan-style hammock chair allows for better air circulation than the cotton-polyester and nylon fabrics of other hammocks. You will love that your back and sides are sufficiently aerated, so to speak, by the breeze or fan – look, Ma, no sweat! You don't even have to use a blanket or pillow as a cushion. Since it's made of 100% cotton rope, a soft material that won't irritate your skin.
The material also stretches well to accommodate sitting and semi-reclining positions, too. You can sit down in an upright position if you want to swing, or you can partly lie down on it to take a short nap or read a book. Your small children can use it two at a time too. Thanks to its wide dimensions (75×39 inches) and high weight capacity (300 pounds).You may also install it indoors or outdoor garden. But we suggest getting it indoors during inclement weather, especially during rain and snow. Since the cotton material tends to weather faster than cotton-and-polyester and nylon fabrics. You will have an easy time installing and removing it, too, thanks to its attachment loop at the top. The color choices are mocha, chocolate, brown, and natural white. You can wash it when it becomes dirty, too.
Pros
Durable yet soft cotton material
Weaved pattern
Easy installation
Comfortable to use for kids and adults
Cons
Material is prone to faster weathering
4.Club Fun Hanging Rope Chair
Red definitely catches the eyes and it's the reason that you will be attracted to the Club Fun Hanging Rope Chair as soon as you see it!  But while red it its dominant color, its colorful striped fabric also features bright hues of purple, yellow and green – indeed, it's a great addition to your indoor or outdoor space.Beautiful appearances aside, the blend of high-quality cotton and polyester fabric has a soft and smooth feel, a bonus for people with sensitive skin. But don't be fooled by the softness. It's a sturdy fabric that can last for years with proper care, such as regular washing and following the weight limit.
It has a 265-pound weight limit. That is just enough for an average-sized adult or two children to fit into the chair without its fabric ripping or its wooden bar breaking. Its wooden bar keeps the two sides of the chair apart just enough not to smother the person(s) sitting on it. It's also deep enough (18 inches) to accommodate a tall person and wide enough (35 inches) for an adult. You can lean back, perhaps take a nap in a semi-reclined position, while on it since it has a fabric back. You may or may not use the back pillow. Although we recommend using both the bottom and back pillows for maximum comfort.
Pros
Attractive design
Durable materials used, from the fabric to the wooden bar
Comfortable and cozy to use for prolonged periods
Easy to install and remove
Cons
Requires other hardware (e.g., wood bracing, eye hooks and springs)
Only available in one color
5. Best Choice Products Hammock Hanging Chair
Admittedly, this Best Choice Products hammock chair looks like a cross between a child hanging chair and an adult's torture device because of its numerous attachments. But closer inspection reveals that these attachments actually have a purpose! Think of it as the ultimate in hammock chairs for avowed couch potatoes, if you want, thanks to its extras. These include armrests for when you want to feel like a king on a throne, a footrest for resting your tired feet, and a cup holder for keeping a cold can of beer, as well as a pillow to rest your head-on. Come on – it feels like you're on a vacation in your backyard or on the patio!
Don't worry about actually getting on the chair either. Just sit down on it as you would on any other hammock chair, put your feet up, and relax, easy-peasy, indeed. With its durable weather-resistant 600D double-layered nylon material, it's among the sturdiest hammock chairs we've found, too. You can install it outdoors and leave it during the summer and spring months without the material being the worse for wear. But it's still important to bring it indoors during the autumn and winter months to prolong its lifetime.
Pros
Comes with extras for ultimate lounging
Lasts for years
Available in blue and red
High weight capacity (250 pounds)
Cons
Isn't as soft as cotton-polyester hammocks
Isn't as attractive as other hammocks
Where to Hang Hammock Chair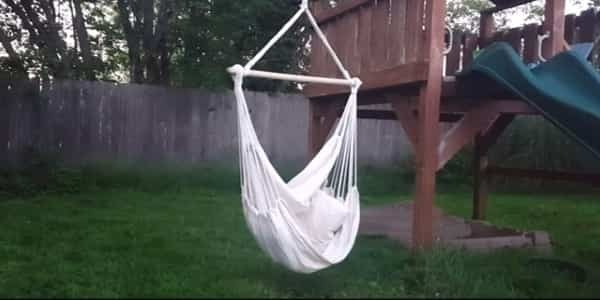 Well, hanging a hammock chair is not as easy as hanging a  bug zapper in patio and garden.As previously mentioned, a hammock chair can be used indoors and outdoors. But it's important to choose a safe and stable place from which to hang it on, whether it will be used by adults or children.Basically, whoever will use it should be able to get in and out of it easily, as well as place their feet on the ground when sitting upright on it. But since both adults and children can use a hammock chair, getting the perfect height can be a challenge. We suggest finding the most comfortable height for the people who will frequently use it – higher for adults and lower for children.
There are two ways that a hammock chair can be hung outdoors –
1. On a tree branch

If you're planning to hang it on a branch, you have to check that it can actually take the weight of both the hammock chair and the user. Your best choice is a relatively mature tree with a thick branch from which the chair can be securely hung.
Tip: Hardwood trees, such as oak and maple, are best for this purpose.
2.On a "C" stand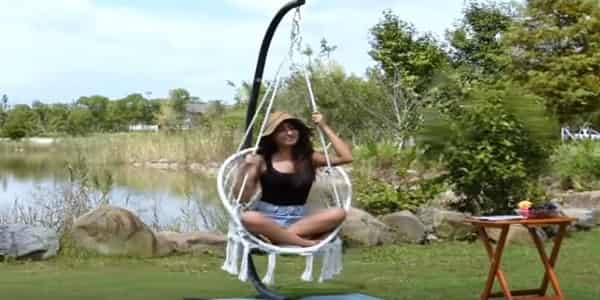 If you're planning to hang it on a "C" stand, you have to check that the height of the stand allows for the desired clearance between the chair and the ground. You must also check that the stand doesn't have weak or rusty parts, from the hook to the base. You should also place it on a flat, level and hard ground so it will stay stable at all times.
With a "C" stand, you can place a hammock chair nearly everywhere – besides the pool, on the patio, and in the garden, even in the lawn of your local park. You can also take it with you on your hiking and camping trips, especially where there are trees to be found.
How To Hang A Hammock Chair
Among the best things about modern hammock chairs is that these are easy to attach and detach from branches, beams, and joists. Many of them come with loop attachments although safety experts suggest using extra hardware, such as D-rings, carabineer clips, and wrap straps for added safety.
But there's still a need for general instructions on hanging a hammock chair! Here are a few useful tips for doing so indoors.
1. Selection of the Area
Select a relatively spacious area, whether it's in the corner or the center of a room, or in your garden back yard, where you can use the chair. Your choice will depend on the type of activities you want to do while in it – swing like a child or relax – but there should be sufficient clearance at the top, sides, and back. We suggest 6 feet of vertical clearance, 3 feet of back clearance, and 2 feet of side clearance on both sides.
2. Arrange the attachment accessories

Study the hammock's loop attachment and determine the need for extra hardware. You may have to purchase a carabineer clip, for example, as well as a length of rope or chain to ensure that it's securely attached to the ceiling joist.
3.Select the ceiling joint where we want to attach our best hammock chair
Find the sturdiest ceiling joist or strongest tree in our garden with a stud finder and mark both sides to locate its center. Alternatively, find the center of an exposed wooden beam where the hooks can be installed.
4.Drilling process
Drill a pilot hole through the joist, beam or tree using a power drill where the eye screw can be inserted. Check that the pilot hole should be about 2-3 inches deep for safety reasons.
5.Installation Of Eye Screw

Install the eye screw into the ceiling joist where the pilot hole has been drilled. Check that its ring touches the ceiling; use a screwdriver, if necessary.
6.Linking the S-hook or Attachment loop
Link the S-hook or attachment loop to the eye screw and attach the rope to the S-hook. Knot the rope securely.


You will also find instructions manual, even a video link, for hanging the hammock chair on the ceiling – just follow them. Furthermore, test the hammock's weight capacity gradually by lightly sitting on it first and then slowly putting your full weight on it.
How to Hang Hammock Chair from Garden Tree
Hanging a hammock chair from a tree starts with choosing a strong tree branch with an estimated weight capacity of between 250 and 300 pounds. This is true even when only children are expected to use it – they may be lighter in weight but they are friskier than adults and, thus, will really put the chair through its motions (i.e., swinging).


A few tips when choosing a tree branch:
Selection of the tree and area
Look for a hardwood tree with a healthy horizontal branch, as well as little obstacle by way of drooping smaller branches, large rocks, and other possible safety hazards.
Hight measurement
Measure, if necessary, the location such that it has 6-8 feet, at least, of vertical clearance, too.
Check the tree branch very carefully where you want to hang it
Check the branch for any signs of weakness, such as splitting, and the trunk for signs of wear and tear. If it looks weak, then don't risk it, especially when children will be using the hammock chair. When you have chosen a tree branch, throw a sufficient length of rope over the branch at least twice for added safety. Spread it on the branch for even weight distribution, as well as for preventing the branch from splitting at a single point.
 The final installation process of the hammock chair
Use a 15-feet length of rope, which will provide plenty of slack for height adjustments. Either cut off the excess or tie knots with it, if you're planning on using the chair elsewhere. Then, thread the ends of the rope through the chair's hanging mechanism. You should be able to hold the ends of the rope in one hand and hold the hammock loop on the other hand; ask for assistance, if needed. You can then slide the chair's reinforced loop while keeping the rope taut.
Tip: Check that the hammock's loop actually sits right under the branch. Tie several knots on the rope to ensure that the chair's as secure as possible. Test the weight capacity of the hammock gradually, too, first by sitting down on it lightly and then putting your full weight on it.
Things You Need To Check Before Buying The Best Hanging Chair
Buying the best hammock chair requires consideration of several factors. While choosing based on form (i.e., attractive design) has its merits, it's also crucial to choose based on function (e.g., durability, portability, and ease of installation). Here are the factors that we think should be considered in your next purchase.
Cost
While hammock chairs are among the most affordable furniture, it doesn't make financial sense either to buy a cheap-ass one just to save a few dollars. Be sure to balance good quality with a good price, especially if you want to get the best value for your money from every purchase.
Consider the frequency of use, where it will be used
Be sure to consider the frequency of use, where it will be used, and what conditions it will be used when considering the price. You may, for example, consider a more expensive chair since it's more durable in outdoor conditions. You should consider which chair best fits in your comfort zone, too.
Capacity
The weight capacity of a hammock chair will be affected by its materials and design. On one hand, the materials should be strong and sturdy enough to actually carry the weight of an adult or children. Look for a high weight limit, although it must be emphasized that most chairs have weight limits ranging between 250 and 300 pounds.
 Fabrics Quality And Material
Cotton, cotton-polyester blend, and nylon are among the most common materials used. While cotton and cotton-polyester blend fabrics are more comfortable on the skin, these are more prone to weathering than nylon. But nylon doesn't have the soft and smooth feel against the skin as cotton materials, a disadvantage offset by its sturdier property.
 Design and mechanism of the hammock chair
Of course, you have to consider the overall design of the hammock chair. You may want a more natural look, such as beige, or a more colorful look like rainbow stripes in your bedroom, patio or garden. On the other hand, the design also matters in terms of capacity. Look for thick supporting ropes, a sturdy wooden bar, and strong loops attachment when considering several hammock chairs. Check, too, that the dimensions – height, width, and length – will accommodate the adults and children who will be using it.
Conclusion
The best hammock chair will definitely add a tropical vibe to your bedroom, patio, or garden! There's something great to be said about relaxing in a hammock when you're feeling sad or happy, stressed or relaxed, and alone or with family and friends.The comfortable and cozy feeling of being cocooned without being smothered while in a hammock brings back childhood memories. You will probably remember the warm feelings of being rocked to sleep in a hammock, the rush of excitement of vigorous swinging on a hammock with your friend, and the relaxed well-being of relaxing on a hammock after a hard day's work.
Indeed, a hammock chair isn't just a piece of furniture! For many of its satisfied users, it's a relaxing place to read a book, chat with your family and friends, and take power naps. It's somewhere they can contemplate the beauty of life and nature, too, without spending a dime on appreciation classes. So, what are you waiting for? Buy your own hammock chair now and enjoy the good life in the comfort of your own home!