Fire pit parties without comfortable chairs are the worst. If you have a fire pit in your backyard where you have regular bonfire parties, you would know how important it is to have comfortable chairs to relax in. people tend to use simple lawn chairs for their fire pit parties. However, there are two downsides to it, the main one being these chairs are not safe to be used around fire. The second one is, they are not as comfortable as they should be. Lawn chairs are usually upright and don't provide the right posture for relaxation.This post is all about helping you find the best fire pit chairs for your backyard. We have come up with a list of eight best and affordable chairs that can make your bonfire parties a lot more fun. 
So check out the list below…
Best Fire Pit Chairs Reviews 
For our readers convenience, we divide our whole review into some subcategory, that is given below
Now let start the main review…
1.  Best Overall: Keter Chair with Table 
This set of two chairs and a table come with resin construction which makes them ideal for use with the fire pit. The construction is done using polypropylene resin that is known for its extreme durability. The best part is, this resin weather resistant, water proof and heat resistant. Even if you leave it out in scorching sun or rainy weather, it will not lose its color or sturdiness. Apart from this, the chairs, as well as the table boast a rattan design that is as comfortable and durable as woven rattan. Each chair has a weight capacity of 299 pounds but are extremely light weight. Hence, rearranging them or putting them away is quite easy. The chairs and the table are shipped unassembled. However, the assembly is quite easy and does not require any tedious screwing and unscrewing. 
This set of two chairs and a table is out best overall pick due to the high value for money it provides. The fact that the rattan is not woven and it is actually propylene resin mimicking the design ensures maximum durability. Moreover, the seating area and the back are made slightly curved improving the overall comfort provided. They are available in sparkle grey and black color; hence, they will go with almost all kinds of backyards and patios. They come in disassembled form, however, are extremely easy to put together. 
Pros 
The chairs and table are extremely durable and sturdy thanks to the resin construction. 

Since the resin is not woven like rattan, it is more durable. Woven rattan can be ruined by a single tear. 

Each chair can endure 299 pounds of weight despite being lightweight. 

It is weather resistant, heat resistant and water proof. 
Cons 
The seats are not very comfortable. 

The chair can get wobbly at times. 
2.  Best Value for the Money: Folding Adirondack Chair 
This oversized Poly Lumber Folding Adirondack Chair by ECCB is all you need for your fire pit area. It has that traditional wooden chair look with a modern twist. The chair come in 21 different color options which means, no matter what backyard theme you have, there is something that will go with it. The best part is, this Adirondack Chair does not compromise quality over looks. On top of its chic design, it is strong, durable and sturdy. Under the wooden structure if features a fully supported frame that is constructed using 316 stainless steel. 
Apart from this, the chair is designed to be eco-friendly since it is constructed using 95 percent recycled materials. On top of this, it is not only very easy to assemble but is also portable. It can be easily folded and taken along on picnic trips. 
This Adirondack chair is for anyone who is looking to add something chic yet traditional looking to their backyards. Adirondack chairs have been used in backyards for as long as we remember. However, in most cases they are either used in natural wood color or in black. The ECCB outdoor has changes the outlook to these chairs and have added a modern touch. To make them more comfortable to use, they have also added a folding system to it. The chair also comes with a cup, wine glass and mobile phone holder. This makes sitting on them a lot more convenient. 
The chairs are completely treated for outdoor usage; hence, you don't have to worry about any wear and tear due to weathering. However, the joints and screws can become squeaky after being under the sky for a while, for this, all you have to do is add a little hardwood oil to the joints. 
Pros 
The chair offers a wide range of color options to choose from. 

It features a stainless-steel chassis that improves the overall durability and sturdiness of the chair. 

It is constructed using 95 percent recycled material. 

The chair is easy to assemble and is portable. 
Cons 
These chairs cannot handle plus size people. 

Don't have enough space for taller people. 
3.  Best Outdoor Stack Chair: Flash Furniture Fire Pit Outdoor Chair 
If you are into traditional stuff and would like to add similar stuff to your home, this fire pit chair is the one for you. It is designed using centuries old rattan design in chocolate brown color. Rattan chairs have been long known for their comfort and durability. Their most prized feature is the fact that they are low maintenance. Even if you leave them out in the sun or in rain, you don't have to worry about the chassis disintegrating or the rattan tearing.
These four rattan chairs have been designed with a modern twist; they are not only easy to store but are also much better looking then old school rattan chairs. The arm rests are even integrated with rattan wrapped all around. The chair is specifically designed to add that extra oomph to your backyard. Whether you want to use it around the fire pit in your back yard or just in your patio, it will look great. The chairs are designed such that similar chairs can be stacked over each other making storage easier. 
Other than this, the chair comes with a curved back which gives the user a lot of comfort. Since its design is so universal, for more comfort it can easily be paired with cushions and throws to go with the theme of your seating area. The rattan thread used is water proof as well as weather and heat resistant. Hence, you can easily use it around the fire pit. 
For added durability, the heavy-duty steel legs are enforced using horizontal steel bars. The leg tips have rubbed integrated to prevent any scratches on the floors. 
Pros 
The chair comes in a stackable design that makes it ideal for smaller spaces. 

The chair is designed such that the rattan adds extra durability, stability and comfort to the structure. 

It is extremely lightweight and hence, is very easy to move around even if there are a few chairs stacked. 

It can be used indoors as well as outdoors without compromising on the durability. 
Cons 
If the rattan thread tears in one place the whole chair will unravel slowly and gradually. 

The chairs are slightly wobbly. 
4.  Portable Patio Chair: 4 Pack Chair of Giantex
This pack of four chairs by Giantex are ideal for you if you are looking for something reasonable yet something that will accommodate your family. Of course, buying individual chairs costs much more than investing in a set of chairs. These chairs are designed to be durable and sturdy. They are constructed using heavy-duty steel frame that is treated for resistance, corrosion and peeling. The best part is, these chairs have a foldable design. They can be easily folded into a compact size that can fit into the trunk of your car or in a corner. 
This set of four chairs follow a minimalistic design. They feature a simple steel structure with a mesh fabric on them. Even though the chairs are pretty basic, they are very comfortable and durable which increases the overall value for money. The best part is their foldable design. This makes them ideal for road trips and days on beach. If you don't want to lie down on sand or are going for a picnic but don't want to sit on the ground, these portable and lightweight chairs can be your ideal travel partner. 
The fabric used is stretchable and breathable which makes it much more comfortable to sit on. Even on warmer days, the chair will not make you feel suffocated and hot like most fabric chairs do. The mesh is treated for waterproofing and effects of weathering, hence you don't have to worry about the climate and the weather interfering with the durability of these chairs. The stretch-ability makes them perfect for people with back ache issues. 
They are only available in neutral grey colors, hence they can compliment almost all backyard and indoor patio themes. 
Pros
The back of the chair has a slight angle which improves comfort. 

The cloth is a mesh which makes it ideal for hot weathers. 

The chairs are portable and lightweight. 

Construction is done using heavy-duty steel. 
Cons 
If you move them back and forth while sitting on them, they might start folding. 

The mesh is not very durable. 
5.  Best wooden fire pit chair: Eucalyptus Adirondack Chair 
Are you looking for a comfortable chair that fits the outdoor setting? This Adirondack chair by outdoor interiors might be a good option for you. It is both water and sun resistant and has a high weight endurance as well. The chair is weather resistant; hence it will not wear out with time. This particular chair is manufactured using eucalyptus tree that is considered the best when it comes to endurance and durability. The wood is dense and provides a teak-like performance at a lower cost. 
Apart from this, the chair comes with linseed oil greasing which ensures a longer lifetime. The chair also features a foot rest that can be easily closed to convert it into a simple chair. Moreover, the chair can be assembled and disassembled easily. 
The chair comes in a light wood color and is ideal for outdoor usage. In case you are looking for something that will go well with both indoor and outdoor setting, you might want to look for something else. Since these chairs are pretty bulky, they are solely for outdoor use. as far as their maintenance is concerned, simple hardwood oil is perfect for the joints as well as the screws. Due to the effects of weathering, the joints can become squeaky and noisy. Adding hardwood oil can solve the issue. The chairs are not foldable and portable hence, traveling with them is not an option. 
Pros 
The chair is constructed using eucalyptus wood that is very durable and sturdy. 

Provides easy assembly and disassembly. 

It comes with a pillow case to make it more comfortable. 

It is wide and can accommodate plus size people. 
Cons 
It is not portable and cannot be folded. 

Not very easy to move around.
6.  Patio Sling Chair: Giantex Set of 4 Patio chairs 
Another set of chairs that made it to the list of best fire pit chairs are these Giantex chairs that are not only extremely easy to store due to their folding ability but are very lightweight as well. This set of four chairs is a reminiscent of old school garden chair design that are not found anywhere. Adding these chairs to your patio or garden will give it a subtle yet contemporary and stylish look. The woven mesh on the back and the seating area makes it even more comfortable. This mesh is designed to be extremely durable, sturdy and weather resistant. Moreover, it will not fade with time. 
The chairs are constructed using heavy-duty metal that is powder coated for rust and corrosion resistance. The front and rear legs are supported via four horizontal bars for added stability and durability. It comes in a disassembled form and is pretty straight forward to put together. The legs of the chairs are topped with rubber to prevent any scratches in case you decide to use them on a wooden floor. 
Apart from this, the armrests are made extremely comfortable. These armrests are connected to the front legs of the chairs, to keep them stable and solid. The shiny finish of these chairs makes them extremely easy to clean and maintain. Only wiping them with a wash cloth will do the task. Moreover, they are shipped in disassembled for. However, assembling them is quite easy and does not require any added effort. This also makes their storage pretty easy. 
Pros 
It is easy to maintain and does not require a lot of effort. 

The armrests are very comfortable and stable. 

These chairs are foldable and easy to carry.

The fabric used is wear and tear resistant. 
Cons 
They partially collapse when moved with some weight on them.

One tear in the mesh results in more tears. 
7.  Rattan outdoor chair: Flash Furniture 4 Pack chair 
This set of four rattan chairs is ideal for anyone who wants neutral colored, low-maintenance and low-cost chairs for their fire pit. They are the ideal café chairs and can easily fit in your patio, lobby and around your firepit. The best part is, they are designed such that they can be stacked on each other to save space. Hence, if you have a storage area in the back, you can easily stack them and store them until they are needed. 
The chairs are completely weather proof and can also endure high heats. The rattan used is high-quality and is treated to endure wear and tear. You can leave the chairs out in extreme temperature and neither the chassis nor the rattan will lose its color or durability. The chassis is constructed using powder coated steel treated for rust, corrosion, peeling and chipping. 
The back of these chairs is curved for extra comfort and the arms are also integrated with rattan. To prevent wobbliness in the structure the vertical bars are supported with the help of horizontal bars. They are only available in grey rattan color however; this subtle and neutral color makes them ideal for all kinds of themes. They are ideal for both, indoor and outdoor use. 
Pros 
These chairs can endure the effect of weathering. 

They can be exposed to rainy weather for a long time. 

Thanks to the stacking ability, they don't take a lot of space. 

The rattan makes them very comfortable. 
Cons 
Since they are made using woven rattan, a small tear can ruin the whole chair as it starts unraveling. 

The leg bottoms can make scratches on the floor. 
8.  Rocking Bistro Set: Outsunny chair set with table 
 The last fire pit chair in our list comes from Outsunny brand. This three-piece bistro set is ideal for anyone who doesn't want to compromise on style or comfort. It comes with two chairs and a table. Apart from using around fire pit, this set of chairs and a table is ideal for small seating areas such as patios. They come with heavy-duty steel construction and can be easily used outdoors. You don't have to worry about them soaking in rain or heating up in the sun. The chassis is treated for resistance, corrosion and peeling, which means you don't have to worry about those either. 
The design is pretty comfortable and overall, the chairs are made to be economical and ergonomic. Unlike most of the outdoor chairs, these are constructed after proper research. Hence, they are designed to provide maximum comfort.  Like zero gravity chairs, these chairs come with elastic rope suspension that help in reducing muscle tension and stress on your muscles. The best part is, both the chairs are rocking chairs. To prevent any accidents, the rocking is pretty subtle and low profile. The chairs can be easily folded into a smaller size for portability and can endure 265 pounds of weight. The complete set is available in two colors. 
Thanks to its portability, they can be stored inside any room on in a corner. Moreover, they can also be taken along on road and beach trips. 
Pros 
They feature both, maximum comfort and chic design. 

The table comes with a tempered glass top. 

Both the chairs are rocking chairs. 

The chairs and tale are portable, hence can be taken along on trips. 
Cons 
The rocking motion is very short. 

The back thread tends to get loose. 
Important things to consider when to buy the best fire pit chairs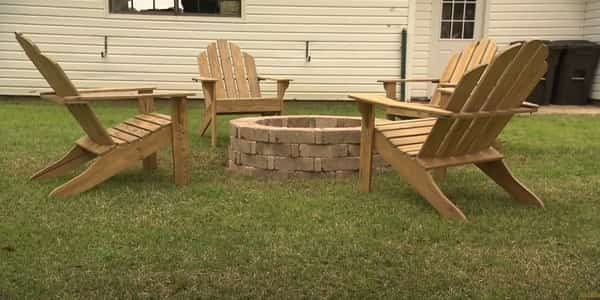 Choosing the right chairs to put around fire pits is quite tricky. Since you have to be vigilant about the type of material and chair you choose to avoid any accidents. Some of the things you should consider are:
Design and Construction 
While looking for the best fire pit chairs that go with the theme of your backyard, it is imperative that you look for chairs that are designed to endure the effects of weathering. Bringing the chairs inside after every use to protect them from heat and rain is only inconvenient. Hence, it is easier to invest in chairs that are weather resistant.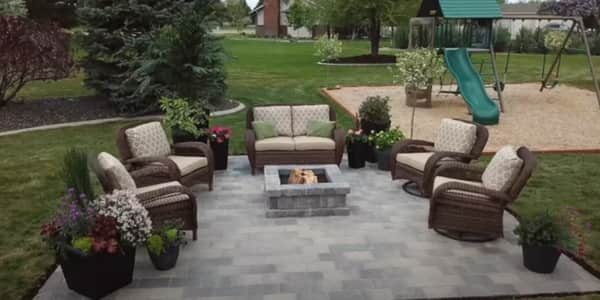 If you regularly burn the pit fire, you would know that chairs are usually arranged in a circle around the pit. Which is why, the chairs have to be strong enough to endure the heat from the pit fire. Moreover, they should have protective coating as well in case a stray spark hits the chair. Apart from this, during monsoon and humid weathers, chairs tend to get damp, losing their sturdiness.
Another factor that is imperative to consider is wax wicker furniture. Sometimes, to make it water-resistant, some furniture come with wax coating. Of course, this furniture will be weather proof but it will not be able to endure the heat from the fire pit and will catch fire. If it doesn't catch fire, the wax will melt for sure. 
Paint and coating of fire pit chair
Paint and coating play an important role when it comes to the durability of fire pit chairs. Make sure you invest in chairs that don't have toxic paint coating. Due to heating the toxins will release and can cause major skin and nasal allergies. Apart from this, they are very dangerous for the atmosphere as well. Sometimes, the paints used on outdoor chairs are inflammable. So before investing in something to keep around your fire pit, make sure it doesn't come with inflammable pain coating.
Comfort 
Of course, when you are investing in something to put around your fire pit, you want it to be comfortable. There are several fire pit chair models that let you sit upright. Even though it is a comfortable position, after sometime you get tired. Hence, investing in fire pit chairs that allow you to change the angle of the chair. So that you can cozy up in front of the fire is something you are looking for. 
Structure of the fire pit 
Even though bonfire and fire pits are not considered as something that need a lot of preparation and thought, focusing on its structure might save you from a number of accidents in the future. Choosing the set of chairs according to the structure of your pit is extremely important. The fire pit should be designed and structured according to the size of your property. If you end up lighting a bigger fire in a smaller area, you might end up damaging nearby property. However, if you light up a smaller fire in a larger area, you might not cover as much area as you want. 
Budget 
Last but not least your budget. Chair sounds pretty meager and is one of the most basic pieces of furniture out there. Hence, most of the time buyers don't set a proper budget for buying fire pit chairs. However, they might cost much more than what you expect or what you have in mind. 
It will be wise to allot a budget when you go shopping for fire pit chairs. So that you can get something that suit your needs and requirements without denting your pocket. This will also help you in narrowing down your options, that will make the task a whole lot easier.
Frequently Asked Questions 
As mentioned, finding the correct fire pit furniture is a daunting task. Which is why people have a number of questions in mind when looking for fire pit chairs. Some of the most common questions are:
1. How far should be the furniture from the fire pit? 
Even though this completely depends on the size of your backyard, it is advised that the furniture is place at least one or two feet away from the fire pit. In most cases, putting the furniture near the fire pit doesn't cause any issues whatsoever, however, for safety purposes you should put it at a distance of one or two feet. This will not only keep the furniture safe but will also keep you safe in case the fire gets wild suddenly. Moreover, if you have children around, it's better to go with the standard distance. 
2. Can you put sofas around the fire pit? 
You can put sofas around the fire pit if you want to. However, before going forward with the decision, make sure that the sofa cloth is not very inflammable. Sometimes, sofa materials can ablaze in an instant. Moreover, most of the sofas are not weather, water or fire resistant. Hence, if you leave it out after the bonfire, you might regret your decision later. So be wise while choosing a sofa to put around the fire pit. 
3. Are wood chairs good for fire pits?
Yes, wood chairs with weather-resistant coating are the most feasible option when it comes to fire pits. They neither catch fire suddenly nor are they very receptive to wear and tear due to weather. Hence, you don't have to worry about putting them indoors after every use. Moreover, wood chairs designed for backyards or firepits are usually foldable. Thus, if you don't have a lot of space in your backyard, you can always put them in storage. 
4. What is the best fire pit chair? 
There is no such thing as the best fire pit chair. What works for you might not work for someone else. The best fire pit chair is a relative term and means something else for everyone. Hence, while looking for the top fire pit chair, just consider all the properties mentioned in the buying guide, prioritize the things you want and choose a chair or a set of chairs accordingly. In this post we have detailed eight different sets of chairs that are according to the buying guide mentioned. Any one of them will prove to be ideal if you have a reasonably sized back yard. 
5. Is it okay to use the fire pit chairs on grass? 
Yes, it is completely okay to use fire pit chairs on grass. These chairs are not specifically designed for fire pits, they are outdoor chairs that have been designed with higher safety measures. Moreover, the material used and the construction quality is better than other outdoor chairs. Hence, using them on wet ground or even muddy ground will not affect them. If you want to fill the area around the firepit with sand or gravel, these chairs can be used on them as well. Hence, if you invest in a set of outdoor chairs after proper thought and consideration, they will be able to endure rough and tough usage without any issue. 
Conclusion 
When it comes to best fire pit chairs, there are a ton of options to choose from which can get overwhelming. However, as long as you have an idea of what you want, you will be able to find the perfect match for yourself. Of course, you will choose the correct set of fire pit chairs based on where you live and how large your backyard is. Besides a fire pit chair a beautiful hammock chair can also increase the beauty of your backyard. So you can also check our quality hammock chair list too. So that's all form this post. Hope our this article will help you to find your desire fire pit chair set .