Making a greenhouse is not a piece of cake, especially if you are doing it for the first time. More importantly, it costs a significant amount of money as you need a wide range of materials. But if you have access to lots of pallets, you can cut down the cost of building a small or medium-sized greenhouse. You just need to follow the correct method and utilize your old wood pallets to make a perfect greenhouse. Here we will discuss how to make DIY pallet greenhouse step-by-step. Read until we finish to get a clear overview of building a DIY wood pallet greenhouse. Let's start!
DIY Pallet Greenhouse : 4 Simple steps to follow
Building a greenhouse from old pallet woods requires you to follow 4 essential steps. You can create a greenhouse using a list of materials, so you don't need to stick to a common method. But here is the standard procedure to follow that help you to make a pallet greenhouse.
Step One : Attaching Standard Pallets
Step Two: Putting the Siding, Door Frame, and Decking
Step Three: Adding The Roof
Step Four : Finishing the Project
1. Step One : Attaching Standard Pallets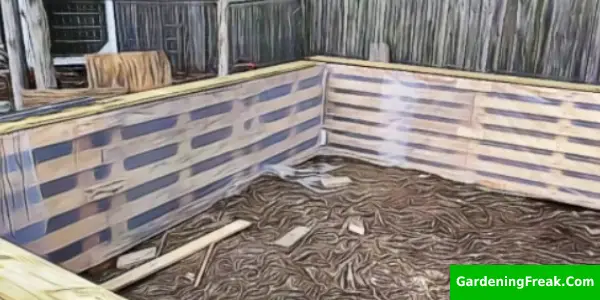 You can use any sized pallets and attach them together. But standard throw-away pallet item is better if they have the same size. Each pallet should be 4 feet long. So, attach two pallets for wide direction and three pallets for long direction. You can wrap the pallet wood in plastic sheeting to provide a little bit of insulation
2. Step Two: Putting the Siding, Door Frame, and Decking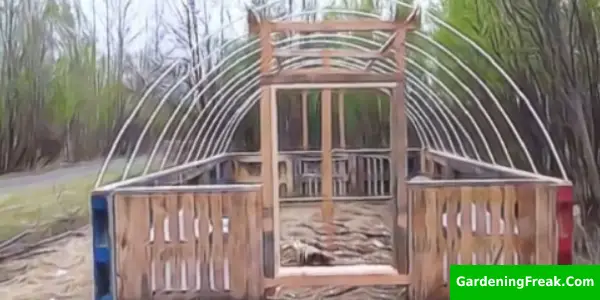 You can use a stockade fence or any boards to make the siding. Make sure all sides have a standard dimension to have a balanced appearance. If they are too old, you can sand the wood to bring out their original color. Next, you have to set up a door frame with several hinges, which can have a three-foot opening. In addition, add five-quarter decking by 6 inches. It should cover the width of the path of the pallet.
3. Step three : Adding The Roof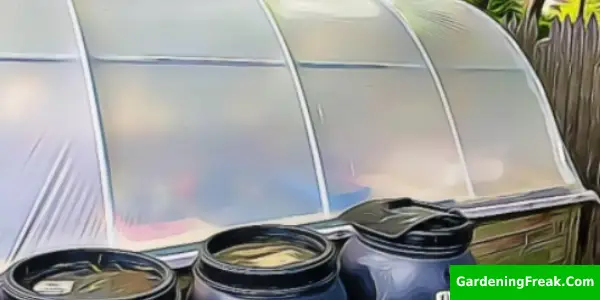 Now purchase some heavy-duty, multipurpose polythene sheets from your nearby store. Measure your would-be greenhouse and buy several polythene sheets based on it.Drill a hole in every corner of the greenhouse and add a screw in each. Now, setup the polythene sheets to cover the entire opening. Don't forget to utilize duct tape over the top with a screw head to protect the plastic.
4. Step four : Finishing the Project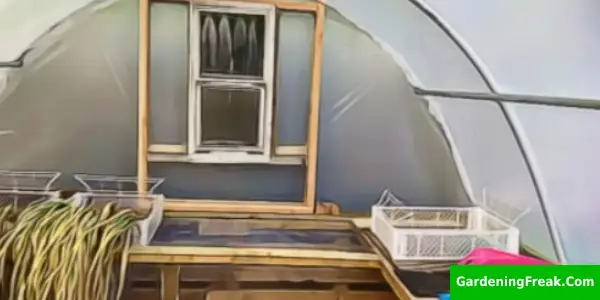 Since it is a small-size greenhouse project, you don't need many materials. However, if you want to ensure the maximum growth for the plants, you can add some important items.For example, arrange for proper ventilation if the internal area has a higher humidity level. Conversely, add several heat mats if there is freeze weather outside the greenhouse. Apart from that, if the greenhouse is located in a highly exposed sunlight area, you can use some shade cloths to protect plants that can't withstand full sunlight.
How Much It Cost To Make a Pallet Greenhouse
Making a pallet greenhouse is a budget-friendly option as you can use used or reclaimed wooden pallets. But it is completely free. Below are some common items you need.
| | | |
| --- | --- | --- |
| NO. | Items Name | Cost |
| 1. | Used wooden pallets ($10-$15x 5 pieces) | $50-$75 |
| 2. | Polyethylene Sheeting | $30-$50 |
| 3. | Wood screws | $10-$15 |
| 4. | Several light bulbs | $40-$50 |
| 5. | Black tarp for rain guard | $20-$30 |
| 6. | A Hammer | Free if you have |
| 7. | A Drill machine | Free if you have |
If you already have used wooden pallets, you will save a good proportion of the budget. Otherwise, buy it from any website like craigslist.
They sell at an affordable pricing option. Also, you have to manage woods or ready-made small doors.
How Many Pallet Need to Make A Greenhouse
It generally depends on how large you want to make your greenhouse. The larger the greenhouse size, the more wooden pallets you will need.
A Mini Pallet Greenhouse 
Does your garden size is too small? Does this mean you are prohibited from building a greenhouse? NO! You can create a small pallet greenhouse. Building a tiny pallet greenhouse is simple and super affordable. You just need to spend around $5-$10 to complete the whole project.Normally, you will need two pallets. Each size should be 4 x4. However, modifying them is necessary to give the greenhouse a perfect shape. But extra facilities like doors, windows, and ventilation will increase the cost.
A Medium Size Greenhouse
you want to make a medium-size greenhouse, each pallet size should be 4 x 4. So, add two wooden pallets in the width area and three pallets in the long area. You have to keep a space for a 3-feet long door for the front side. If you want to add several windows, keeping spaces is also important. Hence, you will need a total of five  4 x 4 pallets to complete the project.
Slightly Larger Pallet Greenhouse
If your garden or backyard has a massive space, you can build a slightly larger pallet greenhouse. You can keep the overall dimension 12'x24′.
Three standard pallets (4 x 4) will be necessary for the width area and six standard pallet woods for the length area. Hence, you will need a total of 9 pallets to build the entire greenhouse.
How Much Time And Man Power Need To Make A Pallet Greenhouse
It depends on how smaller or bigger your greenhouse size will be. The larger the greenhouse, the more time you will require to make a pallet greenhouse.
One Person for a Mini Pallet Greenhouse
A single person is enough to make a mini pallet greenhouse. But, an assistant is always great to have to make the job easier. After all, some tasks might be difficult to handle independently. A helping hand will improve the quality of your job. It will minimize the total time for completing the project. Generally, it takes 1-2 to finish the job.
1 or 2 Persons for a Medium Pallet Greenhouse
Since a lot of work is associated when making a medium pallet greenhouse, it is always better to have one or two persons. Otherwise, it may need around 4-5 days or more to complete all the tasks independently. You may need more days if you have to prepare the greenhouse area properly before installing it.
2 to 3 Persons for a Large Pallet Greenhouse
Though you can finish off a large pallet greenhouse with one person, two or three persons are better to do the job effectively.When you attach several pallets together, it becomes pretty heavy. Hence, several people can carry them together conveniently.Moreover, they need to hold it on different corners while attaching the wood panels. It may take around 5-10 days to complete the entire project of a greenhouse.
This mainly depends on what other things you want to include. Also, the time may extend when you make it instead of buying it in ready-made. But if you are in a hurry, hiring more people or telling your friends or family members to help you seems appropriate. Otherwise, you can build your pallet greenhouse with fewer people if you have enough time.
Things To Check While Make A Pallet Greenhouse
Some important factors should never be out of your sight while planning to make a pallet greenhouse. Here are some top essential points necessary to give a thought.
Correct Environment for Plants 
Ensuring an optimal temperature for the plants you will grow is important. For example, you want to add a few benches and grow mats for over-wintering plants. This will provide the additional heat they need. In contrast, installing a small greenhouse  heater and several light bulbs is necessary when growing tropical plants or tomatoes. But when you want to grow orchids, you want to set up a hanging structure to support the plants.
Choosing the Right Location 
Selecting an ideal location for your greenhouse is important. A decent amount of sun exposure is necessary regardless of the plant you grow.Generally, the south-east is the best direction for setting up a greenhouse. But installing it in the east, south, and west direction also appears okay.But if your area is prone to snowstorms, you also have to consider the heavy wind. North-east is the most common direction from where wind mainly comes.
Your greenhouse size and the plant size are closely related. Hence, install a particular height based on how much your plants will grow. Also, you may need to consider your height to go easily inside it. So you can take better care of the plants.
When it comes to selecting the pattern of a greenhouse, multiple options are there. You can choose different styles such as an attached lean-to, standalone, tabletop greenhouse, etc.It generally depends on the type of backyard or garden you have. The style should be matched with it. Also, considering the type of veggies or flowers you prefer to grow is another important aspect.
Choosing Decent-quality Pallets 
You may save a few bucks by buying low-priced pallets. But make sure each pallet has a good condition. Otherwise, you will fail to build a sturdy greenhouse.Don't mind paying out some additional money to get quality used pallets. Many online stores sell them. Be certain to choose the ideal size. It should be compatible with the type of pallet greenhouse you plan to create.
It is a good rule thumb to install an Automatic vent opener. Your greenhouse will remain safe from overheating. Additionally, you can consider installing oscillating fans. They are suitable for all-year usage. This will ensure no dead zones, especially during the cold seasons. If you are on a good budget, you can add other things such as heat, cooling, irrigation, etc. This is ideal when you are out of home for several days or weeks.
FAQS
Where to get pallet for greenhouse?
You can get free pallets or buy used pallets from many physical shops and online stores. But finding your preferred size is a little hassle.
How durable pallet greenhouse is?
Most pallet greenhouses are made of oak and southern yellow pine woods. They can last several years easily. However, installing high-quality framing, doors, and windows is also important for a better lifespan.
What are the main drawbacks of pallet greenhouse?
The primary disadvantage of a pallet greenhouse is that it is difficult to clean. This wooden material is porous-type and prone to get attacked by mold or insects when it becomes old. Hence, safeguarding the outside wooden surface is necessary.
Can we use pallet to make greenhouse selves?
Yes, you can build greenhouse selves using pallet woods. First, drill holes in each corner and attach four wooden batons for the upper area. Also, add four smaller batons to support the upper and mid area of the shelf.
What is the Ideal size of pallet for greenhouse?
Since your preference and requirement vary, there is no ideal pallet size for the greenhouse. But 4-inch width and 4-inch length are one of the most standard pallet sizes that many gardeners use.
Conclusion
Making your own DIY pallet greenhouse is so much fun if you know the right approach. More importantly, it is cost-effective. You don't need any fancy items to create a beautiful pallet greenhouse. You just need some quality pallet woods, a door, several windows, and a few accessories to build the greenhouse. We have already outlined all the necessary steps you need to go through to make a perfect greenhouse using old pallets. You can select different sizes as per the amount of open space your garden or backyard has. Hopefully, you will be able to create a good-looking pallet greenhouse by following our instructions.