Vegetable gardens, no matter how well maintained, always attract predators like pests that can go out of control. For a flourishing vegetable garden, flying and crawling insects are the worst enemy. Mostly, caterpillars, aphids and fruit flies infest our orchards and gardens. Unfortunately, they multiply rapidly. This is where good insecticides come to the rescue. Even though there are a lot of controversies circulating the use of chemical insecticides, the only efficient way of killing all the insects that threaten our crops is by using chemical insecticides. In this article, we have listed down the 10 best insect killer for vegetable garden that is not only efficient but are also completely safe to use.
Best Insect Killer For Vegetable Garden
Before starting the review its very important to know that all garden insects are not harmful. Especially we need to understand all moving and flying creatures are not a threat to our garden. While some insects are dangerous and end up destroying your garden, there are a few that are completely harmless. Those harmless insects work towards the healthy development of our garden. Not only that they help our crop by pollinating and keeping down the number of pests. Hence, insecticides are advised only when we feel that the harmful pests have gotten out of control. However, for harmful insects which is especially attracted to fluorescent light, the bug zapper is also a good option. So for that kind of pest, besides this review, you can also check our best bug zapper review.
So let's start the review…
10. Ortho 0345110 Flower, Fruit, and Vegetable Insect Killer
Specially designed for use with vegetables and fruits. This chemical concentrate works ideally on more than 100 different types of pests and insects. The active ingredient used is Acetamiprid, which is a powerful insect repellant and killer. Hence, after spraying it will not only kill the pests that infest our crops but will also keep them in control for at least four weeks. Even if we don't have a pest infestation in our garden, spraying the diluted form of this concentrate every four weeks will save us from a lot of headaches.
It works well for ornamentals, roses, flowers, trees, Shrubs, listed Edible Plants and Houseplants. It can easily wash away with water. Moreover, even if it seeps into the land, it does not affect the soil minerals in a bad way. Rather it degrades with a time that adds to the mineral content of the soil.
Pros
It is specifically formulated for edibles; hence it is not harmful to humans.
The chemical does not seep into the plants' system.
This insect killer is biodegradable.
It provides a high value for money.
It can be used on indoor plants.
Cons
It does not work effectively on slugs.
9.Bayer Advanced 701521 Vegetable and Garden Insect Spray
The Bayer Advanced vegetable and garden insect spray is one of the most effective insects killing products on the market. This product is ideal for organic gardeners that want an eco-friendly and non-toxic alternative to all those harsh chemical insecticides. The product works pretty well as an insect-killing and disease repellant spray. If you have plants, flowers, shrubs or crops facing a pest infestation or diseases like black spot and mildew, the Bayer Advanced 701521 Vegetable and Garden Insect Spray will help you eliminate both issues.
It is a very cost-effective method and is ideal for large gardens. Only two ounces of the substance is required to create 1 gallon of spray. Like all organic insect sprays, this one also works by boosting the inner strength of the plant. Hence, once you start using it, you will see an evident change in your plants. The flowers will start blooming and the vegetables will start thriving.
Pros
 It works as a fungicide as well as an insecticide.
A small amount goes a long way which provides good value for money.
It can also be used for orchids since it is organic.
Cons
It works very slowly on roses.
8.Bonide (BND212) – All Seasons Horticultural and Dormant Spray Oil
This horticulture spray by Bonide has a vast functionality and can be used in all seasons. It works as an insecticide, fungicide, miticide and as a dormant spray. Unlike many other insect killers, the Bonide (BND212) – All Seasons Horticultural and Dormant Spray Oil is designed after a lot of research on insects as well as different plant stages. This is why this spray is not only used in case of insect infestation. It can also be used to protect the plant in its growing phase. A variety of insects and pests including adelgids, aphids, scale insects, mites, mealybugs, and certain species of moth can be dealt with using the product.
On top of killing and controlling the insect population, this spray oil also prevents diseases from spreading. The diseases that can be tackled are mildew, rust, greasy spot, botrytis, etc. The active ingredient used in this product is mineral oil. Hence, It is not like other harsh chemicals. It does not leave any strong residue. The mineral oil not only prevents insects from munching on the plants but also keeps the plant in good shape by keeping its immune system on point.
Pros
 Combined using natural, non-chemical ingredients.
It is not harsh on the plants, rather helps in building the immune system.
It can be used for all stages of the plant.
Protects from insects, mites as well as plant diseases.
Cons
 Burns plants if the temperature is too high.
It does not work well for Japanese beetles.
7. Trifecta Crop Control
Another organic pesticide and pest repellent that made it to our list of best insect killers for vegetable garden is this Trifecta crop control. Many gardeners swear upon this organic insecticide since it is by far the most efficient natural solution to fighting insects and pests. It can prevent as well as cure Powdery Mildew, Spider Mites, Russet Mites, Broad Mites, Botrytis, Grey Mold, Aphids, fungal and parasitic species. Without using chemicals, this crop control ignites the plant's own defense system to fight against the insects. The Trifecta crop control comes in a super-concentrated form. Only half an ounce of the liquid is enough to make one gallon ready to use spray.
It works well for most plants which include fruits, vegetables, herbs, spices, roses, flowers, trees, shrubs, houseplants, succulents, ornamentals, and others. The main ingredients of this mix include peppermint essential oil, thyme oil, clove oil, and garlic oil. These are all broken into nano-size particles for maximum infusion in the plant and for high coverage area. Since all the elements are completely natural it is 100 percent biodegradable. The exact composition of this crop control includes Corn Oil 3%, Geraniol 3%, Citric Acid 2%, Rosemary Oil 2%, Thyme Oil 14%, Clove Oil 10%, Garlic Oil 9%, Peppermint Oil 4%.
Pros
It is completely biodegradable and uses natural ingredients.
Ignites the plant's own immune system against the pests.
 Works on repelling almost all the pests and insects.
It comes in a concentrated form and goes a long way.
Cons
 It requires two or more doses to completely get rid of a certain type of mite.
 It has a very strong smell that takes time to go away.
Not feasible for indoor use due to the smell.
6. Spectracide HG-30900 Malathion Insect Killer
This Spectracide Malathion insect killer has been specially mixed up for killing leaf-eating insects. It can be used on flowers, ornaments, fruits, vegetables and shrubs alike. Flowers and bushes like azaleas, camellias, chrysanthemums, evergreens, and roses, and fruit plants like apricots, cherries, grapes, peaches, strawberries, and citrus can all be protected using this insect killer. Since it concentrates the 32 fl. Oz. bottle goes a long way. Before the application, it needs to be mixed with water. For best effects, it is advised that you cover the top and bottom of leaves in a uniform layer. One of the biggest benefits of this insect killer is that it does not stain the sides of your garden.
Insects including aphids, red spider mites, mealybugs, thrips, scales, whiteflies, and others can be treated using this insect killer. A 16 fl. oz. bottle is enough for creating 48 gallons of insect-killing spray. Hence, this product is ideal for gardeners that own acres of vegetable and fruit gardens. Spectracide insecticides are known for their fast and rapid action. If you have an uncontrolled pest infestation in your garden, one dose of theSpectracide HG-30900 Malathion Insect Killer will be enough to get rid of all the bugs. However, it is important that you spray the insecticide every few weeks to make sure the situation remains under control.
Pros
 High value for money, a small amount goes a long way.
Fast and rapid action, less than 24 hours required to kill the bugs.
 Protects the flowers and fruits from being damaged due to chemicals.
It does not stain the sides of the garden.
Cons
It cannot be used on plants that are indoor.
The odor is quite pungent and takes time to go away.
5. Ortho Flower, Fruit, and Vegetable Insect Killer
Ortho is a very well-known company when it comes to garden products and its insecticides are considered top-notch. This is because its products have a vast range of effectivity. The Ortho Flower, Fruit and Vegetable Insect Killer comes in a one-gallon pack with a battery-operated wand sprayer. Thanks to the wand the user to spray a uniform layer of insecticide on top and bottom of the plant leaves. This ready to use insecticide takes only 24 hours to come into effect and has a four weeks effective period. It can be used to eliminate more than 100 species of pests from flowers, roses, shrubs and edibles like fruits, vegetables, and nuts.
Many insecticides cannot eliminate or control aphids and thrips. However, this ortho insecticide works like magic in eliminating those including, Caterpillars, Japanese Beetles, Scale, Whiteflies, and others. The label instructions that come with the bottle are pretty easy to understand. It has all the details or how to use the product and when to use the product. It does no harm to the flowers or the fruits and can be washed away with water. Once sprayed, it will keep your pests under control for four weeks. To be on the safe side, it is advised that you re-spray it after the third week of the first application.
Pros
The product is ready to use.
 It can eliminate more than 100 species of pests.
It only takes 24 hours to come into effect and keeps the pests in control for 4 weeks.
Cons
If you have a medium-sized garden, you need to use the whole bottle at one time.
It does not work on tomatoes and cucumbers.
4. Sevin 100530123 GardenTech Insect Killer Concentrate
Sevin products work extremely well when it comes to clearing out severe pest infestations. Since this insect killer can deal with more than 500 pest species, it has a high-efficiency rate. The products work well on all kinds of plants and crops including vegetables, fruits, ornamentals, lawns, and indoor plants. Around 250 vegetable and fruit plants can be protected using the formula.
Most of the insect killers don't work on cucumbers and tomatoes, however, this one is specially designed for use with these plants. Since they are the ones dealing with most pest-related threats. The formula can also be used to get rid of common household bugs like ants, roaches, and spiders. You can spray it around your house perimeter and the bugs will die before they can come in. It is not advised that you use it inside the house (on floors and such) since it can be ingested by kids and pets.
Pros
It can deal with more than 500 pest species.
Has been formulated keeping 250 vegetables and fruits plants in mind.
It can also kill common household bugs.
It is in a concentrated form.
Cons
The design of the bottle makes it inconvenient to get the desired amount. It either does not pump or spills out too much.
 The substance has a very bad odor.
3. Bonide (BND024) – Neem Oil Concentrate
This multi-purpose bug killer comes in a concentrated form which means a small amount goes a long way. It is basically a neem oil concentrate. This can be used as a fungicide, miticide, and insecticide, to eliminate anything from mites, flies, fungus, beetles, and aphids. Unlike many other insecticides, this Bonide insect killer kills insects in all three stages: the egg, larvae, and adult stages. Moreover, if you have the know-how of gardening, you would know how stubborn and frustrating fungal attacks on plant tissues are. The Bonide neem oil concentrate can even deal with those.
Apart from being used as a fungicide, miticide, and insecticide, the Bonide neem oil concentrate is a very effective dormant spray as well. It can be sprayed on wintering insect eggs to suffocate them. It is the most ideal protectant for your plant during all seasons. The concentrate is derived from pure neem leaves and is 100 percent natural. Hence, it can easily be used for organic gardening as well. If you have an indoor garden, there is nothing better than this concentrate to prevent bugs from crawling all around the area.
Pros
Since it is a concentrate, it has high value for money.
The substance is completely organic and biodegradable.
It can be used as fungicide, miticide, insecticide and dormant spray.
 It is great for flowers, fruits, vegetables, and ornaments.
Cons
Cucumber beetles and black beetles are out of this insecticide's league.
It takes time to produce results.
2. Sevin 100517556 Ready-to-Use 5% Dust
This ready to use dust comes with carbaryl as an active ingredient. This non-systematic insecticide is not absorbed in the soil or the plant system which makes it ideal for vegetable gardens. The substance remains on the plant leaves, flowers, fruit and the ground as a separate layer and kills the insects it comes in contact with. Like all other Sevin products, this dust-based insecticide is effective for over 65 different types of insects and pests. The product is biodegradable, which means with time it breaks down in the environment. Hence, as it controls pests, it also conserves the environment.
This Sevin ready to use dust insecticide does not require to do any pre-hand mixing or preparation. All we have to do is shake the bottle vigorously and then start dusting a start layer on your plants. However, while applying the substance on our crops make sure we cover our mouth and nose with a cloth or a mask. As long as the dust doesn't settle down, keep the area out of children and pet's reach. Japanese beetles are one of the most difficult to get rid of, this insecticide does a good job in eliminating them as well.
Pros
The insecticide does not require any pre-hand preparation.
It is biodegradable and does not sit around in the environment.
The product is a solution for more than 65 pest types.
It can even be used indoors to tackle a bug infestation.
Cons
It is not very effective on ants.
The product cannot completely eliminate whiteflies.
1. Monterey LG6150 Garden Insect Spray
This Monterey garden insect spray has been specifically mixed up to be used on vegetables, fruits, and turfs. The insecticide is pretty effective and has a high-efficiency rate. It can be used to eliminate and control a vast variety of pests including multiple species of beetles, fruit flies, spider mites, caterpillars, leaf miners, thrips, different types of moths, borers, etc. Unlike many insect killers for vegetable gardens, this one can also be used to eradicate fire ants from your garden. The active ingredient used in this spray is Spinosad which has been classified as 'organic' by the USDA, National Organic Program (NOP), and OMRI.
The insecticide comes with a set of instructions that should be followed if you want the best results. It has a certain dilution ratio based on which the user has to mix water and the provided substance. If using on a plant, it is advised that the spray is equally applied on the upper and lower part of the leaf. The label of this insect killer has everything explained in detail, including the maximum amount of substance that can be used on 1000 square feet area of soil. Once sprayed, the maximum results will be visible after two days.
Pros
The insecticide is very effective and provides good value for money.
It acts fast and works on almost all kinds of harmful insects.
The active substance of the insecticide is termed as organic.
 It is biodegradable.
Cons
It is not effective on aphids, that are very common in vegetable gardens.
It helps in controlling fungus gnats but cannot completely eradicate them.
Some Organic Best Insect Killer For Vegetable Garden
Even though the market is loaded with chemical insecticides, there are a few organic methods as well that help gardeners deal with pests. These are tried and tested methods that are usually used by farmers and gardeners trying to go for 100 percent organic gardening. So If you are not interested in any chemical insect killer and want to control your garden pest in an organic way then bellow mention tips are for you.
 Beneficial insects

As mentioned, where some insects damage your crops, some are considered beneficial for your gardens. Ladybugs and damsel bugs eat the pests and creatures that are harmful to your garden. Attracting these beneficial insects to your garden is one way of controlling the pest population. You can also use animals like chickens and ducks that eat the pests.
 Diatomaceous Earth


Diatomaceous earth is soil-like material that can be spread on the ground of your garden. It is extremely harmful to the pests but is not at all toxic for other animals, humans and the environment. The Diatomaceous Earth basically works by damaging the exoskeleton of the insects leading to death eventually.
 Intercropping
Intercropping means planting different types of crops or plants next to each other. This is different than the traditional methods, where all the same type of crops are planted together. The heterogeneity confuses the pests and it gets difficult for them to find the type of plant they want to munch on.
Handpicking
This might sound gross, but it is one of the most effective methods to prevent pests from infesting your vegetable garden. If you don't want to use a chemical insect killer, there is a huge chance that pests will show up in your garden every now and then. Hand-picking them every few days will keep their population in control. However, make sure you wear gloves before you touch the creepy crawlers.
Garden insects and pest identification
There are hundreds of different types of garden insects. The type that prevails in our garden depends on the type of crops we have planted and the area we live in. It's not possible to talk about all of them. In this article, we'll talk about some of the most common harmful garden insects and pests that are usually found in North America.
They are as follows…
 Slugs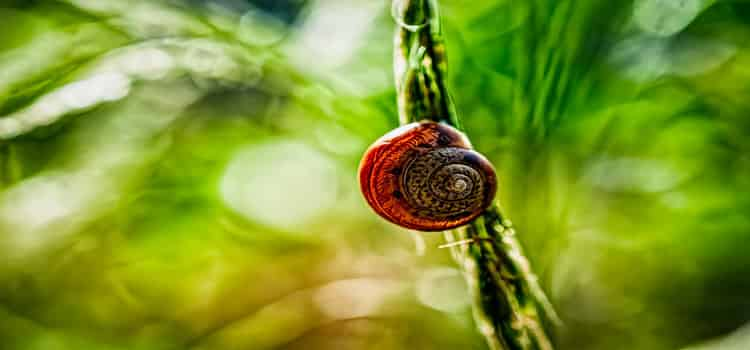 The most common type of garden pest is a slug. If you live in a moist and humid area, you might find many of these lingerings around your garden. They are not exactly insects rather are soft-bodied mollusks. These little creatures are by far the most damaging and can consume your plants at an alarming rate.
 Squash bugs
These are small ant-like bugs that mainly attach squash and pumpkin plants. As a matter of fact, all plants belonging to the cucurbit family are endangered by these insects. These bugs or insects sap out the leaves leaving yellow spots that later turn into brown. If you see any such spots, that's your cue. These bugs also called leaf-foot bugs, leave a cluster of eggs on the plant leaves which can also be taken as an indication.
Aphids
These insects usually attack growing plants due to which flowers and fruits can grow up to be deformed. They are sap-sucking insects like squash bugs. Viruses and diseases usually spread due to feeding aphids. They cause galls to form on roots and leaves which are an indication that your plants are being preyed on. Fortunately, they are very easy to spot and kill.
 Japanese beetles
Japanese beetles are one of the most common pests that are found in moderate temperature areas. They feed on more than 300 species of plants. They chew anything and everything from grassroots to fruit plants. This can kill a whole plant by ingesting the roots. The best way to kill them is either by using neem oil or by chemical insecticides.
Types of insecticide
Before moving on to the right way of choosing the best insect killer for vegetable garden, let's look at different types of insecticides that are available in the market.
Liquid insecticides
These are very easy to use. They don't need any pre-hand preparation . As a result, the user can easily spray on all plants. The best part is, the liquid adheres to the leaves after drying up.
Powders-specks of dust
As the name suggests, these insecticides are in powder or dust form. Some need pre-use preparation such as mixing in water while others can be dusted on the ground and on the plants. This type of insect killer is not suitable for the regular rainfall area. Because then these types of insecticide can easily be wasted away and contaminate our environment and water. So its always better to use powder insecticide during the dry season or in an area where rainfall is not regular.
 Granules
These insecticides are similar to the powdered ones but are more manageable. Granules are mostly added directly to the soil.
Things to check before buying the best insect killer for vegetable garden
As far as choosing the best insect killer for vegetable garden is concerned, there are a few things we need to consider before investing in one. Some of the checks we need to make are:
 Recognize your problem
Unfortunately, every insecticide is made for a certain set of pests and insects. Every insecticide cannot kill every pest in our garden. Hence, before we go on the quest of finding the best insect killer, make sure we recognize the insect that is causing it.We have to check whether the plant is diseased, or it has a pest infestation. If it has a pest infestation, what kind of a pest or insect is it? Once we have determined that, we can invest in a pesticide for a particular issue. If we are unsure of what kind of pest infestation we are dealing with, look for the signs of damage and purchase a guidebook with illustrations. This is a very critical part to ensure proper removal of the insect.
Understanding The intensity of damage
The intensity of damage done to our plants plays an important role in choosing our pesticide. If the damage is vast or if we have a large number of bugs crawling on our plants, we might want to go for something with high efficiency. Usually, the efficiency of the pesticide is mentioned on the label.
Law approved
Before investing in an insect killer it is necessary that we check whether it is mandated by the law and approved by the EPA. This certifies that the chemicals are not harmful to humans.
 Active ingredient
This is the main ingredient that actively kills the pests. Its weight per container is what defines the potency. If someone is dealing with a grave insect situation, Our advice is to use a higher potency
Conclusion
Pests and insects have been an issue for vegetable gardeners for as long as we can remember. Fortunately, we have insecticides to deal with the issue but, due to market saturation, there are hundreds of different kinds of insecticides on the market. Where some are extremely harsh on our plants and can seep into the plant system, others don't work at all.
During the process of trying and testing new types of insecticides, we may lose our plants and vegetable to these creepy crawlers. Hence, we have come up with this list of best insect killers for vegetable garden. The above-mentioned insect killers and pesticides are backed by amazing reviews from gardeners all around the world.
We have tried, tested and evaluated the products before giving our unbiased reviews. These insecticides are a mix of organic and chemical insect killers but none of them is harmful to the plants, humans or for mother nature.