Growing different kinds of plants is a thoroughly enjoyable hobby. However, some climates limit the activity in many different ways. Fortunately, the best portable greenhouses could be the easiest and fastest solution to such issues. Why? Portable greenhouses are greenhouses that are more affordable and easier to erect. They have the same functionality as permanent greenhouses but they're more flexible. For starters, they're possible to move around. So if you can't commit a specific area in your backyard for a greenhouse, they're excellent solutions. If you don't think you'll be staying long in your current home, they'll also give you the opportunity to enjoy gardening in the meantime. You don't need to delay your plans until you can already settle down somewhere for the long-term if you choose to set up a portable greenhouse instead. You also don't need to spend a lot on building a greenhouse with such an alternative. 
These items sell for a fraction of the price of building a greenhouse. This makes them more suitable for a wider range of home gardeners. As you also have the option to choose an appropriate greenhouse size for your needs, you can easily find one that will fit your space. Even apartment-dwellers might find themselves a nice match as there are very small options for these products. You can also go big if you have the room for it. So if you're thinking of taking your home-gardening to the next level and challenge yourself to year-round gardening, it's wise to look into these products. If you're really interested, we've rounded up some of the most popular and well-loved portable greenhouses available today. Check them out as they might just be your perfect match. 
If you are not in the mood to read the whole review you can check the below list…
As greenhouses come in different shapes, sizes, and price points, we've decided to break our picks into some sections to help you find what you're looking for more easily. So, check out our picks below.
Our 10 Best Portable Greenhouses with Expert Buying Guide 
Best value portable greenhouse: Deluxe Portable Green House
Portable walk-in greenhouse:

FDW Portable Greenhouse

Large portable greenhouse:

BestMassage Portable  Greenhouse

Small plastic greenhouse:

Quictent Waterproof Mini Cloche Greenhouse

Portable greenhouse on wheels: 

Home Complete Mini Greenhouse

Most affordable and Cheap mini greenhouse: Gardman R687 4-Tier Mini Greenhouse
Small walk-in greenhouse with midrange price: Sundale Outdoor Portable Greenhouse
Ideal backyard greenhouse: ShelterLogic Portable Greenhouse
Portable greenhouse for winter and cold climates: Greenhouse-Spring Gardener Peak Portable Greenhouse
Not let's start the detail review…
1. Best value portable greenhouse: Deluxe Portable Green House 
Our first pick in this list is the Gosunny Deluxe Portable Green House. This mini greenhouse is famous among the gardeners because of its top quality and affordable price. This Gosunny product is a very practical choice, thanks to its overall design. It already comes with its own shelves, so you just really need to set it up, place the plants on the racks and you're ready to go. It also shares an attractive frame design. With singular shelving and frame structure, you can easily use your plants to weigh down the unit and keep it in place. Each one can hold 23 lbs of weight, so you can also be guaranteed that it can handle quite a few plants without a hitch.Note, however, that the bottom shelf is not raised.
So if you're going to place some pots there, they will still be in contact with the ground during winter. If you want to avoid that, we recommend lining it with some bricks or other temperature-resistant materials to keep your plant from freezing. It's also safe to say that it's better suited for caring for and storing mature plants that don't need direct sunlight. The opaque green coloring will help diffuse the sunlight so it won't be too glaring on your plants. Equipped with 2 roll-up windows and 1 roll-up door, it also promises to provide ample ventilation. The door is large and will easily let in the air into the greenhouse, especially when kept up. The windows are secured by velcro, so you can also be guaranteed that it will stay in place. Some might want to add additional materials to keep it closed during the cold months.
However, as it's not as airtight as many would like. 
Special feature: 
A great plus about this product is that it comes with 4 pcs of stakes that will help you anchor the structure to the ground. Unlike the other items , you will not need to fashion or buy compatible items of the sort to ensure that it won't fly off when the winds get rough. This makes it an even more convenient option.
Pros:
Attractive appearance

Opaque glazing makes it suitable for more mature plants

Comes with everything you need to get started in greenhouse gardening

Easy to set up

Sturdy and can be easily anchored to the ground
Cons:
Windows need to be more airtight
2. Portable walk-in greenhouse: FDW Portable Greenhouse 
Its a very basic and affordable option, the FDW Portable Greenhouse is a no-frills option that will already provide you everything you need in a greenhouse. It might just only be the structure, but it already addresses several specific requirements a home grower could need. First of all, it's a rather sizeable option. Being nearly 10 feet long and 6 feet wide, this tunnel-style greenhouse will already fit a lot of plants inside. It doesn't have too high of a ceiling as it's only 6.4' high but that's already spacious enough for a lot of people. Also, it offers better stability, as a tall temporary greenhouse made of light materials will more easily succumb to high winds.Not that this item isn't durable, though. It's made with high-grade powder coat material and PE fabric so it's weather-resistant. The frame is attached with plastic fittings so expect it to have a lightweight frame. 
It comes with stakes, however, that will help you secure your greenhouse on the ground, so even if it gets windy, you don't have to worry about this thing flying away. It might still be best used in areas that don't get too windy, however, due to its use of light materials.As for its design, it comes with 2 vents and 1 large roll-up door. These will already help provide good air exchange and circulation as well as maintain the temperature inside the greenhouse. Another notable thing about this item is its glazing. It has green coloring, so it's literally a greenhouse. That's a fun detail that lots of people will enjoy. As for its glazing, it's opaque, so it's perfect for those who prefer to store their plants away from direct sunlight. 
The photos look more opaque than in real life, however, so make sure to lookup more pictures of this item to see for yourself how it really looks like in person.
Pros:
The large size will already accommodate a lot of plants

Offers great value with its size, quality, and price

Extremely easy to setup

Can also be used indoors

Easy to move around in
Cons:
Plastic connectors need additional reinforcement for better durability

Some think the windows are too big so temperature regulation can be challenging

Doesn't come with shelves
3. Large portable greenhouse: BestMassage Portable Greenhouse
This one would be a nice option for those who are just looking into trying greenhouse gardening. While it's not a very big option, it already comes with everything you need to get started.Unlike the item mentioned above, this product is already a greenhouse with shelves. It means that it doesn't just offer a temporary structure that can provide cover for your plants during the cold months. It also comes with its own built-in shelving system, saving you from the hassle of searching for shelves and racks that will fit inside the greenhouse.It comes with 2 three-tiered wire shelves, so you can easily maximize the vertical space of this product. Each shelf has a total maximum weight capacity of 17 lbs, so it can already hold a lot of potted plants for you. Aside from its convenience, it's also very attractive in terms of looks. Its a-frame style with green piping and slightly opaque glazing give it a very modern appearance. It looks exactly like what a lot of people have in mind when the word 'greenhouse' is mentioned.
With its slightly opaque glazing, it can really be best suited for budding gardeners who are looking into germinating some seedlings. As it will not completely diffuse sunlight, it can be a great choice for those who want to work with seeds. With the size of this greenhouse, it might also work as a cheap secondary germinating greenhouse for those who are planning to put up a few greenhouses for their many plants.If you're worried about its durability and stability, don't be. It's made with heavy-duty powder-coated steel frame so it can definitely hold up against the weight of the plants and some wind. However, like the item above, it also comes with plastic connectors, so you might want to look for ways to reinforce them for better durability.
Note, however, that this item doesn't come with windows for ventilation. It only has one large roll-up door. So if you need something that will keep the cold out, this can be a nice option. If you need something with better ventilation without opening the door, though, you might need to look at the other items on this list instead.
Pros:
Elegant and attractive design

Comes with its own heavy-duty shelves

Sturdy and stable materials and construction

Small footprint but will fit a lot of plants inside

Very easy to put together

Can be easily modified
Cons:
Some reports of packaging issues

Not for areas with very strong winds
4. Small plastic greenhouse: Quictent Waterproof Mini Cloche Greenhouse
If you want to gain access to your greenhouse plants from above, you should check out the Quictent Waterproof Mini Cloche Greenhouse. With its two large zippered windows on its low-hanging roof, it works perfectly as a cloche greenhouse, allowing you to easily cover and uncover your plans when necessary.While this item is classified as a cloche greenhouse, it doesn't look like one. Its A-frame makes it appear more like a regular greenhouse. It can also function as such, if you want it to, making it quite versatile. However, it's really best used for growing plants that are best cared for in a plant bed and a cloche as its height is rather low. To better compensate for its height, it has zippered entrances on both ends. This way, you can still be able to reach your plants with ease. 
You can also configure it in a way that will give you some room to move into in the middle, to make tending to your plants easier. Of course, you can also always just use the openings on the roof instead. They're rather huge so you can certainly gain access to your plants. If you use raised boxes, you will not have a problem tending to your plants through these openings.With its clear glazing, it can also be the perfect pick for those who are just starting out in growing plants and those who want to grow from seeds and cuttings. It will create a nice environment for germinating seeds, so it can be a solid choice for those who want to build a seedling bed.
Will it look nice in your garden? You bet. With its clear walls and green piping, it's a rather cute and attractive structure. Will it hold up against the wind? With its low height, it's more likely to withstand low to moderate winds. Its frame is also rather sturdy and the cover is attached to them with ties so it won't easily fly away.To better anchor it on the ground, it comes with an overlong cover design. The excess is meant to be buried on the ground. Aside from securing it in place, this also ensures that the structure is airtight. 
Pros:
Provides easy access from above

Attractive design

Specific mini cloche style

Sturdy

Easy to set up
Cons:
Will need additional items to secure it to the ground
5. Portable greenhouse on wheels: Home Complete Mini Greenhouse
With its size and design, the Home Complete Mini Greenhouse might just be the very item lots of people are looking for. It's honestly more like a covered plant rack than an actual greenhouse so it can fit in nearly every outdoor space most folks have. Measuring is around 27.1″ in length, 19.3″ wide, and 63.3″ tall. This mini greenhouse is pretty much just the same size as a tall-ish bookshelf. It sports a peak roof design with a 4-tier wire shelf. It really only looks like a covered shelf so don't expect it to be a walk-in portable greenhouse. Because of its design, you can place it just about anywhere. Almost anyone can also find a spot for this mini greenhouse as long as they have some outdoor space. If you have a sizeable veranda, it might even fit in there.
Despite being a small greenhouse, however, it can still fit quite a good number of plants inside. Its metal shelf has four layers, giving you the chance to maximize its vertical space. Unlike the other item with a shelving system above, this one comes with a bottom shelf so your plants will not sit on the ground during the cold months. It can also hold up to 24 lbs of weight, sturdy enough to accommodate a number of pots and plants. Unlike the other items in this list, this mini greenhouse also comes with caster wheels. This will make it a more suitable choice for those who want to care for delicate plants that might require to be moved around according to its needed amount of sunlight. 
Special feature
You can easily cart it from one spot to another, freeing you from the need to lift and carry your plants from one point to another.As the shelves and cover are separate, you can also use these two components separately. So should you just need a covering for a tall plant, this can still do the trick. You can then use the shelves for other gardening or storage purposes.
Pros:
Very easy to setup

Small footprint will fit almost anywhere

Slightly opaque glazing suits various growing requirements

Can be used indoors or outdoors
Cons:
Hard to push when full with plants
6. Most affordable and Cheap mini greenhouse: Gardman R687 4-Tier Mini Greenhouse 
Completing this list of the most practical picks is the Gardman R687 4-Tier Mini Greenhouse. This is a shelf with a cover type of greenhouse, similar to one of the items listed above. However, unlike that product, this comes as a pair, so if you need a space and cost-efficient option for your growing plant collection, this might just do the trick.Like the Home Complete mini-greenhouse, this product is also composed of a shelving system and a clear cover. It also has a peak roof design so it looks more like a greenhouse rather than a fabric storage closet.Its clear polyethylene cover has a large zippered door that rolls up to give you good access to your plants. Because of this design, it's a great option for germinating seeds, herbs, and other plants that need direct sunlight. 
It can also work for those who need limited sunlight since its shelves come with caster wheels.Speaking of its shelves, it comes with a 4-tier wire shelf. The weight limit isn't noted but it still looks pretty sturdy, so there's a good chance that you can use it to hold a number of herbs and seedlings. We do not recommend filling it to the brim, however. It's not that its frame doesn't seem durable but without a weight limit, it's best to use it with caution. The fact that it comes with caster wheels is also important to consider as they might not be able to handle a lot of weight.
Pros:
Perfect for small spaces

Very portable with its caster wheels

Very friendly price tag

Suitable for various plants 
Cons:
Frame needs some reinforcement for improved stability
7. Small walk-in greenhouse with midrange price: Sundale Outdoor Portable Greenhouse 
One of the larger options on this list is the Sundale Outdoor, Portable Greenhouse. This item can already hold a large plant collection, so if you want to put all of your babies in one place, this can be a solid pick. With its 12 shelves, 97" length, 56" width, and 77" height, no one can argue that this is can already be considered as a large portable walk-in greenhouse. It can already be a good choice for a serious gardener as it can fit a lot inside. It has a 4-tier shelf that even without using the uppermost level, you can still get to store quite a number of plants inside. Due to the size of the shelves, some might worry about its overall sturdiness. As the shelf is built into the frame, it promises a solid build.It's also a wise design as the plants can also help further anchor down the frame over time.
Aside from the structure, the cover is also noteworthy. The PE cover is green in color and relatively opaque so it does a great job in diffusing sunlight. It's also UV-resistant, so it won't easily become brittle from sun exposure. As for its design, you can be guaranteed of an airtight fit. It doesn't have windows, so aside from the roll-up door, you don't have to bother securing any gaps where freezing air can get in. It also has an overlong design so air also can't get in from the ground level.
Key Feature: 
On top of everything, this item also comes with 4 stakes and 4 ropes. These are included in the package to help you more easily anchor the greenhouse into the ground. If you live in a windy area, however, you might need to add more anchors or even sandbags to further secure the structure to the ground.
Pros:
Has a lot of room inside

UV resistant cover won't get brittle from extended sun exposure

Very easy to set up
Cons:
Will require some garden staples to keep it in place in windy areas
8. Ideal Backyard greenhouse: ShelterLogic Portable Greenhouse 
Not a fan of temporary greenhouses with plastic or tarpaulin-looking covers? Then the ShelterLogic Portable Greenhouse will appeal to you better. It looks like those elegant airconditioned tents used on outdoor events, so it will not necessarily look gaudy in your backyard. With its translucent white cover on a peak-style roof frame, it looks more like a tent at first glance than a temporary greenhouse. But it's not just its appearance that makes it look more expensive than the other items listed here. Its construction and materials are also more special than the others'.For starters, its cover is made of a triple-layered, heat-bonded ripstop, and UV-treated material. With this, it's thicker, more durable, and less susceptible to tearing and sunlight. It has a translucent white coloring, making it suitable for growing and mature plants.
For ventilation, it has a huge zippered roll-up front door with vent. It also has Easy-Flow roll-up side vents which will basically let you roll up its sidewalls up to a certain height to let the air in from the ground. Most buyers also consider this item's frame to be well worth the investment. They're thicker than what most of the other products above use as it's 1 ⅜" thick. They're also powder-coated gray so they're less industrial looking than the others. Equipped with ShelterLock 3X stabilizers, its structure guarantees to be stable and rock solid.
Pros:
Attractive elegant appearance

Large size

Sturdy frame materials and construction

Easy to assemble despite its size and weight
Cons:
Will need additional anchoring materials

Doesn't include shelves
9. Portable greenhouse for winter and cold climates: Greenhouse-Spring Gardener Peak Portable Greenhouse 
Rounding out this list is the Greenhouse-Spring Gardener Peak Portable Greenhouse. It somewhat resembles the previous item but with its black details, it offers a more visually striking effect. There are a few interesting things about this item that can serve as deal makers and breakers for many. First is its design. Aside from its peak-style roof structure, its cover also has black details that are in stark contrast with its primarily white translucent body. This makes it more eye-catching. Inside, however, the steel frame, despite the larger-sized metal tubes used, blend in nicely into its background. This gives it a cleaner and more minimalist appearance.Its cover also has 4 large windows and 2 doors. All of them have a roll-up design and are positioned for cross ventilation.
This makes it perfect for those in areas with mild winters and warm summers. The windows are screened which is a very nice touch as it helps keep out pests while allowing air run in and out of the greenhouse.
Pros:
Sturdy construction, especially the frame

Attractive design

Allows airflow without letting pests in
Cons:
Things You Need to Check Before Buying Portable Greenhouse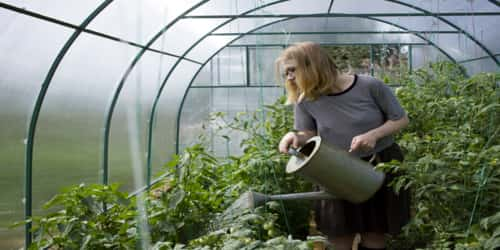 Now that you know a few great options, you might want to learn how you can make the right choice for your garden. For this, here are some of the things you need to consider to ensure that you will end up with the best portable greenhouse for your needs:
How much space you need and can spare for the greenhouse 
Portable greenhouses come in various sizes so it's crucial to know which one will suit your needs best. To determine this, it's important to take the measurements of the space you intend to put the greenhouse in. Doing so will give you a good idea of what to look for.You should also take into consideration the number of plants you wish to put inside your greenhouse. If you have a rather large collection and you have enough room in your property, don't hesitate to go bigger. If you have limited room, though, there are also lots of good small-sized options.
The types of plants you'll put inside the greenhouse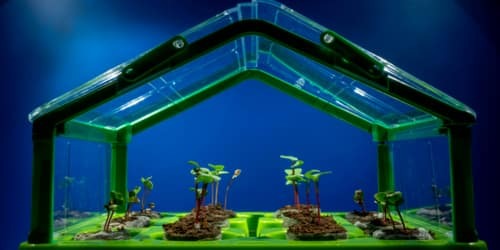 As mentioned above, the glazing of the cover plays a huge role in deciding whether a greenhouse is suitable for your plants or not. Opaque ones are great for growing and mature plants that don't require direct sunlight while clear ones are best for seedlings. This is why you should also have a plan in mind when it comes to which plants will go into your portable greenhouse.
The Local Climate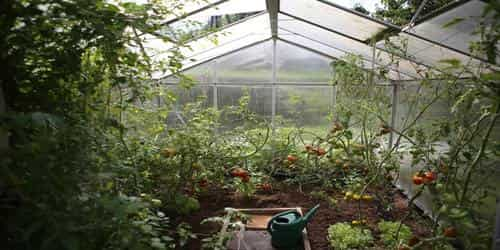 What's the regular weather like in your area? To be very honest, not all portable greenhouses are great for those who often experience heavy winds since they're often made of light materials. So if it often gets windy in your location, make sure to look for something very sturdy and heavy-duty.
Your Budget 
As our lists above show, portable greenhouses also come in various price points. Some are very cheap while others require a good deal of investment. If you want something more sturdy, it's best to invest in a greenhouse. The pricier it is, the more likely that the product includes more heavy-duty materials and durable construction. The price tag is not always a guarantee, but you often get what you pay for with these items, so make sure to be very discerning when making a choice.
Best Portable Greenhouses Assembly Instructions 
One of the best things about assembling mini-greenhouses, especially the portable ones, is that it's not that hard to do. In most cases, these are the steps that you need to follow:
 Step one: Read the product's instruction manual 
This is always a must with any product that requires assembly. No other material is a better source for such information aside from the manufacturer's manual, so make sure to read it thoroughly and follow the steps.
Step Two: Lightly screw the frame together while you're still putting the whole thing together.
This will give you some wiggle room. Make sure that you've attached all of the pieces first before tightening the parts together but do not make it extremely tight so it can still sway when the wind blows. Doing this can prevent damage to the frame during windy days.
Step Three: Do not tighten the cover too much
While most products have a snug fit, try to leave some sway room as well for your greenhouse's cover. Don't attach it too tightly to the frame so it won't easily get ripped when strong winds blow onto it.
Step Four: Add some anchoring
Lots of portable greenhouses don't come with anchoring accessories so it will be best to get some. Many gardeners recommended garden staples but you can also get additional stakes and ropes to better secure your unit to the ground.
Conclusion 
The best portable greenhouses are amazing alternatives to the real deal for so many reasons. While they have their own limitations and they're not necessarily suitable for all areas, they're still great gardening solutions for many homes. Choosing one may be tough like choosing a grow light for your greenhouse , but if you know what you need and you're very discerning when it comes to product quality, you will not have a hard time finding your right match. We're confident that our guide will be helpful in this regard, so make sure to keep our tips and recommendations in mind.