When we hear of a loveseat, the first thing that comes to mind is definitely a pair of people, preferably couples. And when we specifically want a patio loveseat, this means that we are looking for a resilient double seat that will stand the test of weather and time. Basically, a seat that we can build memories on over the years. Sadly, it is not surprising that we will get numerous seat displays that look so elegant and sturdy, only to get disappointed way after we make a purchase. To prevent this, we have come up with a list of the best patio loveseat you can depend on. On top of that, we have simplified your task by clearly stating the most outstanding feature of each seat so that you can differentiate it from the others.
Best Patio Loveseat: Selected Top 10 
We divide our entire review into some subgroup , which is given below
(all above 10 links are #ads of amazon)
So, are you ready for the amazing loveseats? Lets start…
1. Overall Best: Keter Wicker Patio Loveseat 
We introduce the best overall patio loveseat from Keter, which measures 50.4 by 27.6 by 31.1 inches. Essentially, the seat is made in polypropylene resin, which is quality and durable. Besides, this material is all-weather friendly and rustproof. Therefore, the seat will not fray, unravel or fade over time, unlike other wicker and rattan seats.The seat comes with two seat cushions to facilitate comfortable sitting, thick enough (2 inches) for convenience. The cushions are also weather-resistant so that you can leave them on the patio anytime you feel like without risking them depreciating. Besides, they have washable covers that ensure that you maintain seat hygiene.
No products found.
Despite the durable structure, the seat is highly lightweight for easy rearranging. You can turn it to face the luminous rays of the rising sun, then change the seat location when the weather is hotter.The seat allows a capacity of 484lbs, which is more than enough for most couples' comfort.Amazingly, you can pair the seat with a Corfu coffee table and a Corfu armchair for a sofa patio design.
What we like about the product
Weather and rust-resistant for top-rating durability

Comes with a cushion that facilitates comfortable sitting

Excellent addition to Corfu patio furniture

Lightweight for easy rearranging

Low maintenance requirements
What we do not like about the product
Not suitable for a couple whose overall weight is more than 484lbs

Difficult to reassemble
2. Metal Outdoor Loveseat: Esright Outdoor Loveseat Chair 
Are you in love with a rocking metal seat that brings quite a difference in your compound? This piece from Esright just nails it on the head, so let's skip to its specifications: First off, the seat is heavy-duty construction, given the heavy-duty steel frame. However, the metal is a powder-coated steel frame to bring out an elegant outlook. Other than that, the coating serves to protect the metal from harsh outdoor weather conditions. Secondly, the seat is ergonomically designed with curved spine support, which adds comfort when seated. You will therefore relax well even for hours, whether you are sitting stationary or having fun gliding.
The seat has a material that presents tensile strength that suits the human body. Then there is the perfect ventilation that makes a summer outdoor session worth it.Being extremely wide, the seat can handle a wide variety of two people with different body shapes and sitting needs. And, more importantly, it can glide the two people efficiently. However, ensure that the couple does not exceed 440 lbs on the seat to limit the seat.
What we like about the product
heavy -duty construction for a durable structure

Displays rocking features

Wide enough for different couple seating

Comfortable to sit on for long
What we do not like about the product
It has a weight limit, which is 440lbs

Squeaks when new during gliding sessions
3. Patio Rocker Loveseat: Patio Glider bench Love Seat 
Sometimes a simple natural outlook for your garden or patio is all that counts for a cool, serene breeze. And this is what you get with this Patio Glider seat, which glides so naturally that you want to meditate or even close your eyes and dream on your patio. Designed in curved back and arms, you get sufficient comfort for your seating. Then there is the dense seat cushioning, which completes the comfortable feeling. Fundamentally, the seat is a durable wrought dark brown powder coat, protecting a durable steel frame. On top of the frame are 100% olefin cushions, which couple with the frame to bring out quality and durable seats.
The seat withstands the rain, UV rays, and strong winds without scratching, fraying, or rusting. It remains glossy and graceful despite remaining outdoors over time.Generally, the seat measures 47 by 31.5 by 33.5, which is suitable for two people having a green moment on the patio. Besides, the seat is strong enough to handle a maximum of 500lbs.Remember that you can get at least three different colors with the seat, including beige, navy, and brick red. Hence, you can finally get a live seat that blends with your furniture, even if it fails to match colors.
What we like about the product
Delivers comfortable gliding features

Suitable for a weight limit of up to 500lbs

Weather-resistant structure, thus durable

Comfortable to sit on for hours
What we do not like about the product
Inaccurate instructions

The back cushions don't hold well to the seat, so you may need to remove them on windy days
4. Outdoor Loveseat with Table: LOKATSE Home Patio Loveseat 
Have you ever thought of how much more relaxed you would have if your patio seat provided a table where you could place your glass of drink? This patio loveseat comes with its coffee table, so you won't have to think about purchasing one separately. The chair and table set has a natural look and design that makes you feel like you were away from home. You can finally relax and have individual time, a candid conversation, or just some free laughing time as friends or as a couple. Into the bargain is the sturdy steel frame, which facilitates balance and support of the load. And, of course, you get durability for lifetime memories. You don't have to worry about the gross steel outlook because the frame features a powder coating that shuns bring in a grand outlook. 
However, you can put it indoors in case of heavy rains to prevent rusting. Additionally, the seat features a backrest, curved arms, and thick cushions, which will ensure that you take as much time as you want on the seat. You will neither complain of seat pains nor back pains during and after the sitting period.The seat dimensions are 47.8 by 26.8 by 32.3 inches, with the table measuring 42.1 by 23 by 18.7 inches. It comes with assembly instructions that are simple and easy to follow.
What we like about the product
Comfortable design and cushions

Durable structure 

Comes with a convenient table

Easy to assemble
What we do not like about the product
5. Steel Frame Loveseat: Giantex Patio Loveseat with Coffee Table 
Steel frame sofas have an advantage over others in that they have guaranteed durability. On top of a steel frame, this seat comes with a matching patio table, so you can have coffee or a snack as you breeze outside the house. Primarily, the seat is made designed in a sturdy steel frame, which encourages a long-lasting lifespan. It is powder-coated for an elegant finish, not to mention adding the ability to withstand harsh outdoor conditions.
The seat is really comfortable and comes with cozy cushions of an amazing feeling. The fabric is soft and relaxing to sit on, proving all the comfort you need.With measurements of 47 by 30 by 34 inches, the seat fits in with the 38 by 20 by 19-inch coffee table for a couple's good time. You can sip tea as you watch the sunset or as you enjoy the night's moon and star constellations. Lastly, the seat and table are so easy to assemble that you don't need to be a professional to see the job done.
What we like about the product
Polished steel frame

with cushions for an outstanding look

Comfortable cushions for a couple's time together

Comes with a bonus table

for essentials and drinks placing needs

Quality and durable steel frame
What we do not like about the product
The coffee

table

wobbles and requires re-adjusting

No cushion ties, hence unsuitable for windy weather
6. Wooden Patio Loveseat: Tangkula Wooden Patio Loveseat 
A piece of wooden furniture is a perfect natural addition to an outdoor space next to the home swimming pool. Besides, the woven design will see all the water on your swimsuit dripping on the floor, leaving you dry and comfortable. Basically, the seat is 100% acacia wood for the frame, reinforced in sturdy woven rope for optimal durability. Whether it's rainy or summer hot, the seat neither deforms nor cracks. The legs feature crossbars that increase the structure's stability, allowing it to hold up to 705lbs. So, would I be wrong if I said that this seat is perfect for a weider couple?
Both the sitting area and the back of the seat are woven ropes, which facilitate air circulation and minimize humidity. Then, the comfortable backrest and the wide armrests ensure that you get a comfortable sitting time. Actually, you will easily relieve yourself of fatigue while sitting here.
With a teak oil finish, the seat presents a lustrous outlook while enhancing protection from adverse conditions. Better still, it easily blends with other furniture outdoors and indoors for a classy look. The complete look measures 46.5 by 29.5 by 32 inches.
What we like about the product
An awesome natural wooden structure

Suitable for a heavier couple

Withstands outdoor conditions really well

Breathable design
What we do not like about the product
No cushions for added comfort

Assembly could be challenging with some screws
7. Patio Loveseat with Ottoman: OC Orange Outdoor Loveseat 
Are you fascinated by the thought of an 18th Century European Ottoman and loveseat furniture on your patio? This  OC Orange loveseat set could be just what you've been looking for. Created in hand-woven PE rattan and reinforced with a steel frame, the loveseat will last you for years. In any case, the powder coating on the steel frame ensures that rust and wear do not affect the seat quality. Furthermore, the seat comes with soft, comfortable seat pillows and cushions, which increase the sitting comfort. Better still, the cushion covers have zippers that encourage easy cleaning procedures. And that is not all; the cushions further have replacement taupe covers to prevent cleaning inconveniences.
The loveseat comes with two extra stools, which you can use for extra seating or side by side with the loveseat for a complete outlook. When in front of the loveseat, they can serve as footstools. Or, you can easily fit them under the loveseat when you need extra space. Generally, the package brings you one loveseat, six cushions, two ottomans, and two pillows, which are quite easy to assemble. Finally, you will bring a beautiful and elegant addition to your patio.
What we like about the product
Sturdy and durable frame

Comfortable seating and ottomans

Easy to put together and maintain
What we do not like about the product
The cushions slip off the ottomans as they are not attached
8. Rattan Patio Loveseat: Patio Wicker Garden Loveseat 
Rattan material makes perfect patio sofas, especially when in a garden or a planted outdoor living space. This Patio Wicker garden loveseat is made from the strongest rattan material to ensure excellent outdoors. Moreover, the seat is in an anti-rust frame, which combines with the PE rattan to bring out an all-weather seat. You can then have a seat for years without a tinge of weakness. It comes with two 4-inch thick cushions and two comfortable pillows that facilitate superb comfort to boom it up. The zippered cushions covers are durable and weather resistant, in addition to enhancing breathability. Additionally, they are easy to remove and washing machine-friendly.
Measuring 55 by 29.5 by 28 inches, the loveseat is perfect for most couples. Its natural color easily blends with any patio environment. You can also blend it in with most indoor house furniture whenever you have extra guests. As with all seats, the package arrives disassembled. Luckily for you, the clear manual makes all the difference, and you don't need a professional to do it for you.
What we like about the product
Quality and durable material combination

Easy to wash the cushion covers, as they are machine-friendly

Overall comfort
What we do not like about the product
Even with the manual, it takes a lot of time to assemble
9. Comfortable Outdoor Loveseat: Signature Design by Ashley Loveseat 
For the best representation of patio comfort and sophistication, this Signature Design by Ashley piece definitely gets it right. It features comfy cushions that perfectly fit the eucalyptus wooden frame. More than that, the seat frame is well-protected against all external elements to make it suitable for your patio. This is through a 5-step process of protective coating for optimal durability.The outdoor sofa cushions, which are zippered, are standard Nuvella fabric for super comfort. They also include two throw pillows that add to the comfort and style. With a slat styling and tapered touches, what more would bring class to your pacific patio?
In addition, the Nuvella fabric is easy to clean and maintain. After all, it doesn't fade away, hence retains the plush outlook all through. As for the measurements, the outdoor sofa comes at 56 by 35 by 37 inches when assembled. Though you will need to assemble it yourself, the clear manual reduces it to a walk in the park. With an array of furniture to add from Signature Design, you might just have the dream patio everyone dreams of.
What we like about the product
Comfortable and elegant

Long-lasting structure

Easy to maintain

Suitable for any patio design and furniture
What we do not like about the product
Very high price

Harder cushions at first
10. Loveseat with Storage: OC Orange Casual Loveseat 
An outdoor couch that comes with a storage place for extras? We introduce OC Orange casual loveseat, which has a bin built-in its coffee table. You can put the extra pillows and more in the bin when using the seat set.Over and above that, the coffee table that comes with the loveseat can act as an ottoman with an extra seat cushion. Whenever you need more space on the patio, you can always store it under the loveseat.Designed from all-weather rattan built on a strong steel frame, the seat undoubtedly brings durability. Then there are the foam cushions, whose fabric is water-repellent for rainy days' resilience.
The cushions bring all the comfort that you need, given the thick and wide design. Talking of wide, the seat can hold more than two people, actually up to four people. Its maximum weight limit is 500lbs, sufficient for more than two people or a heavy couple.It measures 31.1 by 42.9 by 25.2 inches, while its coffee table measures 19.7 by 37.8 by 12.6 inches.
What we like about the product
Feature a storage bin

Strong and weather-resistant

Large for bigger or more people
What we do not like about the product
Things to consider when purchasing the Best Patio Loveseat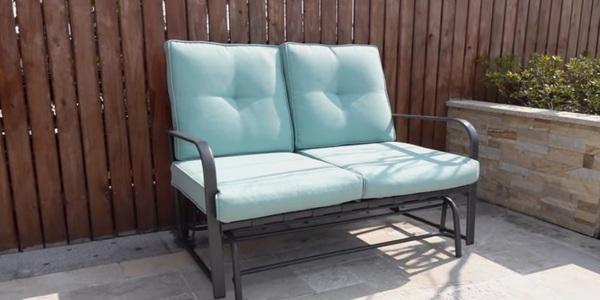 Before purchasing the patio loveseat we should make sure that we check the below things carefully.
Quality 
Look for a quality loveseat for your patio since you want something that will last you long. The higher the quality, the more durable it is for couches, chairs, and other furniture.
Remember that the high quality also adds to the elegance of the patio and brings other positive aspects. For instance, they are more comfortable compared to cheaper furniture.
Resilience to Outdoor Weather 
The loveseat should be resilient to outdoor weather, such as the wind, rain, and UV rays. Starting from the frame to the general seating and the cushions and pillows, ensure that they can withstand being outdoors all the time. While the patio may be roofed, it is never complete as safe as indoors for furniture.
However, you can consider the design and position of your patio. Some patio seats may not withstand a fully open weather condition, but they are great for normal conditions. For instance, some can withstand light showers of rain, hence suitable for roofed patios.
Frame of the loveseat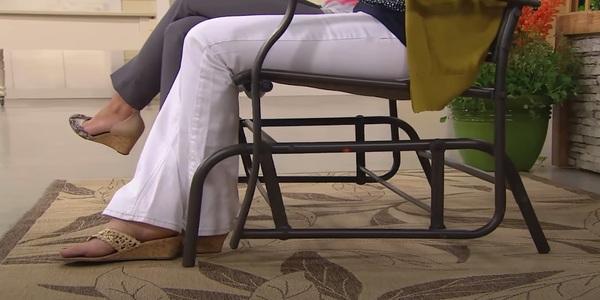 Identify the frame of the seat you want. Do you want it in wood, steel, or other sturdy material? Once you figure this out, pick the strongest seat you can get to facilitate optimal performance and durability.
Cushions of loveseat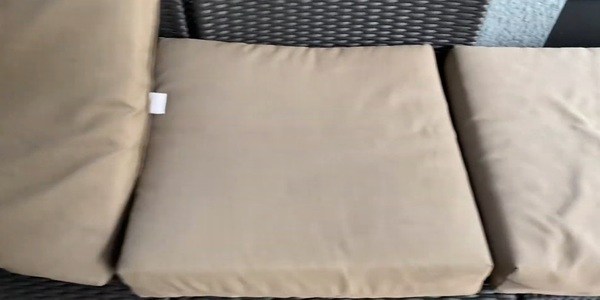 Not all loveseats come with cushions, so consider whether cushions are important to you. Some seats will come with cushions; others even add pillows, which are all great for comfort.However, they are not always necessary, for instance, if you want a poolside seat, which is why some come without them.
Maximum Weight 
Each piece of furniture has a maximum weight, which you should take into account. If one or more of the people in your house is really heavy and will constantly use the seat, consider seats that handle heavier weight.
Size 
Some people want a loveseat, but one that will accommodate a couple and a child or two. In this case, get a wide loveseat that will satisfy your needs.
On the contrary, if the seat is just for you and your partner and you are both in smaller sizes, you can take a smaller loveseat. It will do the job by bringing you to close together, where you can have your moments.
Extras 
If you want a coffee table, an ottoman, or a disposal bin on your patio, there are loveseat options with these accessories. Why purchase them separately when you could get it all in one? Actually, some coffee tables will act as disposal bins and ottomans at slight changes. And when you no longer need them, you can easily stuff them under the loveseat.
If you have an option to get a loveseat of your choice with less tasking assembly, always go for this. Some furniture is so difficult to put together that you end up having it all wrong, sometimes causing damage.
FAQs 
1 . What is the purpose of a loveseat?
The purpose of a loveseat is to seat two people, whether they are a couple, friends, a parent, and a kid, and so on. It may complete a set of sofas in the house or be used as an outdoor seat. Usually, the purpose is dependent on the individual and the furniture plan in the home.
2. What is another name for a loveseat?
A loveseat couch is also known as a lounger or a Recamier, while others refer to it as tete-a-tete.
3. Why is a small couch called a loveseat?
A small couch is referred to as a loveseat because it tends to bring lovers and partners closer. You cannot stay further apart due to the limited space, and the smaller gap brings you closer to each other, even emotionally.
4. Why is patio furniture so expensive?
Patio furniture is expensive because it needs to withstand outdoor weather. Therefore, it has to be from sturdy material and material composites, which is ultimately expensive. Besides, patio furniture adds to class and elegance in a home, which comes at a cost. Thus, even when they really look simple, they have a status that you have to earn to own one.
Last words 
When looking for sofas for patios, always ensure that you get what you fall in love with. While all the pieces above are awesome for outdoor living space, not all will suit your taste and preference. And with all the best furniture available, why not choose your individual best?
The best patio loveseat makes all the difference to your outdoor space. Therefore, you must make an informed decision when making a final decision. With the above ten and an additional buying guide, what more could you ask for? That's all from this post. Besides this if you want a hammock chair for your patio , you can check our this article that is about some quality hammock chair for backyard.