Bonsai trees come with a long history. Growing them is considered an art rather than gardening. Owing to their descent to Japan, these little trees symbolize all that is good in nature i.e. harmony, peace, order of thoughts and balance. These Japanese trees, however, require more care as compared to other plants and trees. There are also different methods to help you propagate the tree. But none of them is possible without a proper set of bonsai tools. While growing bonsai trees, the only way to clean, train and style it is by using a set of bonsai compatible tools. These tools usually look like simple cutters and scissors. But they are actually specifically designed for bonsai cutting and styling. Hence they cannot be replaced by any basic cutters, scissors or any other weeding tools. That's why in this article we'll going to discuss some of the best bonsai tools.
A bonsai kit usually consists of a variety of high quality and handcrafted tools, each designed for a specific purpose. A bonsai is all about the precise and sharp cuts. That can only be made via specially crafter tools. If you go to the market, you will see there are more than a thousand Japanese and non-Japanese bonsai tool crafters, unfortunately, not all of them are worth the money. Hence, this article is all about helping you find the best bonsai tool for your little friend. Six best Japanese bonsai tools have been listed down for your ease. Not only that this article also includes a few tips to help you take care of your bonsai and a brief buying guide.
Best Bonsai Tools
1. Ashbrook Outdoors Bonsai Starter Kit
This is a 43-piece Bonsai kit by Ashbrook. It is a company known for its gardening tools. This package contains anything and everything that a bonsai lover needs to grow eight different bonsai trees. As compared to other bonsai starter kits, this one comes with double the number of seedlings and biodegradable pots. Most of the time, the seedlings that come with a bonsai starter kit are not efficient enough to grow the way they are supposed to. However, in this case, every seedling is selected by hand ensuring beauty and ease of growth. The best part is, the seedlings can be planted any time of the year as they are not seasoned specific.
Apart from biodegradable pots, seedlings, soils disc, and vials the kit also comes with the best bonsai tools to keep your bonsai maintained, trained and styled at all times. Moreover, an instruction manual is also included in the package. That will help the user walk through every part of the process. The key to a good and beautiful bonsai is proper germination and growth. Since all the seedlings in this kit are non-GMO and are locally sourced, they are optimized for proper growth and germination.
Pros
The seedlings are stored in a moisture-proof vial.
Every seed is non-GMO and locally sourced.
The kit comes with top-notch maintenance tools.
Includes a set of biodegradable pots.
 Cons
The instructions in the manual are vague.
2. BambooMN Bonsai Tool Kit
Unlike the previous product discussed, this one is not a starter kit rather is a bonsai maintenance kit that comes with a total of 5 pieces. These five pieces are all you will ever need to maintain and train and beautiful and elegant bonsai. Specifically designed for small bonsai trees. The kit includes shears for cutting smaller branches, roots, and twigs, a root shaker to help the roots grow properly. Its also include a stiff bamboo brush for cleaning the bonsai's bark and rid it of any moss, a root picker, and a root rake. All the tools are manufactured using carbon steel and are rust-resistant. Hence, anyone who buys it doesn't have to worry about its durability.
The best part is, the bonsai tool kit does not dent your pocket like most of the other maintenance kits making. So it ideal for newbies. With a high grip to blade ratio, these tools provide a high precision as well. The small-sized handheld shears included in the kit is an absolute essential when it comes to bonsai owners. Since it helps you reach different parts of the tree easily. According to the manufacturer, it has undergone thorough quality control tests.
Pros
All the metallic tools are rust-resistant.
The tools have been passed through proper quality control tests.
Small shears are included in the kit.
The moss brush is a very good addition.
Cons
The handle on the pruners should have been longer.
3. Planters' Choice Bonsai Tool Kit
This seven-piece bonsai tree maintenance set with solid wood handles has a super stylish and chic look. It has two sets of scissors. One is a small-headed scissor to cut twigs and small branches. The other is a jet-black pruning shear for leaves and roots. The manufacturers were thoughtful enough to add a tweezer to the list of tools for removing broken leaves, dead insects and other debris without disturbing the bonsai. These tools, along with a bamboo brush. It also has a bamboo rake, and two spades come in a black stylish case with a matte finish.
The rake and spade heads are made of fine steel. That is treated for rust resistance. The handles are constructed using bamboo wood making them durable and sturdy. The best part is the handles are made to be extremely fine. So the user doesn't have to worry about the handles pinching. Moving on to shears and scissors, they are constructed using the same steel that is used in the other tool heads. The steel is treated for rust and corrosion. So that they stay put for a lifetime.
Pros
The solid wood handles make these tools durable and sturdy.
The steel used for construction is treated for rust resistance.
Comes with a stylish casing.
Cons
The user might have to glue the handle and tool head together. Otherwise, it can be broken down while using for longer period.
4. Sincerely gift Bonsai Tool Set
Another bonsai maintenance kit that made it to our best bonsai tools list is this eight-piece stainless steel sincerely gift Bonsai Tool Set. It comes with a folding scissor for smaller branches. A random colored shear for clipping roots and branches, a stainless-steel rust-resistant tweezer for picking up debris without disturbing the tree. Besides this set also include a wooden rake, two spades, and a bamboo brush. The complete kit is made with a combination of steel and wood. So it is durable and sturdy. It is easy to wash and clean as well. Thankfully, there are no crevices and cuts for dust and dirt to accumulate.
The tools in this kit are designed for bonsai. But this set can also be used for other gardening needs as well. Which includes digging, root shaking, transplanting, etc. This kit can also be used for succulents and cactuses. With its reasonable price and easy to use tools, this kit is ideal for beginners and newbies.
Pros
The company has good customer service.
Tools are constructed using stainless steel.
Comes with a set of folding scissors for carrying in your pocket.
Can be used for succulents and cacti along with bonsai trees.
Cons
The packaging is not up to the mark.
5. Aonepro Bonsai Tool Kit
This premium bonsai maintenance tool kit is the best one for all the bonsai owners. Especially for those who have a slightly higher budget. Even though this kit is pricier as compared to other kits in this best bonsai tools list, it does justice to the price it comes at. This ten in one tool kit is constructed using high-quality carbon steel. Moreover, those items are flexible and durable at the same time. The carbon steel is known for its rust resistance. Once constructed, all the tools are hand polished. That gives those tools a sophisticated and elegant look. All the necessary bonsai maintenance tools like leaf trimmer, pliers, tweezers, pruners, wire cutter, etc. are included in this kit.
All the tasks like loosening the soil, cutting the roots, root shaking, pruning, etc. can be done with the help of these tools. Most of the professional bonsai breeders are known to use Aonepro tools. The reason is they are considered one of the best on the market. According to most of the users, the scissors and pruners don't lose their sharpness even after years. The only maintenance these tools require is slight oiling after use. Since all the products are handcrafted, each kit might be slightly different from the other.
Pros
Most of the tools are handcrafted.
Metal tools are rust and corrosion-resistant.
Unlike other tool kits, it comes with 10 tools.
All the tools are extremely durable and sturdy.
Cons
The knob cutters have a slight space between both the blades.
6. Tiny roots Bonsai Tree Kit
Another Bonsai starter kit that made it to the list of best bonsai tools is this tiny roots bonsai tree kit. Mainly because of the plethora of information it brings in the booklet included with the kit. The book has explained and broken down each step in a very detailed manner. The kit comes with a butterfly-shaped pruning shear, Uncle Bill's Bonsai Fertilizer in a 2 oz. bottle, Uncle Bill's Bonsai Frit in a 2 oz. bottle and aluminum wire. Now this might not seem like it is enough. But to start raising a bonsai tree this is all you need.
The butterfly-shaped pruning is extremely comfortable to use. Unlike many pruning tools, it can be used with gloves on. Apart from this, both, the fertilizer and the frit are included in the kit. As a result, they give the baby seedling a boost of energy. It ensures proper and healthy growth resulting in a healthy and graceful small tree. For training purposes, the aluminum wire is used. The whole process is liberally explained in the book.
Pros
The butterfly pruning tool is very easy to use.
It comes with an easy to understand and detailed guide.
Is an ideal started kit with proper fertilizer and frit.
Comes with a unique bamboo storage kit.
Cons
The bamboo box's hinges break easily.
Things To Consider Before Buy A Best Bonsai Tools
One of the interesting things about bonsai plant is that if they are not pruned and shaped, they will not thrive. Mainly because they will not have enough nutrients to absorb from the soil. Since Bonsais are usually planted in very small pots with little soil, they have fewer reserves in terms of water and nutrients. With bonsais, all you need are patience, consistency and a best Japanese bonsai toolset. While choosing the best bonsai tool kit for yourself, there are a few factors you need to consider. There are:
Construction material
Most of the bonsai tool kits are constructed using stainless steel or carbon steel. Among the two, stainless steel is way more common since it is better at resisting rust and corrosion. However, if carbon steel tools with chrome or any other plating can also be used since it becomes rust-resistant. Most of the users like stainless steel tools since they tend to keep their sharpness and are durable.
Number of tools
Most of the tool kits boast a large number of tools but only a few of them are most useful. Hence, while buying a tool kit, ensure there is a pruning tool, shear, wire cutter, concave cutter and a set of jin pliers included in the kit. Without any of these, proper maintenance of your bonsai is not possible.
Quality
Every brand has a set of intermediate, moderate and advance level tool kits with the latter featuring the best quality and the former featuring the least good quality. Hence, it is advised, before investing a tool kit, ensure the quality is according to your needs.
Cost
Just like the quality of the tools, every manufacturer has a variety of prices when it comes to bonsai tool kits. You can get tool kits as cheap as $50 and as expensive as $500. However, comparing prices of different tool kits cannot be termed as reasonable since the quality lines and the number of tools in each kit differs.
History Of The Bonsai Tree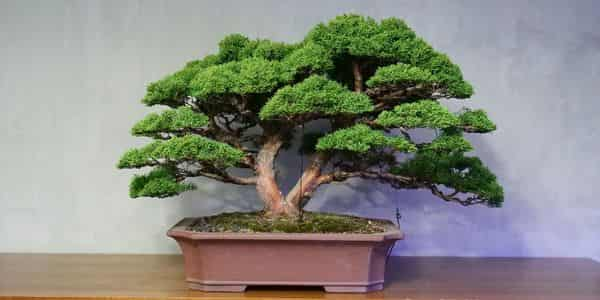 Japanese Buddhist monks, back in the 6th century, traveled a lot between China and Japan in order to spread their religion and beliefs. During the same period, these monks brought back a number of different lessons, practices, and beliefs back with them. One of which is believed to be the bonsai tree. However, the first trace of a bonsai tree was found in the late 12th century.
The history behind the name of  "Bonsai"
Bonsai is basically a horticulture technique that originated from the Chinese. But was later copied by the Japanese. The word 'bonsai' is a result of two words 'bon' and 'sai' combined.Which translates to planted in a container. Originally, it was called the 'pun sai' in Chinese.
The Early History of Bonsai
The act of caring for bonsais and breeding bonsais was exclusive to the religious class of Japanese monks for a long time. The trees were considered a part of everything holy and were only revealed to very highly posted officials. It was not until the 1800s that common people started breeding and caring for bonsais.
How The Bonsai Culture Spread All Over The World
The technique stayed in Japan for a long time since the country was not open to trade with countries other than China and Dutch. However, as soon as the Meiji Restoration period that began in the 1860s and the country opened to trade with other countries from around the world, the bonsai culture made its way to the United States and the United Kingdom. Where it gained immense popularity.This inspirational art form actually flourished in days after the world war 2, this was when the Japanese decided to become allies with the united states. During this time most of the practices, teachings, and beliefs between both the countries were exchanged. It was at this time when the Japanese officials started gifting their allies the rich horticulture art form and slowly steadily the culture seeped into the US inspiring more people around the world.
The bonsais keep growing in their popularity, as of today, most people don't understand how the process works but the internet is full of techniques and there are more than 100 different type of bonsais available now.
How to take care of the bonsai plant
Taking care of a bonsai plant is quite different than taking care of a basic garden plant. However, contrary to the common belief, the care of a bonsai tree is not at all difficult. There are just a few basics that all owners need to take care of.
Watering
Watering is the most essential part of growing any plant. For a bonsai, the amount of watering required depends on a number of things which includes, the size of the tree, the size of the pot in which the tree is planted, the weather since bonsais require less water in humid weather and the age of the tree also changes the water requirements and needs.
Fertilizers
Providing an ample amount of fertilizers during the growing season of the tree is very important. Since bonsais are planted in very small pots, they don't have a lot of areas to cover and suck in the nutrients from, hence, it is up to you to provide the required nutrient. In some cases, the bonsai starter kits come with a number of different fertilizers that can help the plant grow properly.
Repotting
As the bonsai grows and the number of roots increase, repotting becomes necessary. Keeping your bonsai in the same small pot for life will result in the ultimate starvation of the plant. Hence, to help the tree flourish and increase the number of nutrients it can absorb, repotting in a slightly larger pot every few months is one of the most critical steps.
Soil mixture
Soil is the sole nutrition provider for a bonsai tree hence, using the right kind of mixture plays a crucial role in how your bonsai will grow. Mixing the soil on your own with the proper amount of fertilizer and peat moss will only help in proper growth of your bonsai. We also have pre-mixed soils on the market, but they are not as airy as bonsai soil needs to be. Hence mixing your own lot of soil is the best.
Placement
The right placement for your plant also plays a very important role. The sun condition, the humidity, the air and the time of the year should all be taken into consideration. Scorching sun can burn your tree to the ground .On the other hand, no sun at all can also kill the plant. You need to find a place with moderate conditions where the bonsai will flourish.
Conclusion
This article was all about helping you find the best bonsai tools or the best bonsai starter kit. If you are new to the world of bonsai, getting a starter kit is the best option for you. Among the list of six bonsai tools that we have listed in this article the Ashbrook Outdoors Bonsai Starter Kit is editors favorite since it not only helps the user maintain and train their bonsai but also helps in growing eight elegant and decent bonsais.
The kit comes with biodegradable pots, soil discs, seedlings, as well as a number of bonsai management and maintenance tools which is necessary once your bonsai picks up the pace and starts growing. The best part is, this started kit does not dent your pocket. This is also a very thoughtful gift for an elder.
Apart from unbiased reviews of the bonsai tools, this article also walks you through the process of taking care of your bonsai and a brief buying guide to find the best bonsai tools that fulfill your needs. With the properly starter kit and proper toolset, you can become an advanced level bonsai breeder in no time considering the extensive guides available online.