Grafting is one of the oldest techniques' gardeners use to ensure optimal growth and production of a plant. The technique has been around for more than 2000 years. It has been used for a number of purposes including size control, plant repair, biotic and abiotic stress resistance, growth of ornamental plants, vegetation propagation and a few more. Whatever the reason for grafting, it cannot be properly done without specialized tools. Making clean grafting cuts is extremely important for the parent plant as well as for the new plant. Hence, when you use basic tools for the task, it effects the vascular continuity imperative for growth. In this post, we have constructed a list of seven best grafting tools on the market. Most of them come with a set of tools that allow you to make clean grafting cuts and overall enhance the chances of success. 
Best Grafting Tools Reviews
For our readers convenient we divide our whole reviews in some subcategory. You can give a quick look to this subcategory below.
All above text links are #ads of amazon
Now let's start the detail review …
1.  Best Overall: NAYE Garden Grafting Tool 
This grafting tool kit by NAYE is our best overall pick due to the high value for money it provides. The tool kit comes with a pruner set, two grafting tapes, a few rubber bands, a screw driver for changing the blades, three sets of blades for the pruner, plant labels and storage organizer.
The main tool of the set is the pruner that can be used for cutting leaves and twigs as well as for grafting. The three blades included in the kits are Ω-Cut U-Cut V-Cut. Every type of cut has a completely different effect on the vascular growth of the plants. Hence, you can choose the one you like. The blades and screws in the tool kit are made by using #65 stainless steel. Because of this material its provide high durability and sturdiness. The rest of the tools are designed using high-strength ABS plastic that has a longer life as compared to rubber. 
Pros 
It comes with three different types of blades. 

You don't have to invest in a separate pruning tool. This is a pruning and grafting tool. 

The construction is done using #65 steel known for its durability. 

Provides high value for money. 
Cons 
Sharpening the blades is slightly difficult. 

If you are not proficient with tools, replacing blades takes time. 
2.  Best PROFESSIONAL GRAFTING TOOLS: ZALALOVA Garden Grafting Tool
If you are looking for something high-end, this set of professional grafting tools by ZALALOVA is ideal for you. It comes with a 2-in-1 grafting pruning tool, 3 replaceable blades, a wrench, a screwdriver, a lot of rubber bands, and 50 colorful plant labels. The complete set is constructed using #65 heavy duty carbon steel. The blades are double-edged and shear that makes the whole task a lot easier. The pruning tool and wrench handles are made using heavy-duty ABS plastic which promises a longer lifetime. 
For a higher success rate, the tool-kit comes with 3 replaceable graft cutting blades. These blades can handle branches as thin as 5mm and as wide as 12mm on top of providing precise and accurate cutting encouraging vascular growth. All the steel components are treated for rust and corrosion resistance improving the overall lifespan of the tools. The grafting films included in the package are top-notch. They are waterproof and the sticking is on point. 
Pros
Steel components of the tools are treated for rust and corrosion resistance. 

The tools are constructed using carbon steel and ABS plastic making them durable and sturdy. 

The grafting tapes included are very high quality. 

These tools are designed for professional use.
Cons 
It does not come with any instruction manual. 

The blades need sharpening after every five to ten uses. 
3.  Best value for the money: FUNTECK 2-in-1 Grafting Tool 
Designed to save labor and make things easier for you, this grafting tool set by Funteck comes with a pruning tool that can be used for both grafting and trimming. It is suitable for branches that are 1/4 to 1/2 inch in diameter. For consistent cutting, it comes with three types of blades that are pretty much equipped to be roughed out without losing their durability. 
Apart from the pruning tool, it also comes with a grafting knife for top workings stocks. The package also includes two sets of grafting tape and a few replacement blades. The blades are constructed using stainless steel and are double edged. The best part is, all the tools are lightweight which improves the overall efficiency. They are ideal for gardeners who are just beginning their grafting career. However, if you are looking for something that will be able to handle thicker branches as well, you might want to look elsewhere. 
Pros
Unlike most of the grafting tool sets, it comes with a grafting knife. 

The construction is top notch making the tools durable and sturdy. 

All the tools are extremely lightweight. 

Replacing the blades is very easy. 
Cons
Since the toolkit is targeted towards beginners, it should include an instruction manual, but it does not.

The knife is not very good quality. 
4.  Most affordable choice: GORCHEN Garden Grafting tools 
Like most of the grafting tools, this one by GORCHEN is also a 2-in-1 tool set. It can be used for grafting as well as for pruning. This set is also equipped with three replaceable grafting blades that are designed to make precise and accurate cuts. If a grafting tool causes tears, the vascular growth of the branches is inhibited, decreasing the success rate of grafting. 
The pruning blade is 3mm in length and can be used to remove any excess leaves and branches. The handles are designed using heavy-duty ABS plastic. Other parts are constructed using top-notch carbon steel known for its durability and sturdiness. The only downside to this grafting tool set is that it does not come with plant labels, rubber bands and other accessories. It is equipped with a single set of basic quality grafting tape. 
Pros 
The tool is pretty easy to use and does not require extra force. 

It is quite powerful and can graft twigs with diameter of between 5mm and 1.4cm. 

The handles are durable and sturdy. 

Blades are easily replaceable. 
Cons 
The blades can get blunt after a few uses. 

Sharpening the blades is not easy. 
5.  Good for Fruit Tree Grafting: Stormshopping grafting set
Another set of grafting tools that made it to the list of 7 best grafting tools is this one by stormshopping. It is specifically designed for fruit tree grafting. In most cases, gardeners use grafting tools for pear, apple, apricot and peach trees. The branches are neither too soft nor too hard. Hence, the tool cannot be used for harder branches.As far as the construction is concerned, the set comes with basic grafting toolkit construction. The blades are double-edged and are made of steel.
The handles, on the other hand, are made using ABS plastic. The whole set comes with a 2-in-1 grafting and pruning tool, three place replacements, a screwdriver and a wrench. It lacks grafting table and other grafting accessories that most toolkits come with.The tools can handle branches with diameter between 5mm to 14mm. one of the blades is pre-assembled with the pruner and the rest are included in the storage kit. 
Pros
The blades are pretty sharp and make clean cuts. 

The pruning tools makes the removal of excess leaves and branches easy. 

The replaceable blades make it easy to replicate cuts. 

Blades have two cutter points. 
Cons
Thicker branches i.e. 14mm are difficult to graft with this.

The blades are dull out of the box. They need sharpening. 
6. Best for commercial grafting: Glarks grafting kit 
If you are a professional gardener and are looking for a grafting tool that will help you in your commercial expeditions, get your hands on this one by Glarks. The kits come with a two-in-one grafting/pruner tool, 2 replaceable blades, a wrench, a screwdriver, 36 wide rubber bands, 150 thin rubber bands, 1 grafting tape and a storage case. The blade is constructed using #65 carbon steel and the handle is designed such that it does not require a lot of effort to operate. 
It is pretty user-friendly unlike most of the grafting tools. The blade replacement as well as blade sharpening is very easy. It can handle branches with 5mm to 14mm thickness. 
Pros
The tools are made of premium quality materials for added durability and sturdiness. 

The tool is easy to use and saves a lot of time. 

The perfect cuts improve the success rate of grafting. 

It can handle tree branches with diameter between 5mm and 14mm. 
Cons 
Does not come with an instruction manual. 

The customer service is not very efficient. 
7. Best grafting kit with MULTI-PURPOSE ACCESSORIEs: Krewey Garden Grafting Tools
Last but not least is this toolkit by kreway. It is designed for professionals and comes with extra durability and sturdiness. The blades allow you to easily cut the branches, instead of wasting time and effort on traditional methods with lower success rate. All the materials used for construction are top-notch which add to the overall durability of the tools.
Like the competing grafting tools, it can easily work with 5mm to 12mm thick fruit tree branches and comes with a pruning tool, 3 replaceable blades, 50 colorful plant labels, 30 wide and 100 thin rubber bands as well as a screwdriver and a wrench. 
Pros 
Overall, the tools are very efficient. 

The blades are quite strong and can handle harder branches. 

The storage bag is very convenient. 

The tools are durable. 
Cons 
The grafting tape included is not very good quality.
What to check when to buy the best grafting tools 
Most of the gardeners don't really consider buying a special set of tools solely for grafting purposes. However, these tools are one-time investment and even if you are a new gardener, thanks to the tools, you will get a very high grafting success rate. A small mistake can lead to an unsuccessful attempt. 
To choose the right set of grafting tools for gardening, here are a few things you need to consider:
Design and Construction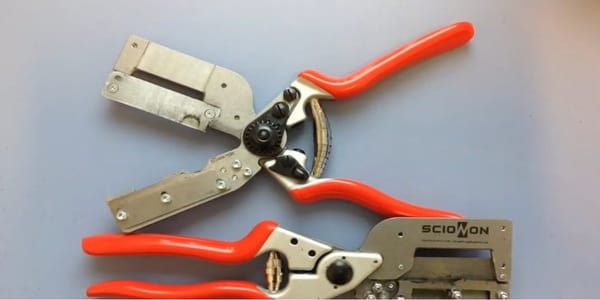 Grafting tools usually come with two types of construction namely stainless steel and carbon steel. The type of construction you choose greatly depends on your needs and the budget you have allocated. The stainless-steel tools are pretty durable. They are rust and corrosion resistant and do not lose their shine over the course of years. However, these tools cannot meet the sturdiness provided by carbon steel tools. Considering how important is the accuracy and precision of cuts made, carbon steel tools are much more efficient. They help in making sharper and cleaner cuts that provide a higher probability of vascular growth, and hence a higher success rate. This also makes the carbon steel tools pretty expensive. Thus, the final choice depends on your personal preference.
Comfort
Of course, when you are doing something as sensitive as grafting, comfort is imperative. Uncomfortable tools can lead to a decrease in efficiency. Grafting tools available on the market either come with plain plastic handles or rubber handles. For support, the pliers feature a spring between the two arms. Some of the pliers also have an automatic lock, so that the arms don't swing back as soon as you cut the branch. This helps in preventing injury. As far as the grafting tools handle is concerned, the rubber ones are way more comfortable.
The main reason behind this is the traction they provide with your palm. Other than this, the spring use between the arms of the pliers are sometimes hard. Even though they soften over time, they can mess with the precision of task at hand. Hence, before investing in a grafting tool kit, make sure you check these factors. 
The types of plants you will work with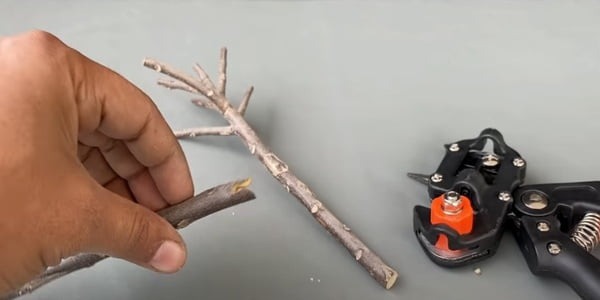 Even though grafting tools are pretty versatile and can be used with almost all kinds of branches and plants. It is better to consider the hardness of branches you will be working with. In most cases, gardeners work with a certain type of tree or plant. Hardly any gardeners specialize in grafting a number of different type of plants. Hence, when you consider the type of plant you will be working with, you can easily choose between stainless steel and carbon steel. For example, if you work with trees that have relatively soft branches, even if you invest in a slightly low quality and budget friendly tool kit, you will be fine.
Grafting tape 

Grafting tape, though pretty underrated, is a very important part of the grafting toolkit. The quality of the tape is pretty significant. Sometimes the tools are accompanied by basic washi tape or masking tape. They don't qualify as grafting tapes. These tapes should be self-adhering and waterproof since they will be directly in contact with plant fluids and moisture. It is important that the tape sticks to its initial position for proper tracking of plant growth.
Frequently Asked Questions 
New gardeners usually have a lot of questions when it comes to grafting and grafting tools. Since there the internet does not have a lot of information related to the tools, we have combined and answered some of the frequently asked questions that might help clear your concepts. 
Do grafting tools come with replaceable parts? 
Yes, most of the grafting tools come with replaceable parts. However, they are not included in the tool kit. You have to purchase them separately. Mostly, gardeners have to replace the wrench blade after a year or so of regular use. All you have to do is loosen the nut on the wrench, unscrew it using a screwdriver and remove the blade. Insert the new blade and tighten the screws. Make sure the blade is compatible with the wrench. 
Do the wrench blades need sharpening? 
Yes, like every other blade out there, grafting wrench blades also require sharpening after every few uses. The sharper the blade the better. You don't necessarily have to unscrew the blades every time you need to sharpen them. They can be easily sharpened with a blade sharpener just like every other blade. Astute gardeners suggest sharpening of blade before every grafting session. 
Can I separately buy grafting tapes? 
Grafting tapes, like every other grafting tool, are sold separately by a number of manufacturers. If you are out of tape or don't really like the tape that comes with the tool kit, you can always get a new one. However, it is imperative to understand there is a lot of difference between a stationary tape and a grafting tape. 
Conclusion 
Grafting is an ancient horticulture technique that has been carried to the modern horticulture with a few changes. In the past, the whole process was not very efficient and successful mainly because of the lack of proper tools. However, nowadays, you can get as much as 95 percent success rate when it comes to grafting and growing new plants out of stems. This post was all about helping you find the right tool for grafting. We hope from our list of best grafting tools list you will find your desired one. So that's all for today's post. Besides this review if you wish then you can also check our best bonsai tool list for your bonsai crafting.