A greenhouse, also known as a hothouse, is basically a small confined area. This is an area where we keep plants with certain climatic condition requirements. Currently, many companies on the market are manufacturing greenhouses. But when we talk about top-notch quality, high weather endurance and durability, the first name that comes to our mind is Outsunny. The company is known for its greenhouses, gazebos, canopy tents, pop-up tents and a number of other things as well. In this article, we have compiled a list of 8 best Outsunny greenhouses that have been reviewed. You can also go through some of the best feature of this brand's greenhouse in the later part of this Outsunny greenhouse reviews 
Outsunny greenhouse reviews
We always divide our entire review section into some subcategory. So that our readers can easily find their require one. So here is the subcategory for outsunny greenhouse reviews 
Overall Best: Outsunny Mini Greenhouse
Walk-in a greenhouse: Outsunny 5' x 5' x 6' greenhouse
Portable walk-in the greenhouse: 12' x 10' x 7' greenhouse
High tunnel greenhouse: 20' x 10' x 7' Deluxe greenhouse
Polycarbonate greenhouse: 6'L x 6'W x 7'H greenhouse
Outdoor greenhouse: 15' x 7' x 7' greenhouse
Zipper door greenhouse: Outsunny heavy-duty greenhouse
Greenhouse with shelves: 4.5' x 2.5' x 6.5' greenhouse
1. Overall Best: Outsunny Mini Greenhouse
This mini greenhouse by Outsunny comes with large zipper doors and UV certification. Even though it is small, it works well for gardeners that work on a small scale. This greenhouse can help you grow all kinds of plants including fruits, vegetables and flowers. As compared to its predecessor, it comes with an upgraded design. Hence, the greenhouse now comes with 3 large doors that can be opened completely and rolled up with ropes. 
Apart from this, the greenhouse has good ventilation and reasonable operating space. It sports a PE mesh grid cover that is UV as well as water-resistant. This helps in keeping the plants protected while giving them enough for nourishment. The best part is, it comes with a durable and long-lasting design. The chassis is manufactured using powder-coated steel that is reinforced using horizontal supporting tubes. The whole system weighs 11 pounds and measures 9'L x 3'W x 3'H.
Pros
It comes with three large doors that can be rolled up. 

The PE mesh keeps UV rays and water out. 

The design and construction are done such that it is durable and sturdy. 

It is portable. 
Cons
The cover fills up with air due to ties being lower.

The ties that hold the door flaps are short, which makes them inconvenient. 
2. Walk-in a greenhouse: Outsunny 5′ x 5′ x 6′ greenhouse
This portable mini greenhouse by Outsunny is ideal for anyone and everyone that is looking for a walk-in greenhouse for his/her garden. The greenhouse has a steeple shape, which makes it easy to stand in even for taller people. It comes with two sets of shelves, and the lower and 1st shelves can be used for saplings as well as for young plants. The top shelf, on the other hand, can accommodate taller plants. It has a zipper door that can be closed in rainy and stormy weather. The best part is, this door provides enough ventilation for all plants. 
The covers are translucent. Hence, they let in a diffused light that is enough for plants to strive but not enough to burn them. Moreover, the cover is designed to protect plants from all types of hot and cold weather and considering its size, and it is ideal for home gardening. The covering is constructed using PVC and the chassis is made of powder-coated steel. 
Pros
Heavy-duty and long-lasting construction. 

Semi-diffused PVC covering and Powder-coated steel chassis. 

Quite easy to put together.

Small and portable, ideal for home gardens. 
Cons
Requires extra precautions to keep it secure. 

Instructions are not explicitly mentioned. 
3. Portable walk-in the greenhouse: 12′ x 10′ x 7′ greenhouse
If you are looking for a portable greenhouse but want something larger than the previously mentioned Outsunny greenhouses, get your hands on this portable and walk-in greenhouse that measures 12 feet by 10 feet by 7 feet. It is an ideal way to extend the plant growing season by managing your plants in a better way and keeping them protected from extreme weather. It comes with translucent PE cover that allows enough sunlight to protect your plants. The cover also filters harmful UV-A and UV-B lights which helps the plants strive to the maximum. 
This greenhouse is specifically designed for beginners; hence, it is low maintenance, lightweight, durable, and sturdy. If you are new to the world of gardening, this greenhouse is enough to provide you with the kickstart you need. It will help you extend the growing season even a month into fall. For ventilation, it comes with six roll-up side windows that have netting. This allows ventilation but prevents pests from coming in. 
Pros
6 windows that provide enough ventilation.

The front entrance is of considerable size.

It is designed for beginners hence are low maintenance. 

It is UV protected. 
Cons
It is flimsy, especially in windy weather. 

It requires an external reinforcement. 
4. High tunnel greenhouse: 20' x 10' x 7' Deluxe greenhouse
Gardeners looking a huge greenhouse to extend the growing season of their beloved plants should look into this deluxe greenhouse by Outsunny. It is 20 feet long, 10 feet wide, and 7 feet high. Even though the size is big, most of the farms can accommodate the greenhouse since it comes with two installation methods. You can easily set it up on a hard surface and can also anchor it to soft soil. Hence, any kind of free land you have in your garden can be used for this greenhouse. 
It comes with a durable and sturdy transparent plastic cover that is constructed using PE. Just like all the other Outsunny greenhouses,it comes with UV certification, which means the outer covering only allows beneficial light to come in and filters out the harmful rays. Since it is a huge greenhouse, it comes with 8 roll-up side windows that have netting. This way, the system is kept ventilated without the risk of pests coming in.
Pros
It has a large, zipped front entrance. 

The chassis is made of powder-coated steel. 

It has two installation processes and is customizable. 

Anchoring the greenhouse is pretty easy. 
Cons
The frame can get very wobbly with high-speed winds. 

The anchors can break in storms. 
5. Polycarbonate greenhouse: 6'L x 6'W x 7'H greenhouse
This particular greenhouse by Outsunny is specifically designed for beginners. It is quite compact, however, still allows the gardener to walk-in. The greenhouse can mostly be used to grow saplings since it can increase the time period of the growing season, providing year-round gardening. It is one of the sturdiest greenhouses by the company and comes with UV-resistant polycarbonate sheets. These sheets help in keeping your plants, vegetables, and flowers safe by letting the natural light pass. 
It has a heavy-duty frame, hence, can endure high-speed winds. The chassis is made of powder-coated aluminum alloy frame. The base is galvanized to provide solid support. The best part is, it has a sliding door design which makes things more convenient. 
Pros
Has a reinforced aluminum chassis. 

It comes with polycarbonate sheets. 

The frame is heavy-duty and can endure heavy winds. 

It has a sliding door design. 
Cons
The panels are slightly hard to slide into the frame. 

The greenhouse is designed for colder weather. 
6. Outdoor greenhouse: 15′ x 7′ x 7′ greenhouse
This dome-shaped walk-in greenhouse is ideal for both hot and cold kinds of weather. It is medium-sized and is portable. The greenhouse comes with a translucent PE outside cover that comes with UV-certification. Hence, the cover will neither be degenerated due to UV rays nor will it let the harmful rays reach the plants. It has heavy-duty steel construction and its extremely easy to install. 
The greenhouse comes with a large-sized roll-up entrance and 6 roll-up windows on the side. These combined provide an amazing ventilation system. Hence, it is ideal for both cold and warm weather. The installation process is also very easy and convenient. 
Pros
It can accommodate a number of plants. 

The entrance is huge, which provides enough area to take in tall plants. 

The windows are mesh netted. 

The frame is durable and sturdy. 
Cons
The frame can get wobbly in stormy weather. 

Needs to be anchored externally. 
7. Zipper door greenhouse: Outsunny heavy-duty greenhouse
Designed for all level gardeners, this Outsunny greenhouse is constructed using a solid steel frame that is topped with a PE cover. The greenhouse is designed to last many seasons since the chassis is powder coated and the PE cover is UV treated. Which means there will be no degeneration whatsoever. The frame is treated for corrosion, chipping and peeling resistance. Hence, it comes with an overall sturdy construction. 
The PE cover has two zippered doors and four roll-up windows. The windows also come with insect netting for pest control and ventilation. It comes with 12 ground nails for better stability. The installation process is fairly easy, as well. 
Pros
Corrosion, chipping, and peeling resistant chassis. 

It comes with all the accessories included. 

It is durable and sturdy. 

Simple and quick to assemble. 
Cons
The steel structure cannot endure scorching sunlight. 
8. Greenhouse with shelves: 4.5′ x 2.5′ x 6.5′ greenhouse
Last but not least is this almirah like a greenhouse that is too small to walk-into it but is designed for people with smaller gardens. There is enough space for a person to stand and organize the plants but if you decide to keep tall plants at the bottom, space will be occupied. 
Like all the Outsunny greenhouses, this one also comes with a reinforced steel chassis that is treated for corrosion, rust, and peeling. It has four shelving panels and a single roll-up zipper door that takes on the task of ventilation as well. It comes with nails and ropes as well so that it can be properly anchored. 
Pros
It comes with reinforced steel chassis. 

The PVC outer cover is sturdy. 

It comes with 4 shelving panels. 

The greenhouse has a complete set of accessories required to anchor it. 
Cons
It can be flimsy on soft soil. 
Best things of Outsunny greenhouses
Outsunny is one of the best greenhouse manufacturers around the world. The greenhouses' launched by this company mainly stand out due to the following features
Durability and Sturdy Framework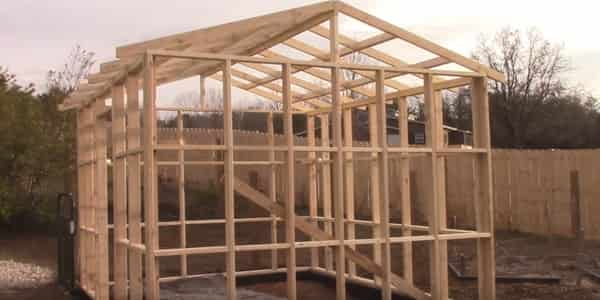 Since all the Outsunny greenhouses come with chassis constructed using reinforced steel that have powder coating. They are chipping, peeling, rust and corrosion-resistant. Hence, their life is increased by folds. You can use it for many seasons without worrying about the chassis melting whether it is cold weather or warm weather.
UV Resistance greenhouse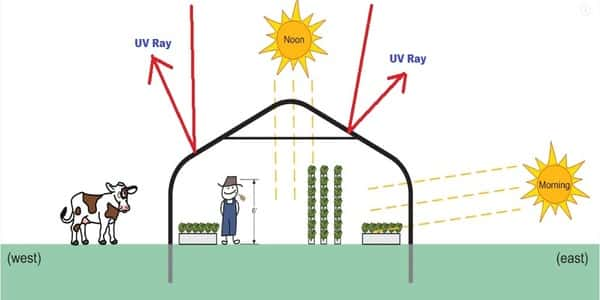 All the greenhouses by Outsunny are UV resistance. This means, even in the hottest of weather and scorching sunlight, the outer layer will not deteriorate. Moreover, the layer will filter out harmful rays and let in beneficial rays from sun to help the plants strive.
 Greenhouse Ventilation
Outsunny has always focused on making its greenhouses properly ventilated. Most of the greenhouses come with large windows, in case the greenhouse is not big enough for windows, the door is designed such that it has a huge surface area for proper ventilation. Those door areas are sometimes so big that you can easily set an extra ventilation fan if required.

Moreover, the windows are mesh netted to keep the pests and insects out.
Insulation
Outsunny greenhouses come with enough amount of insulation required. Even though it is determined by the temperature and weather conditions of the area you live in. The roof of the greenhouse is keeps the whole space naturally warm by holding the heat in. Hence, when cold weather hits, your plants are least affected. Outsunny greenhouses come with varying degrees of insulation. The information is extensively available on Outsunny's website. 
Customization
Customization of a greenhouse is something that is almost always taken for granted by gardeners. However, Outsunny always keeps it greenhouses customizable. The more customizable your greenhouse is, the better will be your efficiency. Outsunny allows you to rotate the shelves and move them around. For example, shallow shelves are ideal for germinating seeds, while taller shelves are required for more mature plants.
Frequently asked questions
Some of the frequently asked questions regarding the Outsunny greenhouses are:
Are Outsunny greenhouses portable?
Yes, most of the Outsunny greenhouses are portable. However, the level of portability is defined by the size of the greenhouse. The smaller the greenhouse, the more portable it is. Most of the larger greenhouses require permanent anchors. 
Are there any Outsunny greenhouses with PVC panels instead of covers?
Yes, Outsunny has a number of greenhouse models that come with slide-in PVC panels instead of outer covers however, these are more permanent greenhouses. Moreover, these greenhouses are more durable. 
Does Outsunny sell greenhouse accessories?
Yes, Outsunny also deals with greenhouse accessories. You can get external shelves, reinforcement bars, fans, pipes, and a number of other stuff. 
How long do Outsunny greenhouses last?
On average, Outsunny greenhouses last 6 to 8 seasons. However, if you take proper care of the system, you might be able to stretch it to 10 seasons. 
Conclusion
With the constantly and rapidly changing weather conditions of the world, gardeners around the globe are having issues in keeping their plants healthy and alive. The best solution to this problem is greenhouses. And what better company to invest in other than Outsunny? We have listed our favorite outsunny greenhouses in this post. If you decide to invest in any one of them, you will not regret it. However, if you want to know more about greenhouse and how to maintain the greenhouse humidity, you can go through our this article. So that's all form this Outsunny greenhouse reviews.