I always prefer fern as one of my most favorite indoor plant. Ferns are not used only for medicinal purposes, but they are the most recommended plants for beautification. They are flowerless ornamental plants that can live up to 100 years. Ferns have a widespread distribution, so expect to see them everywhere from the tropics down to the arctic. Just like every other plant, ferns are affected by a wide range of diseases and conditions. When these happen, they start dying till you cannot find any active leave on the plant. But the good news is that ferns are hardy plants, and it is much easier to save them from unpleasant conditions. There are several ways to save a dying fern. So, in this article, I am going to cover how to save a dying fern for three different species from my own experience.
How to save a dying fern 
It is not possible to save a fern when all its leaves are already dead. But if any fern is in almost dying concision its still can be saved. There are more than 40 types of ferns.  But in this article, I am going to discuss how to revive 3 most common indoor fern: Boston fern, Stag horn fern, and maidenhair fern .
So keep reading …
1. How to save a dying Boston fern 
Many underlying factors can cause your Boston fern leaves to wither and die off. Some of the common reasons are inadequate or excess sunlight and low humidity. If you notice dead leaves on your Boston fern, use these guidelines to revive your Boston fern.
Step one : Add water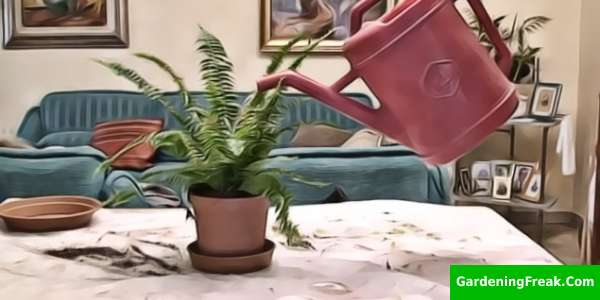 Add enough water to the dying fern and leave it for about an hour to absorb as much water as possible. Then, proceed to get your dying Boston fern out of the put. To do this, knock the pot gently against a sharp edge. Use a knife around the root balls and pull out the fern with care.
Step two : Pick out the dead leaves
Get a good trimming knife and bring down all the dying leaves to 2 inches. Make sure to remove all dead fronds from the plant.
Step three : Separate the matter roots from the healthy ones 
Next is to scrutinize and remove dead roots from the plant. Do not tamper with the healthy roots.
Step four : Replant the Boston fern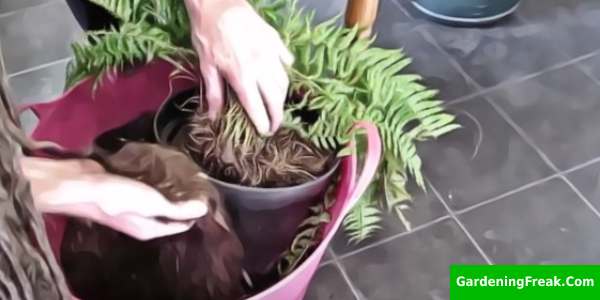 Source for a new pot and insert wire mesh at the bottom. Then jump right in to fill the pot halfway with well-drained organic soil. Once you have nailed this step, place your Boston fern in the middle and fill up the surroundings with potting mix. 
Step five : Water the pot 
Your Boston fern needs a small amount of water to stay alive. The trick is to water the compost till it gets moist but not mushy. Then position the pot in a north direction to receive enough sunlight. 
2. How to revive a maidenhair fern  
A maidenhair fern is one tough plant that does not like the idea of dying completely. You can use this to your advantage and revive it no matter the extent of the damage done. So here is how to save a maidenhair fern.
Cut off the dead fronds
Sometimes, the dead fronds will come off a dying maidenhair fern as you touch them. But what if they don't come off so easily? Don't worry. All you have to do is to get a small pair of scissors and detach the dead fronds.
In most cases, you will have to cut off the dead fronds till you get to the soil level. Relax! It is not something to worry about. A maidenhair fern can thrive and grow again from the soil level.
Here is a secret. Use a ceramic or a plastic pot to grow your maidenhair fern. It is because these materials hold water better than other materials. With a ceramic container, your maidenhair fern will not dry out too fast.
Add water after pruning the fern 
This is the point where you have to water the soil till it gets soaked. You may have to do this for a couple of days till you spot a new frond sprouting out of the soil.
Keep watering the soil and keep an eye on the frond sprouting out. Make provision for drainage immediately you notice water-logging to avoid root for. 
Important Note : Never let your maidenhair fern dry out. It needs a constant supply of water to survive.
Provide sunlight
Don't forget that sunlight is necessary for the growth of a plant, including a maidenhair fern. So make sure to place the maidenhair fern in a position that allows it has indirect access to bright sunlight. And boom! Watch new evergreen fronds emerge and blossom from the soil.
3. How to save a dying staghorn fern 
What makes a stag horn fern stand out is the bold dramatic fronds. Also, it is easy to grow and shows a lot of resistance to pests and diseases. The common reasons as to why a stag horn fern will start dying are owing to the moisture level.  It is common to find a stag horn fern among people who love colorful plants. If your stag horn fern is dying, here is what you can do to save your precious plant from the grips of death.
Dry the soil  
Watering too often can cause Water-logging and eventually lead to fungal infection. Stag horn ferns can be killed by a fungal infection. But there's a solution. Remove all affected fronds and leave the soil to get dry before adding more water. As you water the ferns, be on the lookout for possible ways to drain away excess water.
Fertilizer 
Adding a small amount of fertilizer can help you save a dying staghorn fern. The catch? Use a slow-release fertilizer like Nutricote to improve the stag horn fern's growth. You can add the fertilizer directly to the compost or into the holes.
A greenhouse effect 
Another good way to save a dying staghorn fern is to use the greenhouse effect. What this means is to provide an environment with high humidity for your staghorn fern to thrive in. Get an aquarium or a bowl of water and place the pot housing the staghorn fern in it.
Avoid letting the stag horn fern fully immerse in the water to guard against root rot. As long as the water gives the stag horn fern a cold environment for growth, the staghorn fern will be rescued from death. 
Types of fern plants  
Ferns are one of the oldest plants in the world. What this means is that some fern species that appeared many years ago may have gone into extinction. So while we cannot tell how many ferns species are there, we will group the common ones into two categories.
Indoor ferns 
The indoor ferns are at their best performance when grown indoor at a room temperature of about 21°C. They also need plenty of humidity and light watering to yield well. Some of the most popularly cultivated indoor ferns are the Boston fern, the Holly fern, the Royal fern, and many others.
Outdoor ferns 
Contrary to the indoor ferns, this class of ferns is grown outside in shady areas. A good example is the Ostrich fern and the Australia wooden fern.
The most common question about fern: why is my fern dying 
Many factors can cause you to have a dying fern. There's a saying that goes thus; If the purpose of a thing is not known, abuse is inevitable. Hence, you should figure out why your fern is dying before going all out for a solution. Check the below outlines to help you identify the root cause of your dying fern.
Overwatering 
Overwatering is one of the fastest ways to kill a fern regardless of the type of fern you are cultivating. Ferns like well-hydrated soil, yet they detest a muchly environment. Overwatering in ferns can result to root rot and death. So make sure to water the soil in the right amount. The easiest way to identify overwatering in a fern is the dropping and the yellowish fronds.
Humidity 
Low or high humidity- any of them can kill a fern. The requires humidity level for ferns to perform excellently is 50%. Fronds will turn brown when the humidity level is low. So avoid placing your ferns in areas like a heating vent and a radiator that have low humidity. By now, you are wondering what way does high humidity kills a fern. A cold environment will support the growth of microbes this exposing the ferns to diseases and parasites. So maintaining the humidity in greenhouse or indoor environment for fern is always important. 
Pest infestation 
Pests like spider mites and mealybugs can damage a fern. The sad thing is that spider mites are so small that one can miss out on them. Wilting and brown/yellow leaves are common symptoms of pest infestation on ferns. Make sure to carry out pests inspection regularly on your ferns to identify and get rid of those nasty bugs. You can hand-pick them or use a pesticide to eliminate them from your fern. 
Over fertilizer 
Another way to kill a fern is to apply excess fertilization to the soil. What overfertilizing dies to your fern is to cause toxicity to the fronds. Eventually, the fronds will become brown and die off. In the case of severe toxicity, the root gets affected and withers away.  What happens when the roots are dead? The plant itself is unable to absorb water and nutrients from the soil. Unfortunately, the plant also will die. Another good sign that your fern is getting overfertilized is a salt-like deposition on the soil. 
Under watering 
Don't be surprised when you wake up one morning and find out that your beloved fern is dead. Underwatering will also kill a fern in the long run. Brown leaves are a good indication that your fern is not getting enough water it needs to survive. 
Sunlight
Ferns love bright indirect sunlight. When exposed to direct sunlight, the fronds will get burnt and become brown. Low sunlight exposes the fern to pests and diseases. Also, it hinders their productivity and growth. The trick is to maintain a balance between low light and direct light. 
How to keep ferns alive indoors
You can never go wrong with ferns in your interiors. They are beautiful to the eyes and make a place desirable. However, tending a fern indoors is a critical condition that needs some logic to be successful. The good news is that you are not alone on this. Here are a few ways you can keep ferns alive indoors. 
Use a room humidifier 
It can be an uphill task trying to regulate room temperature for indoor ferns. Get a  plant  humidifier to simply the process and help provide your indoor ferns with a regulated humidity level. No worries if you don't have a humidifier. You can substitute a room humidifier by placing the container housing the ferns in a bowl of water or on a tray of pebbles.
Compost 
Use compost for your indoor ferns, and you will smile all through. Ferns thrive best in soil rich in organic matter. It is where the compost fits in. For better results, consider using compost with peat and much sand. 
FAQs 
How long can a fern live?
Depending on the species, ferns have a longer life shelf compared to most horticultural plants. While some fern species live up to 100 years, some other species average between 20 to 80 years.
Can Potted Ferns Stay Out in Cold Temperatures?
Most potted ferns are hardy and can survive a cold temperature. Ensure that the soil is always hydrated and does not get dry.
Should I cut the dead leaves off my fern?
Cutting off dead leaves on a fern is logical and a wise thing to do. It will help you enhance airflow around the fern. Also, it will make your fern look neat and attractive.
Why is my fern turning brown and dying?
Several reasons will cause your fern to turn brown and die off. From pest infestation to overwatering and humidity, you may lose so many ferns. To get the details about the varying factors responsible for a fern turning brown and dying, see the section above that tells us about the most common question about ferns.
What does an overwatered fern look like?
An overwatered fern will have a mulchy and dark root. You will also get yellowing leaves and wilting. However, it may be a little hard to identify an overwatered fern using a yellowed leaves indication. This is because the most unpleasant condition in ferns is accompanied by yellow fronds. The best way to detect overwatering in ferns is to check for a mulchy root.
Why is my fern dropping leaves?
Dropping leaves is a normal characteristic of ferns. However, this can become an issue when it happens regularly. Overwatering and excess sunlight are the major causes of dropping leaves in ferns.
Can you overwater a fern?
What overwatering will do to your fern is to expose it to fungal diseases and root rot. Additionally, it will make you lose your ferns fronds to wilting.
Why is my fern dropping leaves?
Dropping leaves is a normal characteristic of ferns. However, this can become an issue when it happens regularly. Overwatering and excess sunlight are the major causes of dropping leaves in ferns.
Can you overwater a fern?
What overwatering will do to your fern is to expose it to fungal diseases and root rot. Additionally, it will make you lose your ferns fronds to wilting.
Do ferns need sun or shade?
most varieties of ferns prefer a shady area to direct exposure to sunlight. If you are considering growing a fern in a non-shady area, best you go for outdoor ferns. They can tolerate direct sunlight better than indoor ferns.
How often should you mist a fern?
This depends on your type of fern. For example, crinkled ferns will require less misting to broadleaf ferns because they have a higher moisture holding capacity than the latter. But the general rule of thumb is to mist a fern 3-4 times daily.
Conclusion 
It is down to you if you want to save a fern or not. Ferns are so resilient and are open to any revival operation. Their leaves have varying colors, texture and sizes. The best part is that they are famous for quick reproduction and adept survival. As you have read our guide and know how to save a dying fern, the battle is over. No more dying ferns in your house. Remember to take a picture of your ferns and share it with us. Good luck.