When it comes to huge crop lands, gardens and yard, easy access of water is something most of us yearn for. Accessing large amounts of water in a short span of time is considered a tedious task. However, this problem can be solved by a yard hydrant. That is basically a specialized plumbing hardware that allows you to tap into your well to access water. Most of the property owners use hydrants to irrigate lawns and gardens. In some cases, they are also used to provide water to livestock and create a source of water where it is needed for routine tasks such as washing cars, trucks or similar equipment. For most gardeners, it is a very important piece of plumbing hardware. That is why investing in the best yard hydrant on the right time is extremely important. 
This post comprises of a list of 7 best frost-free and regular yard hydrant that is considered the best on the market currently. You can also check their summary from the below table
Without further ado, let's start with the reviews. 
Best Yard Hydrant Reviews 
For our readers convenient we divide our entire review into some subcategory. So that they can easily choose their required one.  The subcategory is given below
Not Lets c heck out the detail review
1.  Best Value for the money: Woodford yard hydrant 
Woodford is in the yard hydrant business for as long as we can remember. Since the start, the manufacturer has remained on the top. Their yard hydrants are known for durability, sturdiness and high-quality construction. The device Y34-4 yard hydrant under discussion is nothing less. It is one of the best on the market in terms of design and ease of use. The yard hydrant comes with a cast iron head and handle. Other parts of the hydrant are also made using metal. This also includes the 3/8-inch steel operating rod. The valve body is constructed using brass. Other than this, the hydrant is equipped with a number of other features. These include graphite packing that increase the overall life of the product. Moreover, it also comes with a variable flow plunger that allows the user to adjust the water flow according to the application. 
This also helps in saving water. The best part is, this yard hydrant comes with anti-frost construction, which means it can endure extremely cold temperatures. Overall, the hydrant is thoughtfully designed and comes with all the required features. Hence, we have termed it as the yard hydrant that provides best value for money. As compared to other yard hydrants in the same range, this one has a longer life and comes with better specifications overall. It is tough enough to withstand extreme conditions and has top notch mechanical components. If you are looking for a yard hydrant that will fulfil your gardening, farming or landscaping needs, this is the one for you. 
Pros
The yard hydrant is designed using top-notch materials which is why it is extremely sturdy and durable. 

It has an adjustable flow rate which not only helps in saving water but also improves the overall functionality. 

It comes with anti-frost abilities hence water will not freeze inside the pipes in winter, keeping the hydrant functional for a longer time. 

The product does not come with any kind of water restrictions. 
Cons
The handle is hard which is why it takes some strength to operate it. 

The packaging is not very safe, thus if you are ordering it online you might want to ask the seller to wrap it up properly. 
2. Frost free yard hydrant: Simmons yard hydrant 
If you are looking for something that can withstand force, pressure, rough handling and extreme temperatures all at once than get your hands on this Simmons yard hydrant. Simmons yard hydrants are known for their ease of use and high functionality globally. The Simmons 4802LF is an extremely well-made yard hydrant that belongs to the company's premium lineup. The 4802LF comes with 4 feet bury depth which means, the valve should be two feet underground i.e. below the frost line. Moreover, the hose connection will be two feet above the ground. As far as the construction of the product is concerned, the head and the handle of the hydrant are made using heavy-duty cast iron. Hence, they can withstand rough usage without breakages. 
The yard hydrant features a ¾-inch NPT female inlet which is larger than the one provided by Woodford Y34-4 mentioned in the previous. Thus, the waterflow is much more than that. The downside here is that this hydrant does not come with an adjustable shut off valve. So, the users will not be able to adjust the water flow. Rather they will have to do with whatever water is being pushed in. However, if you still want something with adjustable water flow, you can always invest in an in-line valve and add it to your system.The best part about this yard hydrant is that it comes with the best frost resistance. Hence, frozen and broken pipes will be no issue for you. It comes with a durable frost proof design which prevents frozen water pipes no matter how low the temperature falls. 
Pros
The construction as well as the materials used is on point. 

It comes with double frost resistance; hence it is ideal for colder regions. 

The hydrant is compatible with a number of external hardware devices; hence you can improve the functionality.

It is extremely easy to install, if you know how to hold a wrench, you can easily DIY it. 
Cons
It does not come with an adjustable valve. 

The cast iron head needs protection from sub-zero temperatures.
 3.
Cast iron hydrant: Woodford Mfg, Y34-2 
Another Woodford yard hydrant that made it to our list is this Y34-2. It is a common fan favorite and gardeners swear by its construction quality as well as functionality. It is similar to the Woodford Y34-4, the only difference is the lower cost and the smaller size. This particular yard hydrant comes with heavy-duty cast iron head and valve like its sibling.The pipes and rods included in the system are constructed using galvanized steel and the plunger is made using Nitrile. All these are top-notch heavy-duty materials that ensure the durability and sturdiness of the product.It is one of the best frost resistant hydrants available on the market. To compliment the frost resistance of the hydrant, there is a 1/8-inch NPT drain hole in the head.Since the head is made using cast iron, it cannot endure the expansion that comes with freezing of the water. 
Hence, the drain hole prevents any breakage. Moreover, the handle is lockable. As compared to its sibling, it comes with a smaller 2 feet bury depth. The inlet size is ¾-inch female NPT, the outlet size is ¾-inch and the rod diameter is 7/16-inch. Apart from this, the yard hydrant can endure a maximum pressure of 125 psi and 120 degrees Fahrenheit. Anything above this will render the hydrant useless. Moreover, it comes with an adjustable water valve system. Thus, you can save water and increase or decrease the flow according to your convenience. 
Pros 
It comes with high-level construction and top-notch features.

The product is a smaller version of one the best yard hydrants out there. It offers similar features in a lower price. 

The hydrant is equipped with anti-frost abilities which prevents frozen pipes in sub zero temperatures. 

It comes with an adjustable water valve that lets the user change the flow of water based on their requirement without wasting water. 
Cons 
The handle is quite hard to operate initially; however, it gets better with time. 

The bury depth is too small. 
4. Merrill yard hydrant: CNL-1000 Series Yard Hydrant 
This yard hydrant by Merrill is another highly functional and heavy-duty water extender that has made it to our list. Even though Merrill has not enjoyed the same fame as Woodford and Simmons, this hydrant always makes it to the list when we talk about the best yard hydrants. It is a standard hydrant that comes with frost resistance and heavy-duty construction.The product is made of heavy-duty cast iron like most of the hydrants. The operating rod, on the other hand, is made using stainless steel. Moreover, the rod is ground as well as polished such that it does not cut out the packing and the packing nut. It can work with any water system. The valve goes at the bottom and comes with a small drainage hole to get rid of any water that is left in the valve. 
However, for this, it is imperative that you remove the hose once you are done. If you don't, the drainage hole will not work due to suction. The valve has a heavy-duty solid brass adaptor that is designed according to the standard 3/4″ hose coupling. Apart from this, the valve body has a double bypass.Like almost all the hydrants on the market, it is designed to endure sub zero temperatures, however, it cannot bear water with temperature above 120 degrees Fahrenheit. As far as the bury depth is concerned, it comes with a 3 feet long pipe, which means it can be buried 3 feet deep in the ground. The rod also comes with a mark to show you how deep you can bury it. The installation period is slightly tedious as compared to other yard hydrants.
Hence, if you are new to the world of hydrants, you might want to call a professional for proper installation. 
Pros 
The design is minimalistic and simple which makes it very easy to use and improves the functionality. 

The plunger seal is replaceable which means you don't have to change the complete plunger when the seal breaks. 

The construction is lead free, hence you don't have to worry about the contamination of the 

Since it uses galvanized pipes, the whole system is durable and sturdy. 
Cons 
It does not have an auto shutoff feature that can waste water. 

The handle is too large, this sometimes hinders with the functionality. 
5. 4ft yard hydrant: Simmons hydrant 
If you are looking for a yard hydrant that has a longer pipe that provides a higher bury depth yet something that will not dent your pocket. Get your hands on this one. It is not only extremely durable and sturdy but is also very easy to use. Simmons yard hydrants are known for their ease of use and high functionality. The best part is, it is completely lead free. This particular yard hydrant belongs to the Company's lead-free premium lineup. It comes with a frost proofing system, which means it can be used in even colder regions. Overall, the product is 2 feet above the ground and consists of a handle that makes it easy to operate. The handle also has finger rests that makes it comfortable to hold. This handle is used to start the flow of water. 
Other than this, the hydrant consists of ¾-inch NPT Female Inlet. Hence the water supply is ample for farming and irrigation purposes. The head of the product is constructed using heavy-duty cast iron that comes with blue polyester powder coating to make it resistant against wear and tear due to weather and usage. The total pipe of this yard hydrant is 4-feet long. Apart from this, as mentioned, the connection of the hose is 2 feet above the ground. The valve is present at a 2 feet depth in the ground and comes with adjustable valve as well as automatic shut off system. Hence, on top of changing the flow of water according to your requirement, you can also save water. 
Pros 
It is completely frost proof thanks to the frost proofing system added. Other yard hydrants come with frost resistance. 

The NTP female inlet in combination with adjustable valve system greatly improves the overall functionality of the product. 

The head and handle of the hydrant are made using cast iron topped with blue polyester powder coating. 

The handle is very convenient to use and carry. 
Cons
Cannot endure very high temperature and pressure, it starts leaking. 

Installation is difficult. 
6. Frostproof Yard Hydrant: PROFLO PFXEM7502 
ProFlo is known for its user-friendly and affordable bathroom fixtures, toilets, sinks and similar accessories. It has only recently started manufacturing yard hydrants, yet was able to take the industry by a storm. This 2 feet yard hydrant by the company is by far their best release. It is constructed using brass to ensure durability and sturdiness. Like all the other ProFlo products, this one is also designed to be user friendly and functional. It comes with high-quality finish so that it is rust, chipping and corrosion resistant. Despite rough use, it will neither catch rust nor will the paint chip off. If you want to install a yard hydrant on a property where you don't want any unauthorized usage of water, this yard hydrant is the one for you. 
It comes with a padlock, that can be locked and unlocked on user discretion. Hence, you don't have to worry about anyone accessing the hydrant without authorization. Apart from this, the product is frost resistant. Once the hose is taken out, it drains all the water below the frost line to keep the pipe safe and prevent pipe freezing. It also comes with a lever control for variable flow. The one-inch galvanized rustproof pipe makes it extremely durable and prevents all kinds of leakages.The adaptor is made of solid brass; hence you don't have to worry about breakages. It only weighs 11 pounds and is very easy to install. It can endure pressure up to 120 psi but not more than that. 
Pros 
It comes with a padlock to prevent water theft and unauthorized access. This is great for large properties. 

The water hydrant is very reasonable as compared to the other yard hydrants with similar features. 

The installation procedure is extremely easy and can be done by the user as well. 

The overall construction is top-notch making it durable and sturdy. 
Cons
The hydrant does not come in four feet bury depth variant. 

The handle is not very convenient to use. 
7. Campbell yard hydrant: Lead Free Frost Proof Yard Hydrant 
Last but not least is this advance hydrant system by Campbell. It is specifically designed to prevent any and every contamination in the source water. The yard hydrant is constructed using 100 percent lead free materials. Moreover, it comes with high-end frost resistant. Hence, freezing of the portable water service is prevented in any case. Other than this, the hydrant is designed to be eco-friendly. It comes with a cannister underneath, that collects all the water being drained from the hydrant. Of course, this happens after the hydrant is shut off. This prevents the drained water from contaminating any of the water sources in the area. The water supply is protected from coming in contact with the surface water as well as soil bacteria. Moreover, the same drainage system prevents the water from freezing in the valve system and the head keeping it safe from any breakages. 
No products found.
Apart from this, Campbell has also employed the venturi-effect in the system. Under the venturi effect, the cannister is emptied. It also causes the head and the riser pipe to recollect the dirty water and dispose it at shut off.However, if you are interested in keeping the source water pollution free, at the time of attaching the hose, it is imperative that you attach a siphon valve with it. This valve does not come with the system, rather has to be bought separately. 
Pros 
It features high level construction that makes it durable. 

The hydrant is designed to keep source water pollution and contamination free. 

The drained water is collected in a cannister and disposed of at shut off time. 

It comes with advanced anti-frost system.
Cons
In winters, if you don't remove the hose, the valve may get damaged. 

You have to

use an anti-siphon valve

with the hose. 
What things to check when buying the best Yard Hydrant
If you are a beginner and are looking to buy a yard hydrant for your property, going through this buying guide will help you a great deal. It will give you an insight to what needs to be considered before investing in a good quality yard hydrant. 
Yard hydrants are not something you change or replace every month or as a matter of fact every year. It is a one-time investment which is why you have to put more thought into it. If you don't have the proper know-how, the above-mentioned reviews will not be of any value to you. 
Bury Depth
Bury depth is also referred to as the reach of the yard hydrant in layman terms. Every yard hydrant has a different bury depth, which is why considering this should be the first thing you do. Of course, you can get customized bury depth for your yard hydrant but that will cost more.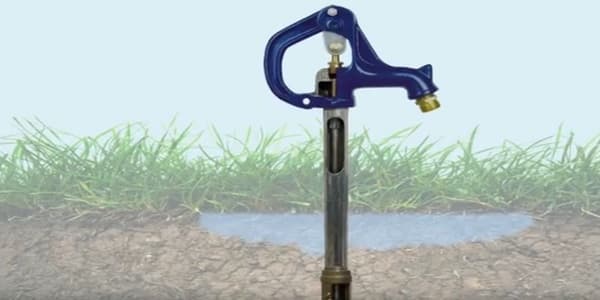 Before investing in a yard hydrant, make sure you check the depth or distance to the nearest well or water source. It can be an underground pipe as well. Depending upon your requirements of the depth level you can choose a required bury depth for the hydrant. If you invest in something longer or shorter, you will be wasting your money. Since the installing will be almost impossible.
Water flow adjustment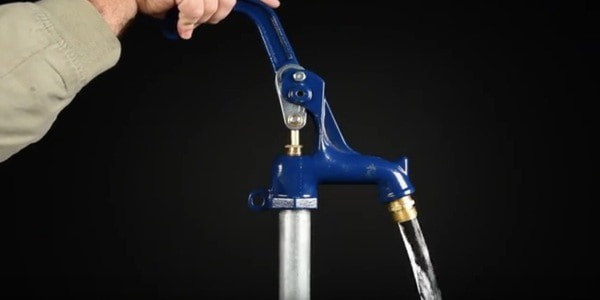 Where most yard hydrants on the market come with water flow adjustment feature, some old school ones lack this feature though. However, it makes the whole task much more convenient. The user has the control over water flow and can easily adjust it according to their requirements. The best part is, it also helps in saving more water. Hence, it is a win-win situation in both cases. Gardeners can irrigate their land as they please while saving water. However, yard hydrants with this feature are more expensive. If you don't want to spend a lot of money or have a certain budget, you might want to look into yard hydrants that don't come with water flow adjustment.
Frost resistance and Automatic drain out
This feature is especially important if you live in areas where the temperature drops below the freezing points in winters. The automatic drain out work in accordance with the frost resistance feature of a yard hydrant. If you live somewhere temperature drops to freezing points, make sure you get a yard hydrant with frost resistance. If not, the pipes and the internals of the hydrant will get damaged rendering it useless. Moving on to automatic drain out. This is a small hole beneath the yard hydrant. Its main function is to drain the left-out water from the hydrant. It works even when the valve is turned off. Thus, keeping the below freezing point temperatures from damaging the yard hydrant. 
Pipe Inlet
Pipe inlet assists in drawing out water from the source. If the pipe inlet is small, less amount of water will be pushed, however, larger pipe inlet results in more water. Of course, large inlet saves time but this completely depends on your needs. If you have a large area to cover or want water to come out faster, you might want to invest in a yard hydrant with a larger pipe inlet. Usually for gardening related tasks such as irrigation, people prefer larger pipe inlets. However, if you want something for your basic needs such as cleaning or normal water supply, a smaller pipe inlet works well.
Lock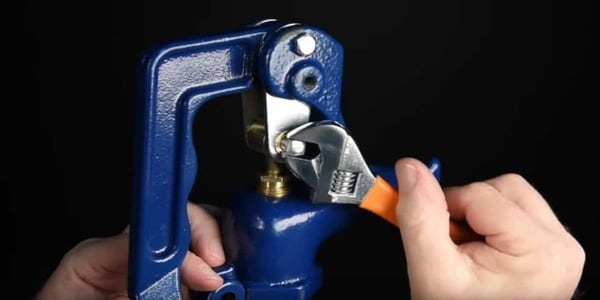 This is one of the luxurious features that are added to yard hydrants. It is related to the upper part of the valve and is also called automatic locking mechanism. This mechanism is basically needed to prevent leakage. Of course, to prevent water wastage, it is advised that you invest in a yard hydrant that comes with automatic locking mechanism. This system automatically locks the valve as soon as the water is closed. If you are investing in a yard hydrant for gardening or farming purposes, you might want to consider investing in a yard hydrant with automatic locking system.
Quality
Last but not least is the quality of the product. Of course, since the system will come in contact with water regularly, it is imperative that the construction material used is top-notch. The rod, the hose and the valve, all have to be rust and corrosion resistant. Usually the paint used is what makes the product rust and corrosion resistant. Hence, checking the quality of the pain before investing in the product will give you an idea. Sometimes, yard hydrants come with replaceable parts, which can prove beneficial in the long run. 
Frequently Asked Questions
If you are new to the world of yard hydrants, you might have many questions that you are looking answers for. Most of the beginners and newbies do, which is why we have come up with these frequently asked questions. They might help in clearing the concepts in your mind. 
Does a water hydrant add to hardness of water?
Water hydrant has nothing to do with the quality of water. It is just a way to transport water. Hence, the water quality, its hardness, its taste and everything else depends on the source of the water. If the source water quality is good, you will get good quality water from the hydrant. If the source water quality is bad, you will get bad water quality from the hydrant. Thus, you might want to check the source water quality before installing a hydrant. 
Do water hydrants come with hose and sprinkler attachments? 
This depends on the manufacturer and the seller. If the package includes a hose it will come with one. However, in most cases yard hydrants don't come with attachments for distributing water. A water hydrant includes the valve and the hardware that goes under the ground in most cases. Nevertheless, you can always look into the manufacturer because usually they sell stuff that goes with the hydrants. So, you can invest in them separately. 
Do all hydrants work in colder temperatures? 
Cold temperatures don't hinder the works of a yard hydrant. However, if you are in an area where the temperature falls below the freezing temperature, you might want to look into getting a hydrant that is frost resistant. As long as the water is flowing, it will not affect the pipes. But in colder temperatures, the water left in the pipe can freeze. Since water expands after freezing. It might damage the pipes and other parts of the hydrant rendering it useless. Thus, it is better to go for hydrants designed to withstand extreme temperatures. 
Can yard hydrants handle hot water? 
Yard hydrants are designed to pull water from a well or another source. So, it is not designed to withstand high temperature waters. Most experts advise against it as well. Hot water can result in leakages and loosening of screws. To fix that, you will have to dig everything up again, which is why it is better that you don't experiment with hot water. Cold water, on the other hand, is not an issue with yard hydrants. 
Can a yard hydrant be installed without professional help?
Yard hydrants are quite difficult to install especially if you have to take existing pipes as the water source. They require digging and drilling. Hence, if you are not proficient with similar DIY work, you might want to call a professional for installation. Otherwise, you might end up damaging something that will require you to seek professional help anyway. So, instead of wasting time, just get the work done in a right way from the start. 
Conclusion 
Yard hydrants are not always used for gardening purposes. They are a versatile piece of plumbing hardware that can be used for almost all the tasks that require access of water from where the source is either underground or at a distance. Hence, before going out to buy a yard hydrant for your property, make sure you know the purpose you need it for. Only then you can choose the specifications that will fulfil your needs. We have listed a yard hydrant under every category. If you want something reasonable yet do not want to compromise on the specifications, the Woodford yard hydrant might work for you.  Before investing on any yard hydrant make sure you go through the buying guide section of this article that will help you to find the best yard hydrant. Only then you will be able to choose the right one.