Nowadays, people love to spend their ideal afternoon in their backyards and the gazebo is one of the most stylish arrangements that make that time more enjoyable.  Gazebo comes with different styles, size and materials. But, the wooden gazebo is one of the most beautiful and long lasting than others. It's really easy to set up and perfect for the long backyard. There are lots of designs and sizes  available so, the user can select it according to their wish. If you want to increase the value of your home garden or backyard then you should definitely go for a gazebo. A gazebo increases the property's worth, help the yard look unique and as well as create space where one can spend some quality time with his loved ones. Here we are going to review our selected seven best wooden gazebo. The list is given below.
Best Wooden Gazebo 
1. Best overall: Sunjoy hardtop gazebo 
 There are various kinds of Gazebo's available in the market. Among them Sunjoy Chapman Gazebo is one of the most popular. The houses that have a large backyard, this is the perfect fit for those houses. This product is made with wood and alloy steel. The dimension of the product is 132.1 x 132.1 x 120.1 inches and weighs 386.9 pounds. This gazebo is made with high quality cedar wood and its roof top made with powder-coated brown steel. It's made such a way that user can hang privacy curtains and mosquito net on its rails. The user don't need to cut or drill it. Anyone can set it within a very short time just by following some simple steps. The roof can protect from sun, rain and snow.
What we like about the product 
The product is well built, sturdy
It comes with a very amazing packaging.
The set up process is really easy, so only one person can set the entire gazebo.
What we don't like about the product 
It is quite pricey
It is hard to find any replacement part of this gazebo in the market
2. Cedar wood gazebo: Best value for the money 
In order to increase the beauty of the backyard and make it a perfect spot for family entertainment purchasing a gazebo is the best decision. Sunjoy Bridgeport Gazebo is one that is perfect for any weather. The easy to understand assembly instructions help the user to set up this gazebo within a short period of time. This product's dimension is 154.7 x 132.1 x 121.1 inches and weighs 430 pounds. Its matte-black steel roof top made it more unique and attractive. This gazebo's metal parts are powder coated so it is rust resistant.
What we like about the product 
Comes with ceiling hook that help to hang decor item
Two tier metal top provide proper ventilation and protect UV ray.
Rust resistant mental anchoring plates bake the wooden base durable.
What we don't like about the product 
There are no replacement parts available so, if you lost or broke any of the part of the product then the whole product will be useless.
3. Yardistry gazebo: Aluminum Roof Gazebo
If you live in an area where the environment is not that friendly, then you should go for Yardistry Aluminum Roof gazebo. It has coffee brown Aluminum Roof that will give you protection from any weather. It comes with ready made cut, pre-drilled, and advance stained Lumber. And you will also find the product in a ready to use condition. Its roof dimensions are 11' x 13'. The product also comes with step by step instruction guide
What we like about the product 
Very professional look.
Build with high quality cedar wood.
Comes with all ready to assemble kits
Made by aluminum roof which make the metal part rust protected
What we don't like about the product 
It's a bit tough to set up alone.
4. Wooden pavilion gazebo: Natural/Brown gazebo 
This Sunjoy Cedar Wood Pavilion gazebo is one of the most natural looking gazebos in our list. It's made with wood and alloy steel. The item dimension is 168 x 144 x 126 inches. Brown stain design makes the product look more beautiful. Not only that protective paint is used in the wooden part to increase durability. The product comes in a ready to use condition.
What we like about the product
Top quality cedar wood increase the durability of the product
Wooden part are painted with protective layer
All kits are comes with ready to assemble setup
What we don't like about the product
Sometimes some additional hardware is required to install it.
5. Outdoor gazebo: Yardistry wood gazebo 
This Gazebo is one of the newest items in the market. This product is made with wood and aluminum. The item dimension is 168 x 144 x 129 inches. The item weight is 740 pounds. Its stability, sturdiness and easy to assemble process made this product more unique. It's easy to attach a mosquito net or curtain with this gazebo. It increases the overall beauty and standard of the backyard. The best part is this gazebo can be fit in any backyard or poolside.
What we like about the product 
The size of this gazebo is perfect for any backyard.
Comes with ready to assemble items
Wooden parts are pre drilled and stained
What we don't like about the product 
Price of the product is a bit high.
It's a heavy product compare to other gazebo in the market
Need multiple people to a assemble it
6. Pavillion Gazebo: Cedar wood gazebo 
 This Pavillion Gazebo is a bit different from any other gazebos. This product doesn't need any assembly. Its dimension is169.2 x 145.2 x 124.8 inches and product weigh 638 pounds. It also has aluminum roofs that makes the roof site rust free .All of its wooden parts are pre drilled.
What we like about the product 
woods are high quality and  heavy duty.
All its wooden parts are pre drilled, cut and
What we don't like about the product 
It requires long time to install
Aluminum roof parts are thin compared to other aluminum gazebo in the market
What are some main features that should have on a wooden gazebo
Gazebo is a kind of product that increases the overall status of your backyard . It makes our place look classier and stylist. You can do the proper use of your backyard and pool side by buying a gazebo. But the gazebo is one of the most expensive furniture for backyard and garden.So we should check some of the key feature before purchasing a gazebo.Those are given below;
Quality of the product: 
 The 1st and most important part is the quality. The quality of the product must have to be really good. So, everyone should go for any branded place that ensures quality.
 Price: 
 Another important factor in pricing . Sometimes, we went for local shops products as their price is a bit cheaper. But the fact is, their product quality is also not that good so, end of the day we had to make a double investment.So while considering the price we must have to take a close look at the quality also.
Weather resistance 
The gazebo should be a perfect fit for all kind of weather. It should keep the place cool in a sunny day and as well as keep dry from rain.
Mosquito netting option 
 An ideal gazebo should have some option so that the user can set the mosquito net   around the gazebo if required.
Quality of the wood 
Choose the wood quality very carefully while purchasing any wooden gazebo. In that case cedar wood is mostly preferred
Aluminum Roof Top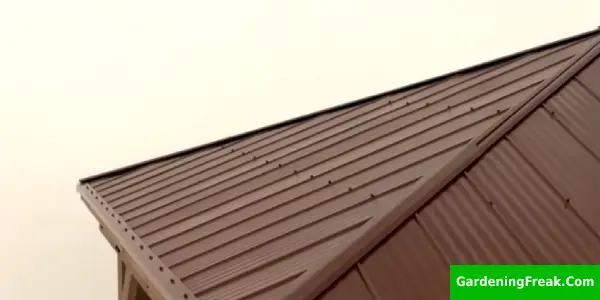 Gazebo is mainly an outdoor furniture. So when we place it outdoor its metal part, specially the rooftop, gets rusted over time. So its always important to choose a gazebo whose roof parts are made by aluminum . Because aluminum items are always free from rust problems.
Two Tire Roof Top 
 Two tier roof is always important for the ventilation inside the gazebo. Moreover, this feature keeps the cool inside the gazebo. So choosing a gazebo with two tire roof is always a wise option.
FAQS 
How to Waterproof a Wooden Gazebo?
It's really easy to waterproof a wooden gazebo. In this case tinted or clear waterproof sealant works like a magic. If someone apply this then it will make the gazebo waterproof for the next few years. By installing a thatch roof you can also keep the gazebo waterproof. On the other hand, installing corrugated fiberglass can provide the full protection from rain or other water sources.
How Much Does a Wooden Gazebo Cost?
The cost of a wooden gazebo totally depends on its quality and materials. People use different type of wood, colors to make the gazebo. There are different amounts of spaces in each gazebo. So, the cost of the gazebo basically depends on all those matters. All kind of gazebos are available in the market according to customer need. But, in order to get a long lasting product a user should always go for a branded gazebo.
How to Move a Wooden Gazebo?
Moving a gazebo is a hard job. You need 5, 6 persons and it also cost enough to move a gazebo. But, you can do it by yourself as well; you just need to follow a few steps. You can lift it with a hydraulic jack, and then use 4*6 wooden boards so that you can wheel the gazebo in a truck.
Is a Hardtop Gazebo the Best Choice?
Undoubtedly, the Hardtop gazebo is a best choice. It has special roof that will give ultimate protection from sun. It has a huge space inside the gazebo and so it's easy to install any sofa with a table inside it.
Last words: 
In order to make your place different from others there's no better option than buying a beautiful gazebo. But, obviously before doing this big investment one should research perfectly and go for the best one. And user also need to be sure about the quality of the gazebo. As you will buy a gazebo for our personal use so you should remember other additional things that you could need and should buy those with the gazebo. As there are a lot of products available in the market, we need to be sure about what kind and size of gazebo we need for our backyard or garden. So thats all from this best wooden gazebo review. Besides this review you can also check our selected fire pit chair article