Do you know why in most of the cases the irrigation pipe, inline valve or anti siphon valve gate damage or leak? Mostly because of overflow and high pressure of water. Every year, farmers and gardeners have to spend a lot of money and effort to repair their irrigation pipe and connection. But these types of hassles can be easily solved by using a simple gate valve. So what's the big deal about this gate valve? They are mostly used on in-line pipe where their main purpose is just to open and close the flow of water or any other liquid. Let's say, in your garden or lawn you have multiple inline pipes. You want to close the water flow in a particular inline pipe. This is when you need the best gate valve.
 Its important to note that, the gate valve is not used for regulating the flow. It's only use for open and closes the flow of water in a particular area of the pipe. Today's article is all about to help you to find the quality gate valve for your garden or farming irrigation. So let's check the list of our selected top gate valve 
Overall Best : 1 inch pvc gate valve of NDS
Valterra Gate Valve: 7101 ABS Gate Valve
High Pressure Gate Valve: NDS GVP-1000 gate valve
Spears PVC Gate Valve : Non-Rising Stem valve
Brass Gate Valve : Durachoice gate valve
Non-Rising Stem Gate Valve : 1-1/4″ Socket gate valve
Brass Lever Gate Valve : Dixon Gate Valve
Best Gate Valve reviews 
1.Overall Best : 1 Inch PVC Valve of NDS 
When you see this 1 inch unit, you will immediately appreciate the high quality design and unique attention to detail. Another thing to note is that it's created from PolyOne Schedule 80 PVC II materials. That means it's extremely easy to use, it will be durable and you won't have to worry about any damage. It's the type of product that will last for a long time without requiring any specific attention or extreme support. Just consider giving it a try and you will be heavily impressed with the value and quality that it can provide.On top of that, this NDS product is low lead approved and it's also drinking water safe. You don't have to worry about impurities going through it, which makes it one of the quality gate valve options on the market. It's also an UPC and IAMPO listed product. 
This is pressure rated at 150 PSI and 73F degrees, which is an important thing to take into consideration. Its IPS Hub End Connection makes it extremely easy to adapt to any system and the installation process is simple. Plus, in case you need to replace it, the unit is quick to remove and replace without any worries. 
Pros 
High quality PolyOne Schedule 80 PVC II material

Pressure rated at 150 psi

Low lead approved
Cons 
Some units have issues with the top seal

Handle it with care, otherwise it can crack
2. Valterra Gate Valve: 7101 ABS Gate Valve 
The Valterra 7101 ABS Gate Valve is another valve option you can find especially for the vacuum and low pressure projects. In fact, it offers a very fast shut-off for all liquids. There are many things to like here, one of them being the fact that there's a full port opening which makes it incredibly interesting and convenient. The attention to detail is staggering and you will find yourself adapting the unit to your needs without any major issues. 
They also focus on a simple push and pull operation. That's why it's very convenient and simple at the same time. This valve also has an unrestricted flow, and that's perfect especially if you are expected to have a very fast and reliable flow to begin with When it comes to the maximum pressure, it's 30 PSI for when the unit is open and 45 for when it's closed. It also has 40 ABS slip fittings. But maybe the best thing is that you can easily replace the handle, seals and the body itself. Everything is easy to replace, so even if it breaks you can easily replace it.
Pros 
Great for vacuum and low pressure applications

Unrestricted flow

Replaceable body, handle and seals.
Cons 
3.  High-Pressure Gate Valve: NDS GVP-1000 Gate Valve 
In case you need a white gate valve that fits with great ease and which is easy to adapt, this is the right one for you. The product itself stands out with outstanding quality. It's made from a ProGuard PVCII material, and it's designed to withstand a lot of pressure. To make things even better, it continues to deliver a very good experience even if you used it for years. That shows the type of durability you can expect here.It's pressure rated to 150 PSI and 73F degrees, which makes it extremely versatile. It can withstand a lot of pressure and you won't have to worry about damage or anything like that. It can definitely bring in a huge difference, with results being stunning all the time.
The product is also IAPMO listed and UPC listed, and it has all the necessary certifications. That makes it extremely reliable, dependable and very professional. Just consider trying it out especially if you need a low lead approved and drinking water safe product.
Pros 
IAPMO/UPC listed

NSF certified

Made from ProGuard PVC II material
Cons 
Some customers complain about valve leaks

You can't open it all the way without expecting some issues
4. Spears PVC Gate Valve  : Non-Rising Stem Valve 
When you think about the quality gate valve, you expect a product that's very convenient and also full of features. This is exactly what you are getting here. The product itself is designed to offer you great control over the water flow. It's made out of PVC and it has a non rising stem. The manufacturing process is simple, and the price is affordable too. This is one of those things that make the product so good in the first place.
Another thing you will like here is the fact that the unit fits very well, it also has a screwed bonnet, polypropylene handwell and wedge as well as everything you need in a single package. If you are very focused on value and quality, this is by far one of the best options that you can find on the market. Plus, the socket style makes it easy to fit a multitude of projects that you may have. All you have to do is to make the right choice and test it out.
Pros 
Very affordable

Great build quality

Easy to fit and adaptable 
Cons 
You need to handle it with a lot of care

Might not work very well with saltwater
5. Brass Gate Valve : Durachoice Gate Valve 
When you are looking for top notch gate valve made out of brass, it's hard to find one better than this model right here. What you will notice about it is that it's very sturdy and it comes with an incredible build quality. You can use it for just about any type of piping tasks and it will work flawlessly. 
Another thing to note is that it offers support for various gasses and liquids. Yes, it might not seem at first, but this is also a great gate valve for gasses as well. This means you have a lot more versatility. As a result, this becomes a great bang for your buck and you will find it a very good product with a resounding ROI, and that's what you really need in the end. It also works from 0 to 300 degrees F and it can be integrated in oil and steam projects as well.
Pros 
Sturdy brass body

Great pressure ratings

Works with gas, oil, water and steam
Cons 
You must avoid applying a lot of pressure on the valve
6. Non-Rising Stem Gate Valve : 1-1/4″ Socket Valve 
This amazing valve is designed to offer you a simple way to complete any pipe system with great results. It's made out of PVC, and it fully brings in front a very good experience and astounding value. In addition, this product is rated for 200 PSI and a temperature of 73 F, it can go up to 140 F. One thing to note is that the unit is NSF certified for portable water use and it's also very durable and reliable. They did a very good job with the design, it's simple and convenient while also delivering outstanding quality for all customers.
Also, the installation process is very simple, they made it as seamless as possible without bringing in any rush. Instead, the main focus is on offering customers the best experience, and the quality itself is very good too. It has a non rising stem, and that makes it easy to operate for a lot of people. All in all, it's an affordable product that suits its purpose very well.
Pros 
NSF certified for portable water

Non rising stem

Rated for 200 PSI
Cons 
It doesn't turn as easy as expected
7. Brass Lever Gate Valve : Dixon Gate Valve 
Brass gate valves are extremely popular because they are known to provide an extraordinary value and high quality. On top of that they rarely crack, and they can withstand a lot of pressure. In fact, this Dixon unit is one of the top gate valve options with a 200 PSI rated system, it's also offering non shock support for cold water, gas and oil.
You're also getting female NPT threaded ends, an integral seat, adjustable pack nut and a treaded bonnet. It's definitely one of those things that can bring in front a very good return on investment, with the quality being stunning every time. This is the type of product that you buy once and then use it for years to come. It's factory tested to withstand a lot of pressure, and overall it's an incredible purchase for the money.
Pros
Female NPT threaded ends

Integral seal

Suitable for gas, oil and cold water
Cons 
What Things We Need to Check First When Purchase the Best Gate Valve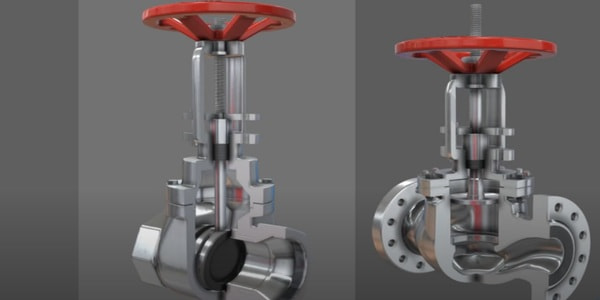 Get the right gate valve is not as simple as you might imagine. Yet with a bit of trial and error you will know how to make it work. The idea here is to know what you should be looking for when you're getting a new gate valve, so here are some tips to focus on.
Wedge Design
In this case you have a loose wedge nut design and fixed edge nut. The fixed wedge nut removes the risk of corrosion due to the lack of many moving parts, hence why you want to go with that approach. The wedge has to deal with stress forces and fiction. So having wedge shoes help ensure that the rubber is not going to be worn.
Rubber Quality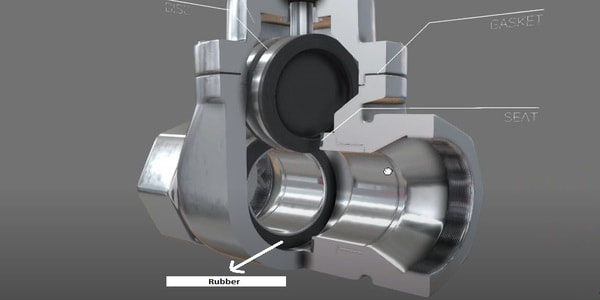 In this case you want to focus on features provided with the rubber system. Drinking water approval is a must have, and you also want resistance to water treatment chemicals. Usually low quality rubber degrades when you expose it to chemicals, so you have to take that into account as well.
External Corrosion Protection 
The corrosion doesn't come from the inside, it can also come from the outside. That's why you need things like impact resistance, at least a 250 um layer thickness on all areas, blast cleaning support and so on. The unit should also have bonnet/body sealing and steam sealing. The overall torque needed to operate the valve should be 5 nm or up to 30 nm depending on the valve sizer. 
Pressure 
Ideally you want to have a gate valve that supports as much pressure as possible. That's extremely important to take into account. The truth however is that not all situations require a high pressure resistance. Which is why you want to assess the situation and it can end up leading to an amazing experience if you do things right. Remember, the main focus is on delivering the right results, and the payoff can be very good.
Nominal Diameter 
The nominal diameter is important because you want to avoid oversizing your valve. If that happens, you can end up with an unstable operation.
Operating Temperature 
Not a lot of people know this, but most gate valves tend to operate withing certain temperature levels. That's why you need to check those beforehand as you try to find the right product to suit your needs.
FAQ 
When Should You Buy a Gate Valve? 
If you need to control the flow of liquids by shutting it down, then this is the right type of valve you need. A gate valve is designed to offer you all the control you need over fluid or gas manipulation. It's extremely versatile and adaptable to your own needs.
Do You Need More Than a Gate Valve? 
No, usually a single gate valve is needed. But this differs based in the project you have in mind and what fluid you want to use with it. Once you know these things, it will be easy to adapt all of that to your own needs.
Are There Multiple Gate Valve Types?
Yes, you have gate valves with split wedge, flexible wedge or solid taper wedge. Each one of these offers incredible customization and really good value and experience!
Is The Gate Valve a Ball Valve or are They Different Things?
They are different types of valves. The globe valve uses a stem designed to close against the flow. The ball valve has a gate that will close across the flow. You can use gate valves for on-off control without dropping the pressure. Globe valves can offer proper flow regulation.
Can this type of valve repairable? 
Normally yes, although considering the price of a gate valve, it makes sense to fully replace it. This is an integral part of a piping system, so you don't want it to have any leaks or issues.
Conclusion 
As you can see, finding a very good gate valve is extremely important as it can help you with a variety of piping projects. The great thing about gate valves is that they are very versatile and offer amazing quality for money. In addition, you have rather low price points.So you can easily get such a valve without a problem. You can use our tips above to offer you some insight into what you are looking for. So that's all from this best gate valve reviews. Besides this article, if you wish can also check our anti siphon valve list which is also very important item to garden irrigation and irrigation flow control.