If anybody asks an experience gardener which old fashion gardening tools they like most for tilling their garden in most of the cases the answer would be the broadfork. Yes, it's true that nowadays a plethora of automatic tilling tools available in the market. Then why choose broadfork which needs a decent amount of physical effort? The answer is pretty simple. When we use rototiller it breaks the deeper layer of soil. But for vegetable gardening especially for raising bed gardeners, we only need to loose the upper level of soil so that the plant get the moister and nutrition with an ease. But if we break the mid-layer or deep layer soil of our garden by using a rototiller in the long run it will be harmful for our garden plants' sustainable growth. This is when we need the best broadfork for our garden.
If you are not in the mood the read the whole review you can also check the below comparison table.
Best Broadfork Reviews
Another important fact is that, when the results of both the tools are compared, there is a vast difference. Gardeners report that rototillers enhance the growth of weeds.  Whether you are a gardener or a farmer, it is the perfect tool for you to use as it does not destroy the delicate structure of your soil.  In This article we will also tell about  how to choose your garden's  broadfork tool and answer the top most asked questions about this tools. For our readers convenient we devide the whole review into some subcategory to that they can easily check their desired one. 
All above 5 links are #ads of amazon
Now, let's start the detailed review …
1. Best Value for Money: Bully Tools Broadfork 
According to our overall research, the ideal choice for broadfork is this one. So you can say it's an editorial choice also. Besides its sturdiness, the best thing about this tool is that it is budget-friendly. At affordable prices, you can buy a product that adds value to your work. Moreover, this tool can loosen rugged soil structure and is ideal for harvesting root vegetables such as potatoes, carrots, etc. The two strong fiberglass handles with vinyl grips will ensure an easy, comfortable grip allowing flexibility during your work. The inportant part about these handles is that they are quite durable. The fiberglass handles used in Bully Tool Broadfork are detachable, allowing you to store them in compact spaces easily. And when the season is back, you can reattach the handles and move on to your work. 
The handle length is 43.7 inches, and the overall weight of this broadfork is 13.4 pounds which is perfect for carrying for a long time. Moreover, the extra thick 10-gauge steel is ergonomic and balances your soft soil perfectly, ensuring complete drainage. 
Things we like about this product
Sturdiness of this boradfork is one of the best things that we like

The weak point in most of the broadfork is their handle. But in this product is handle is made of fiberglass and steel which make it a durable product 

Its body mart is easily detachable  that's why you can carry it in any place

Very affrordabe priced compare to other items of the market 

Venyle griping makes this broadfork handle very easy and comfortable for hand
Things we do not like about it 
This tools is not suitable to digging hard rock soil 
Final Recommendation about this product 
This tool ensures longevity due to its strong handles and thick sharp tines, so if you are looking for a reliable tool, this one is here for the long run. According to judgment, it is the best tool in this overall list.
2. Heavy Duty Broadfork: Lam Broadfork 
Lam Broadfork is a heavy-duty tool designed for loosening hard roots and small rocks beneath the soil. It is perfect for physically strong people as this tool requires body power to push the tines into the ground.It has four wide 13″ tines that go deeper into the soil, ensuring perfect drainage and deep aeration for your heavy clay soil. To apply pressure for deep penetration, you can place one foot on the bar and push it down.
Made with two long handles that are bent at the end, this tool allows easy handling. And as this tool comes unpainted, so you can apply your creative ideas to make handles look better. Not to mention, the bent handles ensure an easy grip, and it does not harm the soil's balance.
Things we like about this product 
This broadfork is a durable product. If you are looking for a  broadfork with high longevity this one could be an ideal one

These tools can help you to Deeper aerate your farm or garden soil

Wide tines can help you to till broader area within a short time
Things we do not like about it 
This tool requires a lot of physical energy 
Final Recommendation about this product 
If you are searching for a gardening tool best suited for aerating hard soil, this product is best for you.
3. Galvanized Broadfork: Tierra Garden Broadfork 
The best feature of this tool is that it is user-friendly. If you are one of those gardeners who suffer from back pains and cannot bend for a long time, this product is for you. The length of this broadfork perfectly balances your posture, mitigating your back pain. It is crafted from galvanized solid steel, ensuring low maintenance and outstanding mechanical damage resistance. Besides its light-weight and durability, it features an ergonomic design. 
It is flawlessly handcrafted with superior metals. This tool will surely last a lifetime to ensure generations of use. It has five strong tines to secure healthy soil with top-quality aeration, porosity, and drainage. Not to mention, it can till planting beds with ease, preserving the delicacy of your ground. Also, this galvanized broadfork allows you to balance your hands and foot on the steel perfectly.
Things we like about this product
This tool can be used for any type of soil  aeration  

Handcrafted to be heir loomed 

Its very much user-friendly 

Helps to maintain the overall balance while using it
Things we do not like about it
 This one is quite expensive compare to other tools in this list
Final Recommendation about this product 
If you are looking for a quality product and don't have any budget constrain this one could be an ideal choice for you. 
4. Steel Broadfork: Treadlite Broadfork 
The Treadlite Broadfork has a simply brilliant design with aesthetically appealing handles. Also, the sharp spikes at the end are best for hard clay. This model tool is made of steel crafted with five forged tines that are ergonomically designed for aerating hard soils. If you are searching for a gardening tool that minimizes your work stress and goes deep in the soil, this fork is best for you. One of the best features of Treadlite broadfork is that the tines have a unique CNC cut design. They are slightly curved and pointed, handling tough clay with small, rugged rocks and tough roots. 
There are 4-5 holes between each tine that enable easy penetration of tines inside the soil. The holes increase the surface of the tines and help the sub-soil to loosen up easily. It features an aesthetically appealing tool that is designed with ash-wood handles weighing 10-12lbs. Many people avoid using tools designed with wood. But we ensure that these handles are made with solid ash wood that can withstand the test of time.   
Things we like about this product 
 This tools is very light-weight 

Ideal for harvesting in big firm

CNC cut design 

Fast and easier work 

Aesthetically appealing 
Things we do not like about it 
This tools is unable to move large rock inside the farm soil 
Final Recommendation about this product
If you want to aerate deeper soil and manage weeds simultaneously, this tool will certainly help you.
5. Broadfork With Removable Digging Spikes: EZ Digger Broadfork 
This last and most versatile garden tool is this ez digger broadfork . With this fantastic tool, you can do versatile gardening tasks, whether it is turning over soil or removing weeds in growing beds and planters. The ergonomic design of EZ Digger Broadforks weighs only 17 pounds, allowing you to dig deep down using your body weight. Not to mention, the handles are detachable, allowing you to store them in compact places easily. And when the harvesting season comes back, you can reattach the handles to use them again. 
The adjustable, thick tines are 12 inches long, whereas the green framework is 23 inches. With 6-digging spikes, you can harvest difficult vegetable potatoes, carrots, and beets quickly and effectively. Due to the long tips, you can aerate your soil deeper and also ensure easy drainage. An essential thing that a broadfork must have is to protect the soil. Preserving soil's biome is a crucial element for ensuring the healthy growth of crops. EZ Digger takes the lead as it causes minor disturbances to the soil's texture, providing solid and healthy soil.
Things we like about this product 
Detachable handles and tine is one of the most convenient featured of this tools

Easy storage in any place

Good for old-aged gardeners 

Easy to handle 

Ideal to manage compact soil 
Things we do not like about it 
This broadfork is very pricey 
Final recommendation about the product 
EZ Digger is one of those tools that has the widest structure. So you need to use this tools for large scale  this one is for you 
Broadfork vs Digging Fork : What is the Difference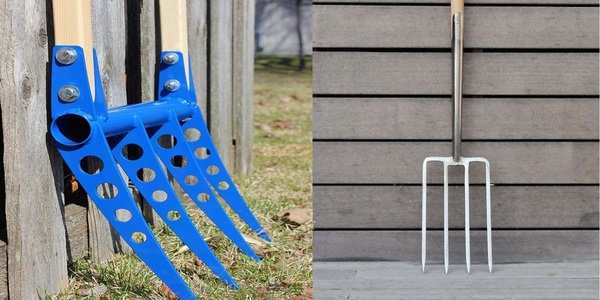 It is essential to choose the right tool that is best suited for your task. And, to grow your garden successfully, you must know the difference between the two most essential tools: broadfork and digging fork. 
Structural Design  
A significant difference between the two tools is the structure of their design. Broadfork is more comprehensive in structure as it can have more than four spikes. It has two handles that allow the person to use and apply physical force on the soil comfortably.  
Alternatively, digging forks are narrower, thinner have more surface area. Their sharp triangular-shaped spikes are long enough to penetrate the soil more easily. The best thing about a digging fork is that it does not require high physical strength to operate. 
Requirement of physical fitness 
You do not need to be physically fit to work with a digging fork. As compared to broadfork, digging forks is easy to handle for old-aged gardeners as it needs less force to penetrate the soil. However, if you don't have large tillers and want to make garden beds on a large-scale field, broadfork is the best option. Made with two sturdy handles and wider spikes, this tool can quickly harvest root vegetables like carrots, potatoes, etc.  
All in all, broadfork is the ideal tool to opt for, especially when you need to break up densely packed soil manually. But if you want to lift and loosen soil structure on a small scale gently, then you can go for a digging fork.  
Things to check before selecting the best broadfork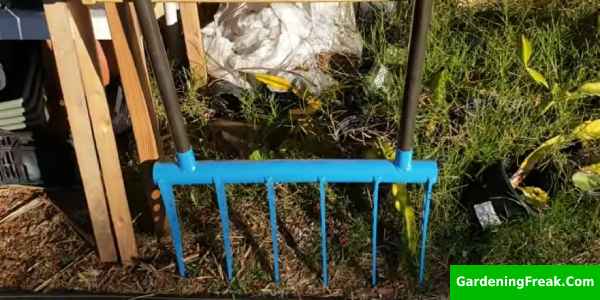 Before you select your broadfork tool for your garden, you must consider the following factors:  
Length of the Tines of the broadfork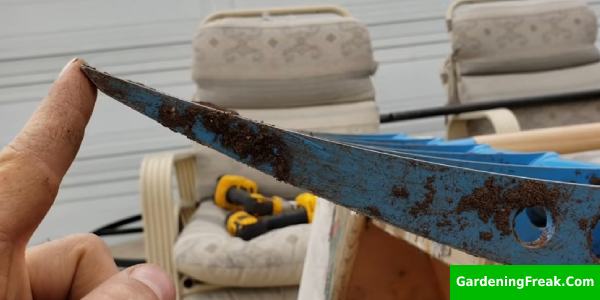 Before you choose the best tool, you must know whether you are buying this tool to flip the soil or dig it. If you want to open the subsoil without damaging its texture, then a tool with shorter tines (less than 10 inches) would be ideal. 
Conversely, you can go for a broadfork with longer tines (more than 10 inches) if you wish to dig deep into the soil. 
Material of the broadfork 
A typical garden fork is made out of steel, but when we talk about a broadfork, it is essential to know the material. These are typically made out of fiberglass, stainless steel, or aluminum.Steel handles do not require enormous strength to operate. A heavy-duty steel broad fork can help you penetrate hard soil. Moreover, ash wood handles are easy to handle because it is robust, flexible and shock-absorbent. If you want to aerate your soil and loosen it, then a thin, light-weight broadfork is best. For this reason, you can use it with wooden handles and longer tines.
Size and Weight of the broadfork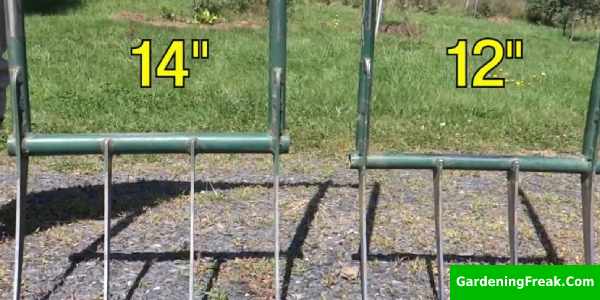 It is essential to select a broadfork that is a perfect size for you. Remember that the tool is handheld, and you would control it. So, it would help if you found an ideal fit. Before choosing the right tool, you must pay excellent attention to your weight as some tools need enormous power to operate. You must be able to handle it conveniently and dig using a broadfork. If you are not physically fit or have arthritis, then a light-weight tool would be best for you. 
Design of the Tines of the broadfork 
There are two types of tines that are widely used today. However, you must know which kind of tine to use in what kind of soil. A straight-designed fork is best suited for thick and compact soils, whereas a slight curve-design is best for soft and moist soils. 
Budget 
It is the price that lets the user know whether a specific product is worth the investment or not. Broadforks generally range from $25 to $300. You must identify the product that is worth the value. 
Remember, the price speaks about the quality of the tool. If you have a low budget, then carefully search for those products that are less expensive, yet have high-quality.  
FAQ 
How to Use a Broadfork?
First, hold the two handles with both hands and place the tool in the right spot. Then, push the tines against the soil. If you are working on hard clay, you can step on the bar to ease deeper penetration. Secondly, move the tool backward to loosen up the soil. Last but not least, agitate it so that the sub-soil opens up. Repeat these steps to aerate your soil using a broadfork.
Are Wood or Steel Handles Better?
Many people prefer using a steel-handled broadfork as it is tough and can be used for a longer time. There is no need to require enormous power when using steel handles. However, if your soil is loose and moist, then ash-wood handles are ideal as you do not need to exert stress. But if you are working with high-density soil compacted with roots and small rocks, then steel handles take the lead.
Why would I Need a Broadfork?
A broadfork is a perfect aeration tool that can help you loosen up the soil without disturbing the soil's original texture; as we all know, soil compaction can impair root penetration and affect your crop's quality. Therefore, these ensure deep aeration and improve the overall quality of the soil. Deep aeration will ensure water retention of your soil and allow more profound growth of roots. You need a broadfork if you wish to harvest or plow crops on a larger scale. An agricultural study confirms that using a broadfork can enhance soil moisture and nutrient uptake. As compared to many other tools, such as tillers, this tool is the best tool for aeration.
What are the Benefits of using Broadfork?
Broadfork is an exciting tool that is also known as U-fork or grelinette. It perfectly aerates your garden breaking up compaction of the soil. Not to mention, this excellent tool does not damage the temperate biome of the sub-soil. For example, some microorganisms and worms keep your soil fertile. Disrupting the subsoil can damage the quality of your crops. Broadfork protects the biome and ensures soil aeration, which can help the rain to soak deep into the soil, ensuring more manageable and faster soil growth.Moreover, broadfork produces no noise and air pollution. And when compared to double digging, this tool requires less physical strength and saves your digging time.
Conclusion 
We try to give an honest review about the best broadfork  in this article. According to our research bully, broadfork is the best in this list. Because by its has sharp and durable tines and very sturdy handle . Moreover, it's very budget-friendly also.  We also tried to provide a buying guide so that you become aware about the factors to consider when purchasing a broadfork. We believe after reading this article you can save your time and jump right on choosing the best tool that is right for you. Remember that these tools can minimize your workload because instead of using any machine for digging, you need to use your body power to use it. But it's improving your garden's soil, ensuring a safer harvest of your root crops. That's why this tool is always recommended before fertilizing for vegetable garden and for raising gardening bed
With broadforks in action, you can harvest millions of crops at a faster pace.  However, if you have an eye on any other broadfork, then make sure to consider the factors that we have listed above before purchasing. Good luck .