Moved to a new apartment house? The exterior looks not good at all? We think you need not to worry about it. Because you can grows some beautiful flowers or cactus outdoors to beautify the dull appearance. Wait, there is neither terrace nor enough space in the yard of your new house? Don't worry, we have got your back. We are here to recommend you ten best balcony and railing planters that will bring a pleasant and aesthetic glamour to your exterior, and eventually a refreshing makeover of your house! Planters make gardening more creative, fun and easy with a low budget. Moreover, keeping plants at one's home helps to keep the atmosphere inside your house more cool during summer. This is another reason why you should definitely consider giving these planters a try! So let's check out our best balcony planters reviews
Best Balcony Planters And Railing Planters Reviews
Here's a list of our recommended choices for the top balcony or railing planters to turn your small balcony into a creative garden! 
All above text links are #ads of amazon
Now let's check the detail review… 
1. Overall Best: Emsco rail planter
The first planter we have in the list is made in the USA and manufactured by EMSCO Group. They are mostly famous for their plastic and home ware product. These planters easily fit into any standard-sized deck railings and posts for widened growing space. Furthermore, the rail planter offers an innovative way to grow herbs and flowers and display them in a fun. Lengthwise it is 24″. You can easily grow lots of small plants by using this planter. With this planter, you don't have to worry about the consequences of overwatering. To get rid of any excess moisture there are drainage holes at the bottom.  This draining hole also ensures good ventilation of oxygen into the plant roots. Also, the building material is very strong and sturdy and can withstand extreme weather conditions without any cracks.  
PROS
Unique design 

Long durability

Lightweight 

BPA free

Polyethylene plastic

Drainage holes
CONS 
If not secured or balanced well, may trip over. 

Strong winds can knock it over

Assembling is tough

The drainage holes are quite too big.
2. Best value for money: Lechuza self-watering Balconera cottage 
The next planter we have is from Lechuza which will help you discover the perfect way to bring your dull-looking patio and balcony to life. This adjustable planter can fit on any decks. It can also be used as a floor planter or as a window box planter. The unique design of the surface makes the planter a smart option for any home.The material is long-lasting and UV resistant. Moreover, polypropylene plastic is suitable for both indoor and outdoor use under any weather conditions. Equipped with retractable handles makes it easier to lift and carry around. The internal self-watering system ensures the right amount of water for the plant roots. Furthermore, a water-level indicator is there to denote the right time to refill the reservoir.
PROS 
Long durability 

Self watering system 

Versatile and multipurpose use

Sturdy handles 

Water-level indicator
CONS 
Does not come with brackets

The inner liners may not fit well.

No drainage holes to remove excess water
3. Best budget friendly option :Riogoo Hanging flower pot 
Imagine your balcony, gate, railing or fence gleaming with lovely flowers, herbs, succulent, strawberries, cherry tomatoes and much more! This set of 8 colorful hanging flower pots are here to turn your imagination into reality. Made from durable iron, these planters will add grace and color wherever you hang them. Each has a hole on the bottom to remove excess water from the soil if it rains, keeping your plants healthy. The detachable hooks are easily bent to fit whatever size your banister or railing may be. The colorful design and decor is suitable for both indoor and outdoor planting.
PROS 
Colorful design

Can be used for both indoor and outdoor

Durable iron

Detachable hooks

Drainage holes

Reasonable and cheap price
CONS 
The hook is very loose

Wobbles during wind

Iron may rust in rainwater

Very small space
4. Weather Resistant Planter: LA JOLIE MUSE FLOWER POT 
Looking for planters larger in size but smaller in weight? Then this is the ideal one for you!
This planter is made by Polypropylene resin materials. That's why this planter is 30% lighter than regular large size pots. This planter is suitable for both indoor and outdoor planting. It has 4 pre-drilled holes that help to getting rid of any excessive moisture. You can typically place it anywhere – from your living room to your balcony, patio, or porch. Its attractive design is surely to compliment any home decor. Moreover these flower pots can withstand intense sun and harsh winter temperatures and last for years. The lightweight material makes these flower pots transportable (easy to move around) and stackable for storage or shipping.
PROS 
Free from crack and peel damage

Raised drainage hole

Very wide space 

UV and fade-resistant construction

For both indoor and outdoor use.
CONS
Doesn't come with a bottom tray

Non-attractive grey color 
5. Metal Hanging Planter: Amagabeli garden planter 
This metal planter is a hanging basket which is very unique and different! These sturdy grower baskets are built with strong steel rods with a tough black vinyl coating. A coco liner is conveniently attached to the basket for easy filling. Furthermore, each and every part is powder coated so that it doesn't rust and peel off under extreme weather conditions like heavy rain. The large capacity provides sufficient space to ensure the perfect floral arrangement every time. Moreover, the thick chains and hooks are made of metal, providing full secure support.
PROS

 
sturdy with a 7 inch depth

Rustproof and durable

Black vinyl coated chains and hook

4 hanging baskets in one pack

Coco fiber with good airflow 
CONS 
coconut coir liners are smaller than metal hangers.

Not suitable for indoor

Water leaks from the coco fiber mesh
6. Smart Self Watering Planter : Gardenbasix planter 
Too tired of frequently watering your plants every single day? Then this self-watering planter is especially recommended for you.The outer basin is constructed with good quality plastic, and is also suitable for both indoor and outdoor use. In addition to that, the material is non toxic and durable which makes the planter environment friendly and long lasting. A versatile exposed water level indicator makes it easier to determine if it is necessary to water the plants. Furthermore, There is a hole at the bottom too, so that excess water is drained out immediately without accumulating on the roots. Moreover, it can be placed in a variety of environments – from apartment to office, the simple and stylish design will surely compliment all decor. 
PROS 
Self watering internal system 

Both indoor and outdoor use

Drainage hole

Durable sturdy material

Water level indicator 
CONS 
No water gauge included 

The bottom plug is too loose.
7. Balcony Flower Planter : Esschert's planter 
This aged zinc rectangular balcony flower planter is here to help you add lovely natural beauty to your patio or balcony by consuming less space. Suitable for both indoor and outdoor, this planter has detachable hooks in case if you prefer hanging them indoors. Also, this planter is made for 3.25″D or smaller railing, so if you have a smaller balcony, nothing to worry about. The material is very strong, durable and long lasting. It can withstand critical weather conditions such as heavy rain as well. Nevertheless you can place it almost anywhere – near the window, in your office, your living room, garden, terrace etc.
PROS 
Long durability 

Both indoor and outdoor use

Detachable hooks 

Strong and sturdy material

Can survive throughout all seasons.
CONS 
No drainage holes

The straps aren't flexible enough to bend in

Handles look pretty flimsy 
8. Movable planters on wheels :Watex's planter 
This one is a perfect garden on wheels for your balcony, and patio .This can be moved anywhere and made into a vegetable, herb or a floral garden as per your desire. Furthermore, it's ideal for small spaces like apartments with small patios as it consumes very less space and suits both indoor and outdoor perfectly. Watex planters have always been complimented for their unique and simple design by gardeners. The planters are definitely BPA free, UV protected and are made with recycled PP plastic .
PROS 
Both indoor and outdoor use. 

Long lasting material

BPA free

Weather-UV-resistant 

Easily movable 
CONS

 
No drainage holes

Less slacks on micro dipping tube

Unstable (after assembling)
9. Terra cotta hanging planter : Bloem Hanging planter system 
This plastic planter will save a lot of your space and is very good for growing selected small plant. Especially it is design to grow vegetables, fruits and even flowers in both indoor and outdoor.You can hang it vertically. Not only that you can also place it horizontally as well. Furthermore, there is a self-watering grid mechanism ensured in each planter. This system also improves the plant health. With long-lasting durability, this can withstand wind and rain. Moreover, the snap fit, rust proof fasteners provide a strong fit on all types and sizes of deck, balcony railings and fences.
PROS 
Multiple hanging options

Saves space

Long durability

Self watering grid

UV protected for fade resistance
CONS 
They come unhooked easily 

Non attractive design 

Metal rod may not fit perfectly
10. Balcony Wooden Planter Box :Thirteen shefs planter box 
Not a big fan of plastics or metals? Beautify your garden, patio, or balcony railing with this graceful wooden planter box. This beautiful planter box is made from Acacia wood.  Not only that this planter also have a rustic look.  This Strong wooden planter will provide a lovely shelter for small herbs and flowers plant . Furthermore this planter is naturally very durable, resistant to heat and water and can withstand extreme weathers making it a perfect wood for outdoor plants. It comes with two drainage holes at the bottom to get rid of any excess rainwater from the soil. Not only is it a smart choice, but reasonable too. 
PROS 
Weather resistant

Waterproof

Drain holes

Easy to assemble

Long Lasting durability
CONS 
Not applicable for indoor planting

Requires frequent watering

Soil dries out very quickly.
Things to check while purchasing the best balcony planters and railing planters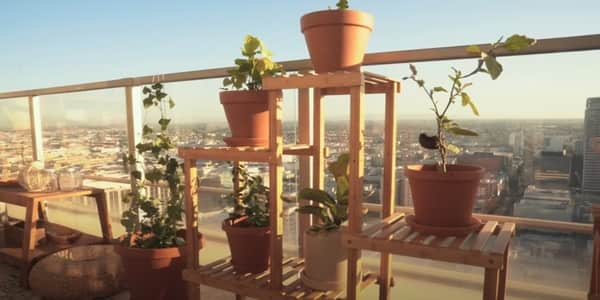 Out of so many varieties, different options and many popular brands, often we get puzzled over which planter to opt for. No matter if you have a small balcony or a bigger one, whether you want to grow little herbs or vegetables – there are many things to keep in mind before you open your purse and pay for any planter!
Reviews and Ratings : 
Sellers will add a lot of sugar coated descriptions to entice you towards their product, so it's best that you check the ratings and reviews online and then only make your decision. If you have friends and experts in the agriculture field, you can call them up too!
Background : 
Before you go for any planter, make sure to check the brand and manufacturer. Do some background research on the company's reputation and the quality of their other products. It's better to be careful earlier than crying later over your waste of money! 
Necessary features for indoor planter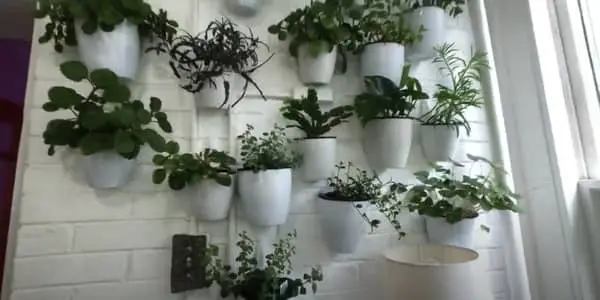 For indoor planting, we recommend hanging baskets more. If you have domestic pets or small children running around the house, you wouldn't have to worry over what if they bump into your planter and break it. As well, make sure there are no drainage holes (for indoor planters only) or else water will leak and wet your floor or carpet.
Necessary features for Outdoor planter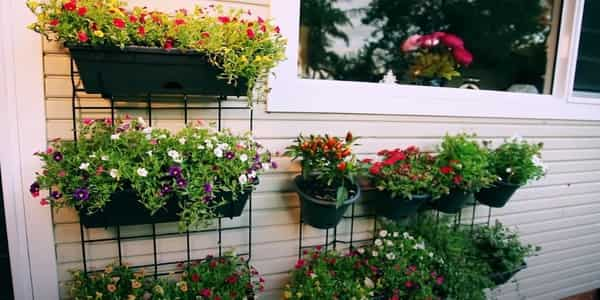 For outdoor planting, the planters must have a drainage system to drain out the excess water from accumulating the roots. We don't recommend metal planters for outdoor planting unless they are galvanized. They can rust or the metal can wear off while you are watering the plants or at the time of rains.
Space of the planter: 
As well, the planters should have at least 8-9 inch depth to allow a wider space for your roots to breathe and grow healthy. The more the space, the better will your plants grow. 
Durability : 
Make sure that the planter is sturdy and strong overall. At list strong enough not to get knocked over by wind. The more durable it is, the more can it withstand extreme weather conditions. 
Furthermore, it's also important that the material of the planter, whatever be it, must be UV protected so that the planter is fade-resistant and doesn't discolour after a year or so.
Frequently asked questions: 
Question: Should you put rocks in the bottom of a planter? 
Answer: If rocks are added at the bottom, they will do no harm to the plants. Only that the volume of potting soil required will reduce but won't increase drainage.
Question: Should I drill holes in my planters? 
Answer: Potted plants do need holes so that excess water is drained out, supporting plant growth. If your balcony planter doesn't have a drainage system then you may. If you are growing small herbs then no need. 
Question: How to hang a planter on a balcony? 
Answer: You can use hanging brackets that fit your railing width. Place the planter in your chosen bracket. After drilling holes on the planters based on the measurements taken, place the bracket over the railing.    
Question: What's ideal to grow in a railing planter? 
Answer: You can't definitely harvest fruits and vegetables. Grow small flower plants such as pansies, marigold, geraniums, zinnia, petunias or herbs like rosemary, coriander and lettuce. Or simply just cactus.
Question: How do you secure a box planter? 
Answer: Using mounted brackets and screws
Question: Can you grow vegetables in balcony planters? 
Answer: Yes you can. Probably not in huge amounts. You can grow beans, tomatoes, banana pepper, chillies, cucumbers, carrots, onions and radish.
Question: What do you put in the bottom of a planter for drainage? 
Answer: Put a layer of gravel in your plant's drainage tray, it will help to store water and raise the humidity, while keeping our plant's roots healthy.
Last Words: 
With the world now innovating day by day, people are finally getting concerned over the high rates of deforestation. From children to adults, everyone is becoming more aware of green living. People are coming up with innovative schemes and ideas to maximize the number of green spaces throughout our society, in and around our homes. Growing plants in your balcony has recently become one of the most popular ideas to keep in touch with nature. People all around the globe who previously could not afford gardening because of their limited yard space or not having a terrace are finally coming out of their nutshells and transforming their balconies into gardens. The best balcony planters and best railing planters are just another way to give life to this creative initiative and complement healthy living! So that's all for today. Besides this post if you are interested in indoor bonsai, you can also check our best bonsai pots reviews also