"Leeks" – the word itself may not sound very appetizing as a vegetable but has been used in local cuisines widely. It's a great alternative to onions and scallions for hundreds of years! Leeks possess high nutrition that makes them a preferred ingredient for renowned chefs. It also has many health benefits. For instance, leeks improve our immune system, reduce the risk of cancer, help lower blood pressure, and enhance vision and digestion. Not only that, but it also famous for, protects against sunburn and help to have shiny thick hair! Home-cultivated leeks are far better than those store-bought and more versatile to cook with. If you have a small back yard and if you are interested in gardening then it's never too late! You can easily grow leeks in your backyard. So, in today's article, we'll talk about how to grow leeks. Let's start…
How to grow leeks
Leek Cultivation Process Step By Steps 
STEP 1 : Planting the seed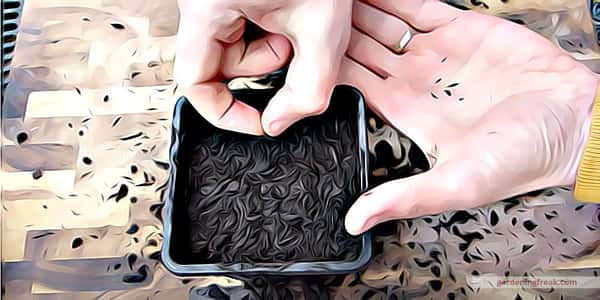 Fill seed trays or pot with good quality and well-drained soil. Scatter the seed all over the surface and cover with a few millimeters of multipurpose compost. Regularly water to keep the soil moist as the seeds start to germinate and the seedlings grow on.
STEP 2: Transplant the leeks into the ground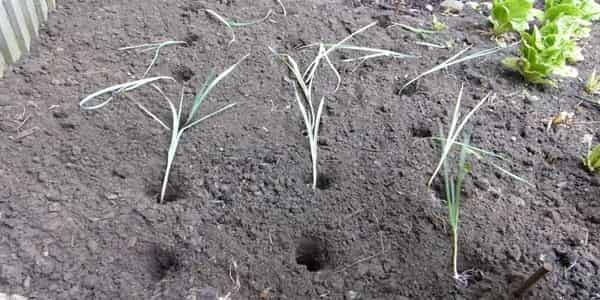 After they have grown to thin, small seedlings, fork soil in a specific region of your garden to remove all debris and large stones and break up large clods of soil. Replace the leeks into the garden soil when they are about fifteen centimeters tall. Use your finger to make holes at least twenty centimeters deep and minimum 12 cm apart from each hole .you are cultivating in large quantities, leave about 30 cm space between the rows.
Step 3: Baby leeks planting technique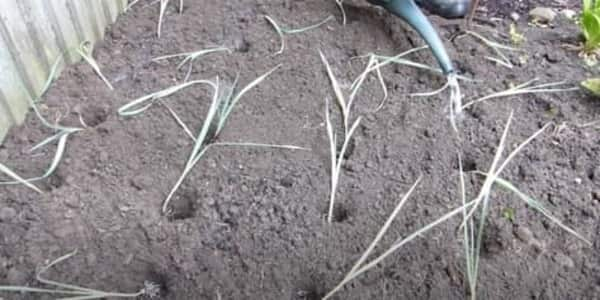 Gently lower each leek new plant into each of those hole, twisting between your fingers to get the roots in. Make sure that the new leeks plants roots are in the bottom of those hole and water them well so that more soil is washed in.
Step 4: Harvesting leeks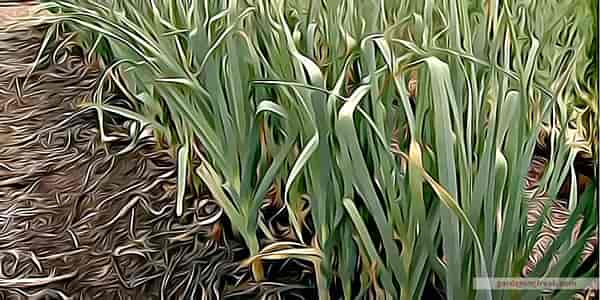 After four months when the leeks are mature enough pulling the leek out by grabbing with your hands can make things a mess. That's why you may use a  garden fork underneath  each of the plant to lever it out. While pulling up on the leaves cut off the roots of the harvent plant and any damaged leaves . After that wash away the soil – and now it's all ready to enhance the taste of your dishes! Hardy leeks need to dug up before the winter, we suggest digging them up before the ground  become freeze if you are living in very cold areas.
If you are afraid that leek moths will invade in your month-long hard work, you can cover the crops with horticultural fleece or you can spray Bacillus thuringiensis which is also known as BT. It is a natural bacteria that very often found in the garden and filed soil. You may also try covering the crops with plastic floating row  covers and insect nettings. Even if you don't happen to notice moths in your garden, still closely check for leek moths And if you found them inside your garden then use  Pheromone traps to catch them. You can opt for introducing biological control such as parasitic wasps Which is mostly known as  Trichogramma.
WHEN TO HARVEST LEEKS 
A leek is ready for harvest when the white stem is about 7 cm (3″) long or more. Start harvesting before they start to widen too much near the base; don't allow them enough time to form bulbs. The top of a leek should be dark blue-green when it's ready for harvest. Most leeks mature within four months after sowing the seeds, only a few varieties can mature in as few as two months. Begin harvesting when the stalks are about an inch across. The ideal climate for harvesting leeks can range from late summer until early spring.
TIPS TO GROW BIG LEEKS 
If you want to grow big size healthy leeks then you should follow the below things
1. High nitrogen concentration and coherent soil moisture 
If you want to grow big and thick nutritious leeks, there are two things you must not avoid to ensure for them to grow better: high nitrogen concentration and coherent soil moisture. The plant uses up nitrogen to make amino acids and proteins that are vital for growth. Try to add good quality soil mixture in the season prior to planting if you don't have a tight budget. You can use organic matters such as manure, and fertilizers to improve growth quality as well.
2. Make Deep Hole While Plating Your Leeks
If you want a tender and juicy white stem with thick fleshy leaves, the leeks must be covered from bright sunlight. To achieve this, dig some deep holes in the soil and plant the leeks inside that holes. This is necessary because deeper planting leads to a more drought-resistant consistency, you will eventually not have to water that regularly. Build a thin sized trench around seven inches deep. After you put the seedlings into the trench, cover with soil again. Cover till the soil level reaches the level of the first green leaf. Next, water on a daily basis to ensure enough moisture.
3. Use paper towels or tissues between the leaf folds 
Soil that clumsily falls into leaf surfaces can get trapped between stomata, disrupting photosynthesis. You can use paper towels or tissues between the leaf folds to avoid this mishap from happening. While the plants are still young, place them over the plants.
4. Protect your leeks from slugs attack 
Young plants particularly are at higher risk of slug attacks. Try to catch them at night by setting traps, or introduce biological control for keeping pests away.
5. Pull out the rotted leeks 
Especially during winter or early spring when it happens to rain excessively, plant cell walls may burst and leaves may rot. You will get to understand that through the formation of any white spots on the leaf tips which will eventually cause the leaves to wither off.. Since you don't have control over the weather, at this point there isn't much for you to do except pull out the rotted leeks and minimize the planting amount in each given space to maximize air circulation.
6. Beware about leek rust 
You may notice tiny orange pustules or yellow spots on the leaves during scorching sunny climates. This indicates leek rust, a fungal disease which can get more disastrous in wet growing seasons. Immediately trim off the affected foliage; the foliage that will regrow later will hopefully turn out to be healthy.
HOW TO GROW LEEKS FROM ROOTS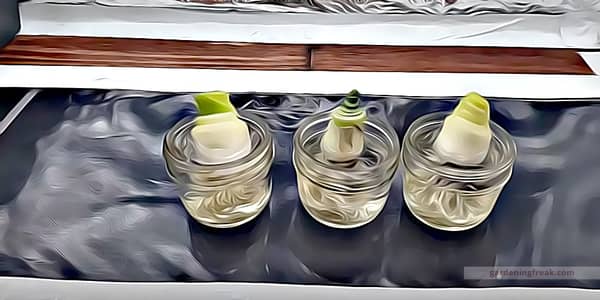 This is the easiest and simplest way to regrow leeks from your windowsill! Slice off the dark green top leaves leaving the bottom white roots intact. Place the white roots in water to make them regrow. Replace with fresh water every two days. You can buy local organic produce, if you want your re-grown plants to be more fresh, even healthier, and free of chemicals. If you want to grow more succulent and more nutritious leeks plant those in soil or compost mixture and the regrown ones will get more nutrients.
 GROWING LEEKS IN POTS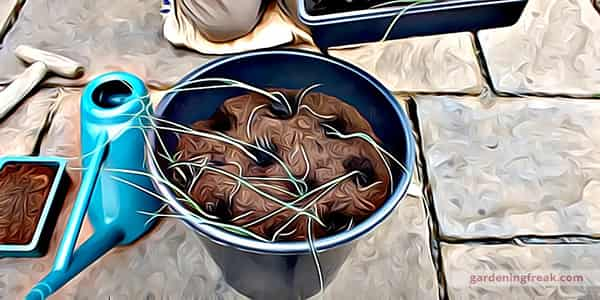 Have got some spare pots in your house? Wondering if those could be utilized by growing leeks? That's a wonderful plan. Healthy long leeks can be grown in pots/containers as well. Leeks are a perfect choice for container gardening, and the sweet, mild flavor develops very well in containers just as in a traditional garden. So the first step is to get a pot about 18 to 20 inches deep and fill it only about 2/3 full of soil mixture to begin with. Then you can plant your seedlings that you already get from your leeks seed or you can collect bulbil. Bulbil is basically a small size of leeks plant that grows at the base of big size leeks. If you already have big size leeks in our garden then you can easily collect some bulbil while harvesting them and plant those new bulbils on your pot .Do not forget to water and fertilize regularly, better if done on a regular basis to the right amount. Use liquid plant foods when you water to ensure rapid growth that will result in more tender juicy stems.
FREQUENTLY ASKED QUESTIONS 
Question: How long does it take to grow leeks? 
Answer: There are different varieties of leeks, but generally they all get ready for harvest within twenty five to forty weeks.
Question: Do leeks grow back every year? 
Answer: Though leeks are biennial, most varieties are harvested in their first season and will never bloom unless you are saving seeds for recultivation.
Question: How big should leeks be before planting out? 
Answer: About six to eight inches (or 15-20 cm) tall.
Question: Should I let my leeks flower? 
Answer: A leek may flower due to cold weather. When a leek flowers, it causes the leek to become woody and tough which will taste bitter. While you can technically still eat leeks but you probably won't like the flavor.
Question: How do leeks multiply and reproduce? 
Answer: Leeks can reproduce by tiny lateral plant growths that usually develop into white round bulbs at the bottom part of the leek stem. If you are harvesting leeks in summer, you can cut off those bits and use them as an alternative for shallots or onions.
Question: Can you plant leek seeds straight into the ground? 
Answer: You can do that in spring season .  But not recommended when cultivation in any other season.
Last words
The mild onion flavor of the leek is perfect for foodies who prefer delicate flavors. From pasta sauces, risottos, and buttered leeks with pangitata to leek pies, there's so much adventure into trying out new delicious meals using leeks which you won't regret. Leeks go pretty well with creamy potato soups and the gentle sweetness of this luscious soup will leave your taste buds craving for more! Yep, leeks can make anything taste that good. Like all other vegetable leeks also needs fertilizer. So if you want to fertilize your leeks after planting you can also check our article about how to fertilize vegetable garden after planting. So that's all from this article. Hope this article will help you to get the basic knowledge about how to grow leeks on your garden