The best potting bench is a multipurpose workbench since it can be used for a wide range of gardening tasks, from storage of potting supplies and tools to transplanting seedlings. Aside from its practical functions, it can also be used as a display case for potted plants, whether indoors or outdoors. Indeed, it's an important piece of furniture for a gardener! Keep in mind that since it's exposed to the natural elements, as well as soil and water, it's usually made from weather-resistant materials. Hardwood, such as teak and cedarwood, is the typical choice although plastic and metal are also relatively common. When non-wood materials are used, it's important to keep rust, corrosion, and breakage at bay. 
The best thing about a potting bench is that it can be customized and place according to your personal preferences. It can be small or large, portable or fixed to a wall, and plain or with extra features (e.g., dry sink, water hookup, or cold frame).  The bottom line- You will find a ready-made potting guide that you can use as-is or customized according to your changing preferences. In this today's article we'll talk about 8 top-quality potting bench. 
So let's check it out the list of our selected potting bench ….
Our 8 Best potting bench for garden and outdoor (Overview & buying guide)
Best Overall: best choice products potting bench  
Potting bench with storage: Merry Garden Potting Bench  
Foldable potting bench: Foldable potting bench of merry garden 
Wooden potting bench: go2buy wooden potting bench
Budget friendly and cheap potting bench : Cypress Wood Lotus Potting Bench               
Potting bench with cabinet: convenient concept dula (simple bold)        
Vinyl potting bench: Dura-trea                      
Metal potting bench: Weather guard potting bench 
Now let's start the detailed review of the above mention product
 1. Best Overall: best choice products potting bench
The Best Choice Products potting bench meets the criteria for the best gardening bench – good durability and functionality, as well as the possibility for customization. Even at first glance, it's an attractive potting bench that will blend in well in nearly all types of gardens, from the rustic to the sophisticated.  First off, it's made of fir wood, a type of hardwood that can withstand several years of exposure to the natural elements with proper care. There are no laminated wood and the like in it since it's made of solid wood from its legs to its work surface. With its overall dimensions of 44 x 20 x 45 inches, it has a fairly large work surface where a wide range of tasks can be performed. You can transplant seedlings, arrange potted plants, and organize potting supplies on it, as well as store your gardening supplies on its lower shelf. 
Your pots, pails, and potting soil, among others, can be organized well on it, not to mention that it has several hooks for hanging towels and rags.  It actually has three storage areas – an upper shelf, a lower shelf, and a built-in cabinet – so small and large items can be easily stored. Its height (45 inches) makes it easy to either stand or sit down while working; it can be used with a standard-sized stool, if you want to sit down while working.  
Pros:

 
Made of durable materials and construction 

Customizable with its natural wood finish 

Comes with several storage areas 

Easy assembly with clear step-by-step instructions 
Cons:
Dirt and detritus falls through the open slats 

May require an extra coat of water sealant 
2. Potting bench with storage: Merry Garden Potting Bench 
Yet another fairly spacious potting bench is this Merry Garden potting bench. Its overall dimensions are 60 x 35 x 24 inches. You will then be able to perform small gardening tasks on its work surface as well as store a wide variety of gardening supplies. You have upper and lower tiers for storage purposes, a useful feature when you're a serious gardener with plenty of supplies on hand.  Due to its modern design, it can also be used as a potting bench and a small buffet table for outdoor parties. Be sure to thoroughly clean it, nonetheless, when used as a buffet table since dirt has a tendency to stubbornly cling to the wood surface. 
But it should be easy cleaning the potting bench! 
Both sides of its work surface can be removed, a feature that allows for fast and easy cleaning as well as easy access to the supplies. The lattice design on its tabletop also helps in keeping dirt and detritus off the work surface; the excess soil, dirt and detritus fall through the underneath space where these can be collected and then thrown.  If you're planning to use it outdoors, as is the case for most potting benches, you should ideally apply a wood protectant before placing it outdoors. The manufacturer recommends an oil-based protection but many users suggest several coats of water-based spar urethane. Be sure that the wood protectant is thoroughly dry before placing gardening supplies in it and using it for your gardening tasks.  
Pros:
Stable and sturdy construction suitable for outdoor use 

Provides spacious storage options and work surface 

Easy minimal assembly required; comes with instructions and hardware 

Attractive design 
Cons:
Requires extra wood protection 

Slight front-to-back movement; add cross support to remedy it 
3. Foldable potting bench : Foldable potting bench of merry garden
When folded, this Merry Garden foldable potting bench has such a small footprint – just 4 x 44 x 63 inches – that it can be easily stored in a corner. You will agree that it's a useful feature when storing it during the off season. But once it's opened, it provides a large working surface and spacious storage areas; the potting bench measures 24 x 44 x 60 inches when fully assembled. You can then perform your small gardening tasks on its work surface as well as store numerous items on its top and bottom shelves. You even have the benefit of a hanging bar accessory where towels, rags and other supplies can be hung for easy access. 
With a 250-pound combined weight capacity –150 pounds for the top shelf and 100 pounds for the bottom shelf –it can certainly withstand the weight of numerous gardening tools and supplies. But remember that it's important to arrange the tools and supplies in such a way as to ensure that the potting bench is still stable. Due to its attractive design, ample shelf space, and hanging bar accessory, it can also be used for other non-gardening purposes. You can use it as an outdoor or indoor buffet table, thanks to its rustic design, as well as in your garage for extra storage and counter space.  You may also apply another coat of paint and/or protectant depending on its specific use.  
Pros:
Folds up nearly flat 

Made of sturdy materials and built with stability in mind 

Multi-purpose use and easy customization 

Easy to assemble and attach to the wall, if needed 
Cons:
Requires the application of a wood protectant, if used outdoors 

Bench doesn't fold flat 
4. Wooden potting bench: go2buy wooden potting bench 
The open design of the Go2Buy wood potting bench makes it an ideal choice for gardeners who want more display and storage areas. You can either use it for practical purposes (e.g., as a storage area for your gardening tools and supplies) or for decorative purposes (e.g., displaying your potted plants. You may even combine the two, such as using the upper tier for potted plants and the lower tier for gardening supplies. 
Either way, you have a durable and stable gardening bench! Since it's made of solid fir combined with durable hardware, it should last for several years with proper care. By proper care, we mean applying an extra – or two, if you want – coating of wood protectant, which will act as an extra layer of protection against the sun and rain.  
But like most potting benches, the Go2Buy gardening bench also has other non-gardening purposes and that's what makes it a good purchase. You may use it, for example, as a storage area for your pots and pans in the kitchen, or for your food items in the pantry, or for your odds and ends in the garage. Just don't expect it to offer much in terms of privacy and security since there are no locks and no drawers.The material – Chinese fir –is strong and sturdy enough to withstand the weight of whatever odds and ends placed on it. But it also makes sense to avoid placing one too many things lest it sags and breaks.  
Pros:
Beautiful and functional open design 

Strong and stable construction 

Fairly fast and easy assembly 

Natural wood color but can be customized in color 
Cons:
May be too light for some users 

May require extra wood protectant 
5. Budget-friendly and cheap potting bench: Cypress Wood Lotus Potting Bench
Simple but practical. These are the words the aptly describes this Jack Post cypress potting bench – yes, it doesn't have the frills but it's definitely as functional as a potting bench should be. Yes, it's smaller than other potting benches – its working area is 38 x 21 inches only – but it's enough space for a hobby gardener. 
The potting bench is also made of cypress wood, a sturdy weather-resistant wood with a natural resistance against insects. But obviously, it isn't 100% weatherproof – not even hardwood is so –so an extra coating of an oil-based primer followed by either oil or latex paint. If you want to use it for a longer period, you should think about keeping it indoors most of the time. 
The metal surface of the worktable makes it easy to clean, too. Dirt including soil doesn't stick to the metal as much as it does to wood although we have to say that it's important to keep it as dry as possible; rust and corrosion tends to speed up when the metal's left wet for prolonged periods. There's a single drawer underneath the worktable, a good place to stow away small tools and supplies (e.g., packets of seeds). But it may be too small for other things so there's the lower shelf for them. You can place several larger gardening items on the lower shelf, perhaps your gardening boots. 
Pros:
Made of durable cypress wood 

Simple yet practical design 

Metal work surface 

Large work table and lower shelf 
Cons:

 
Requires assembly with the instructions consisting of pictures only 

Drawer requires waxing for easy opening and closing 
6. Potting bench with cabinet: Convenience Concepts Deluxe
If you are looking for a potting bench what comes with a cabinet then you can consider this one. Besides its cabinet feature it also have a drawer and open shelf. This bench also have a pre attach side hooks option so that the gardener can easily hang out their small gardening accessories. The overall dimension of this patio furniture is 44x18x34 inches.
Pros:
Very Strong metal work station

Easy to assemble

Very strong and large cabinet box
Cons:
Quality of the wood is jot up to the mark. To make it durable you need oil burnish.
7. Vinyl potting bench: Dura-Trel 11203 Greenfield Potting Bench
If you want an extreme durable potting bench for your outdoor patio this one is ideal for you. Its literally required almost no maintenance at all. Moreover, it's made by PVC vinyl so you need not to think about any kind of oil burnish to increase its durability. This bench dimension is 48 x 19.5 x 49 inches and weight is around 40 pounds. 
Pros:
Made by durable and quality

PVC vinyl

 

Very strong and sturdy framework

Almost zero maintenance required
Cons:
Assemble instruction is vague.

Difficult to assemble the entire bench.
8. Metal potting bench: Weather Guard Potting Bench
The last one in this list is a metal potting bench. Despite being a metal bench its very light weight which is just 24 pound. This patio bench dimension is around 40 x 16 x 4 inches. For its light weight its very much suitable for greenhouse and small back yard patio. This potting bench also has an adjustable bottom shelf that can easily attach at any convenient height. An adjustable trimming bin is adjusted with the table in such a way so that the user can easily put their plant trimming mess inside the bin.
Pros:
Strong, sturdy and lightweight

Easily removable canvas trimming bin included 

Easy to assemble
Cons:
The putting surface have no cover instead of there has some open mesh. 
Frequently ask question about potting bench 
What is a potting bench used for?
Answer: 
Despite its name, the potting bench isn't just useful for potting plants. Instead, it's a multipurpose piece of indoor or outdoor furniture that every hobby and serious gardener should have in their garden and/or shed! It has so many uses that it pays for itself, in a manner of speaking, too. For one thing, you can use it for small gardening tasks that can be done either standing up or sitting down. These tasks usually include planting seeds, transplanting saplings, and watering potted plants, among others, which are best done with a straight back. 
How do you organize a potting bench?
Indeed, many people shy away from gardening because of the stress it can put on the back. Kneeling down and bending over while transplanting seedlings, removing weeds, and performing other tasks can be hell on your joints, too. But with a potting bench, it's possible to perform these tasks without putting unnecessary stress on your back muscles and joints. You can either stand up or sit down. Most standard-sized stools work well with potting benches but you can also make a chair with the right height –while gardening. 
Many serious gardeners also use potting benches for container gardening, especially in areas with limited gardening space. The potting benches can be filled with plant-filled containers, whether these are ornamental plants or vegetables and fruits. You can have easy access, not to mention appreciate the natural beauty of your plants, to the containers (e.g., when watering, weeding and harvesting), thanks to the open design of potting benches.  
How high should a potting bench be? 
The standard height of a potting bench is around 36 inches. But it's can vary. 
Can a potting bench be used as is as soon as it's fully assembled? 
A: Yes, of course, it can! But if you're thinking of placing it outdoors or in a shed, you may want to think about applying multiple coats of either a sealant or waterproof paint. The extra coats will help in protecting the wood from fast decay and rot. 
What are the steps to maintain a potting bench? 
A: Be sure to wipe it dry with a clean rag after use. Move it indoors, if necessary, during the winter months since it can only take so much exposure to the natural elements.  
Can it be customized in terms of the number of shelves, drawers or hooks?
Yes, it can be customized but there will likely be limitations due to the original design. You may, for example, be able to add more hooks or pegs for hanging odds and ends. You may also add an extension on either or both sides of original work surface. But before customizing a potting bench, you should check that it can actually take the added weight from the tools and/or supplies that will be placed on it. You must also consider its stability, such as when adding a side extension.  
Where to Put a Potting Bench?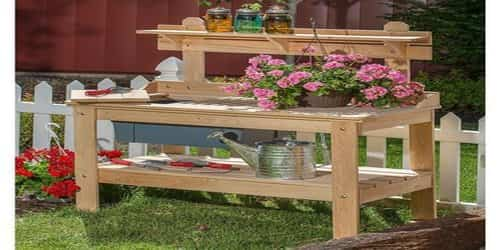 The great thing about a potting bench is that it can be placed indoors or outdoors as well as on its own or attached to a wall. Indeed, there are several places where a gardening bench can be placed – the garden, obviously, for easy access to gardening supplies and tools; the tool shed where various home tools and supplies are kept; and the patio, garage, or deck.  Suffice it to say that a potting bench is a versatile piece of furniture!
But there are certain things that should be considered when choosing the right place for a gardening bench. 
Air circulation and light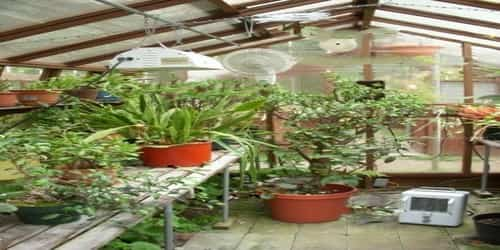 Check that it's placed in an area with plenty of air circulation and light. You will then be more comfortable while performing gardening tasks, especially during the summer when temperatures can increase. You can also see clearly whatever it is that you're handling, such as the delicate roots of a potted plant. Plus, your potted plants will get the necessary amount of air and sunlight for their optimum growth. You may also think about placing a potting bench under a tree or under the eaves. So you have protection from the elements, especially the sun, while you're working.  
Ground of the potting bench:
Ensure that the ground where a potting bench will be placed is flat and level. You want to check, too, that it's stable since even a slight instability can send the potted plants and gardening supplies falling down. You may have to level the ground or use leveling items, such as rocks, to make the ground more even. 
Placement of the bench: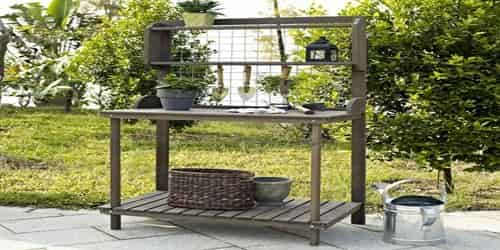 Check that the potting bench is actually placed flat – or as flat as possible – against the wall, if you're planning on placing it flush against the wall or nailing it to the wall. You will find that doing so also means that the wall acts as a barrier against the odds and ends falling through the back of the potting bench.
You should also think about systematically organizing the tools and supplies on the gardening bench. For example, the oft-used items should be placed on the front and the small supplies (e.g., packets of seeds) are placed in the drawer. The larger items, such as bags of fertilizer and empty pots, may be placed on the lower level.  
Things You Need to Check Before Buying a Potting Bench
The best potting bench should obviously address your specific personal preferences in it. You may, for example, require more drawers and hooks while your fellow gardener needs higher shelves. You should then have a general idea of what you need and don't need in a gardening bench before looking at the choices. 
But there are certain things that you shouldn't compromise on when choosing a gardening bench.
Durability
The potting bench should be made of sturdy materials, such as high-quality wood with a high resistance against the natural elements. The best materials are hardwood, such as red cedar, which have been pressure-treated; check the manufacturer's recommendations about adding another layer of protectant or sealant.  
But don't stop with the material either! The potting bench should have a sturdy design, from the base to the work table, so that it can carry the weight of the tools, supplies, and/or potted plants that will be placed on it. You can check the weight capacity, if it's available.  
Stability
The potting bench should also be stable with little to no side-to-side and front-to-back movement when it's fully assembled. You can check by slightly shaking it from side to side and then from front to back, without the odds and ends. You may want to check the placement of the screws. If any, on the frame to determine that these are indeed properly tightened. 
Such a step is important because placing items on the potting bench's shelves and/or drawers will add stress to it. If it's even slightly unstable, it can collapse when more items are placed on it.  
Height
As a rule of thumb, the work surface (i.e., the topmost shelf) should be slightly lower than the typical kitchen counter. Keep in mind that many pots and containers are more than 12 inches in height. A too low potting bench means that you will stoop; a too-high gardening bench will make it more difficult to see inside a pot. Especially when lining its base with materials like gravel and charcoal.  
Features
The best gardening bench usually has two or three layers – a work surface and one or more shelves below. The multiple layers allow for gardening tasks to be performed and for items to be stored simultaneously. 
Aside from the work surface, shelves and drawers, as well as hooks or pegs for hanging items, many of the best potting benches also feature a built-in sink . That is grate for soil collection. Many may also have wheels and a handle for portability purposes.  
Conclusion
The best potting bench can, indeed, be your best friend, so to speak, as a hobby or serious gardener! You can make it whatever you want to, whether as a practical storage area or a place for displaying your ornamental plants. You can even use it for other purposes, such as a utility rack in your garage. 
But what's better – buy a ready-made potting bench or make your own from your desired materials? While the latter has its merits, the former is the best option for most gardeners for many reasons. 
Potting benches are relatively affordable considering the type of materials used in the construction quality, and the wide range of uses possible. Most of these can be purchased for as low as $100 with their materials ranging from cedar to teak. Since these require minimal assembly, you can save your time and energy in performing more important tasks. You can, for example, focus more on repotting your plants instead of building a potting bench from scratch.  These also come in all shapes and sizes, as well as with several features. So there's one that will suit your needs. You just need to exercise patience in comparing several potting benches before making your decision. So that's all form this article. If you wish you can also check our best hammock chair review which is also patio furniture as well.