A quick hitch is a handy implementation tool that farmers can use on their tractor to make the tool connection process more convenient. A 3-point hitch system is basically for the rear side implements. It has a high level of compatibility and is considered as a universal quick hitch. However, it does come with a few challenges, one of which is the higher learning curve and slightly lower ease of use. Despite that, the 3-point hitch is extensively used around the world especially by gardeners. Overtime, thanks to the revolution in the overall production process of these hitches, the challenges with attachment and detachment of implements have been solved. This has increased the popularity of 3-point hitches that have become almost a standard now.
In this article, we have listed down the six best 3 point hitch so that you can invest in the one that suits your needs the best. You can also go through the added buying guide for more information on the topic. 
Best 3 Point Quick Hitch
For our reader convenient we divide our whole review in some subcategory. So that they can choose their 3 point quick hitch according to their requirement. The list is given below…
Now Let's start the main review
1.  Best value for the money: Titan 3-point hitch
Titan is known for its high quality and heavy-duty tractor equipment. This 3-point hitch by the company is dubbed as the best value for money due to its top-notch construction, heavy-duty functionality, and versatility on top of the reasonable retail price. By adding this Titan quick hitch to your arsenal, you can make the task of switching implements easier by fold. The best part about this quick hitch is that it is extremely easy to use. All you have to do is simply attach the Titan Quick Hitch to your tractor's 3-point lift arms. Once done, you are all ready to attach or remove implements using the adjustable top link hook as well as the lever locking pins. 
Basically, it is designed to be used with category 2 implements but can also work with almost all the category 1 hitches and implements. Although it requires conversion bushing for the lower link pins, it is better than nothing. The conversion bushing is not inconvenient at all. As far as the overall dimensions of the hitch are concerned, it measures 32″ x 9″ x 24″ and has a 3000 pounds lifting capacity. In itself, it weighs 60 pounds and has a heavy-duty steel construction. 
Pros
The device can bear 3000 pounds of weight. 

It has heavy-duty steel construction and comes with proper anti-corrosion coating. 

It is compatible with both category 1 and 2 tractors.

The top hook is adjustable. 
Cons
The hooks can be too wide for arms of some of the tractors. 

It is not compatible with all bush hogs. 
2.  Cat 1 quick hitch: Balance World 3 point quick hitch
If you are looking for a quick hitch that lets you quickly and easily attach as well as release three-point implements belonging to category 1, then get your hands on this one. It is designed such that the person riding the tractor does not have to leave his/her seat to release or attach an implement. It is specifically designed for tractors that have horsepower up to 45 HP. The trailer hitch comes with four different draw pin adjustments. This feature increases the number of implements that can be used with this hitch. 
This Balance World Inc 3-Point Quick hitch comes with a powder coating for rust and corrosion resistance. It is designed to withstand tough working and weather conditions. Hence,  it is durable and sturdy. It will provide service for a longer time period as compared to other quick hitches in the same price bracket. It can endure 2000 pounds of weight and is constructed using heavy-duty steel that is certified by ASAE. The product in itself weighs 61.4 pounds and has a 24 inches height. It comes with a number of pins and claps as accessories. Unfortunately, it is specifically designed for category 1 tractors. Hence, it cannot be used with any other category tractors not even with conversion bushing. 
Pros
It has a 2000 pounds weight capacity. 

It has four pins for adjustment. 

The product comes with powder coating for rust and corrosion resistance. 

The construction material is certified by ASAE. 
Cons
It is not compatible with category 2 and 3 tractors. 

It is slightly hard to fit even with category 1 tractors. 
3.  Cat 2 quick hitch: RanchEx 102854 Quick Hitch
This quick hitch by RanchEx is specifically designed for category 2 trailers and tractors. It is constructed using heavy-duty steel and comes with powder coating as well as rust and corrosion-resistant paint. Since it is to be mounted under the tractor, the wear and tear due to interaction with moist land and water can affect its durability. To prevent this, the company has ensured proper coating which increases the overall life of the product and hence the overall value for money provided by this quick hitch. It provides the easy attachment and release of three-point implements.
The quick hitch is designed to improve the overall functionality and reduce the workload. Hence the driver can easily release implements without leaving the seat. Almost all the category 2 tractor and implements are compatible with this quick hitch, however, in some cases there you might need to get some bushing done. In the package, this product comes with 1-1/8 inches mounting pins as well as some adaptor bushings. The device is 32 inches wide and can be mounted on a tractor with as much as 150 horsepower. Hence, if you are looking for something heavy-duty, then this 3-point quick hitch is the one for you. 
Pros
It can endure high amounts of weight and power. 

It comes with mounting pins and adaptor bushings. 

Feature heavy-duty construction. 

It is durable and sturdy. 
Cons
It is not compatible with category 3 and category 1 tractors. 
4.  Cat 3 quick hitch: RanchEx 102857 Quick Hitches
This is another RanchEx metal detector that made it to the list. Unlike the previously mentioned quick hitch, this one is designed to be compatible with category 3 trailers, tractors or implements. Like its previously mentioned sibling, it makes the whole process of releasing and attaching implements quite easily. Of course! It is only compatible with implements that have 3-point hitches. Apart from being compatible with category 3 tractors, it is also compatible with almost all category 3 equipment and does not require bushing in most cases either. 
It comes with 1-7/16 inches mounting pins in the package and has the ability to endure as much as 225 horsepower. Most of the quick hitches have a lower horsepower endurance. Apart from this, the quick hitch can also endure a lot of weight. This is mainly due to its heavy-duty construction. The product is constructed using high-grade steel that is certified. It also comes with anti-corrosion and anti-rust coating. 
Pros
It can endure a large amount of force and weight. 

The construction is heavy-duty. 

It comes with mounting pins and conversion adaptors. 

It is extremely durable and sturdy. 
Cons
It is not compatible with category 1 and 2 tractors. 

It does not have proper conversion bushing options. 
5.  John Deere category 1 quick hitch: LVB25976 quick hitch 
This is one of the most popular, high-end, and premium quality hitches available on the market. It is designed for the John Deere compact tractors which are usually the category 1 hitches. Hence, it is compatible with most of the category 1 tractors. Even though it is a very expensive solution, it is ideal in most cases. If you don't have a budget problem, there is no better quick hitch option than this. It is designed to be functional so its installation and implementation are very easy. 
It provides easy hookup options and is fit for all category one tractors and equipment. According to ASAE, it meets all the standards. However, to make the implement stay inside the hitches and to make the attachment fit, some level of bushings is required. It weighs 70 pounds and can take on more than 300 pounds of weight. The construction is on point and comes with anti-corrosion coating as well. 
Pros
It can accommodate a large variety of implements. 

High-grade construction certified by ASAE. 

Can endure a lot of weight. 

Feature a high value for money. 
Cons
It is expensive. 

Requires bushings for all implements. 
6. Quick hitch with mounting pin: RanchEx 102855 Quick hitches
Last but not least is another RanchEx quick hitch. By now, you would have guessed that RanchEx is known for its high-end, high quality, and certified quick hitches. This particular quick hitch is designed for both category 2 and category 3 tractors as well as equipment that belongs to the same category. In some cases, it does require bushing but it is no very extensive. The quick hitch is designed to make the driver's task easier by letting him/her release or adjust the quick hitch without leaving their driving seat. It can endure tractors with horsepower as much as 225 which is ideal for all kinds of heavy-duty and difficult tasks. 
The reliability and durability of RanchEx products are known all around the world. It has a maximum width of 38 inches. The device as a whole measures 9.5 x 38 x 43.5 inches and weighs as much as 196 pounds. Thanks to this heavy-duty construction, this device can endure up to 5000 pounds of weight. It has specifications similar to the most premium metal detectors on the market. The powder coating makes it more durable and sturdier overall. 
Pros
The device can endure a lot of force and weight. 

It is certified and is designed to be durable and sturdy. 

The attachments and installation process are very easy overall. 

It can accommodate both category 2 and category 3 equipment. 
Cons
This quick hitch is very heavy, which hinders the ease of use it brings our way.
Best 3 Point Quick Hitch Buying Guide
Choosing a 3-point hitch can be trickier than normal due to the number of factors that need to be considered. Sometimes, they don't fit perfectly on the implements, which require extensive pushing, pulling, probing etc. Hence, some of the things you need to keep in mind while investing in a 3-point hitch are:
Type of tractor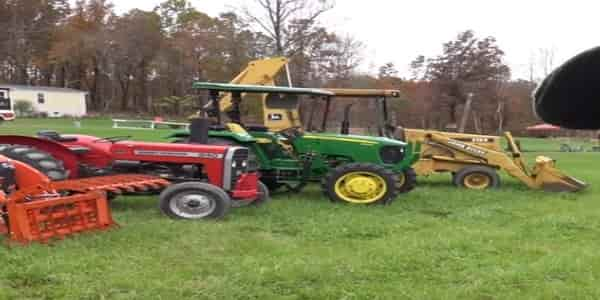 Before you move on to choosing the type of 3-point quick hitch you need for your tractor, make sure you know the category your tractor belongs to. This will help you determine the exact hitch you need. Moreover, every tractor has a different set of measurements that you need to keep in mind. some of the hitches are adjustable, so they can be used with more than one tractor.
Type of implements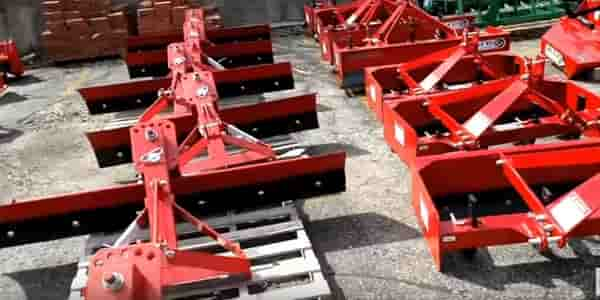 The type of implements you plan on using with the hitch you invest in also plays a significant role in the choice you make. You will have to get the right measurements of the implements so that you find a quick hitch according to the implements. In case your quick hitch and implement are not in accordance, hooking them up will be a pretty difficult task. All the hooking points should have the correct height and width so that they fit the implement and other equipment you have. If your tractor is category 1 and you invest in a category 2 quick hitch, the pins and ball will differ, which will not allow a proper hookup. Pins of category one tractors are to thick for category 2 hitches.
Material and Protector Finish
The 3-point quick hitches are not exactly very reasonable. Hence, while looking for one, it is important to consider the material it is made from because it ensures the durability and sturdiness of the hitch. In an ideal case scenario, your quick hitch will be made of high-grade heavy-duty steep that is treated for rust and corrosion resistance. Corrosion and rust can eat away the metal of the quick hitch rendering it useless. Hence, a proper protector finish is essential. Usually, they come with anti-corrosive and anti-rust paint. Since these parts are installed right under the vehicle, they come in contact with water and moist soil a lot of times. Hence, it only makes sense that they have a proper protector finish. 
Weight
Of course! You are installing the quick hitch to carry some weight or undergo a certain amount of force while at work. Hence, the weight-bearing capacity of the hitch you invest in determines the type of work you can get done. The tow receiver's weight capacity is determined by the category it belongs to. Every 3-point hitch, on the other hand, comes with a different weight capacity based on the type of construction and the type of material used. 
Frequently Asked Questions about tractor hitch
Since there is not a lot of information related to 3-point quick hitches or quick hitches in general on the internet, many newbies have a number of questions that are left unanswered. Hence, we have combined a set of frequently asked questions that might help you in your quest to find the best 3-point quick hitch. 
What is the standard hitch ball size?
There are three hitch ball-sized that is considered as a standard. These are 1-7/8 inches, 2 inches and 2-5/16 inches. The size you go for depends on your implements and the tractor. If you already have a tractor, you can just go and measure the hitch ball and buy a quick hitch appropriately. There is no such thing as a one hitch size fits all. It's a scam so beware. 
What is the standard hitch height?
The hitch height usually varies depending on the type of the tractor and the amount of load on it. The pressure of the tires also plays an important role in the hitch height. Hence, there is no such thing as a standard hitch height. Although you can measure a rough range and invest in a quick hitch accordingly. 
What is a drop hitch?
A drop hitch is basically a reference to the adjustability of the hitching point in terms of its height. It is important because every tractor has a different hitch height. As mentioned, there are a number of factors that affect the hitch height. So, the drop hitch is a preferable feature that you need in almost every quick hitch you invest in. It not only makes your task more convenient but also adds to the versatility of the hitch. 
Conclusion
3-point quick hitches are one of the biggest time-saving innovations you can find for a tractor. With a quick hitch adaptor and a quick hitch compatible attachment, you can change the implements on your tractor within a matter of seconds. Our top pick as the best value for money 3-point quick hitch is the Titan Quick Hitch that is compatible with both category one tractors and category two tractors. It has heavy-duty steel construction and can be used with a number of implements. Even if you are investing in a new tractor, it is advised that you invest in compatible quick hitches with it. They make the whole process of changing implements a lot easier. So that's all from this Best 3 Point Quick Hitch review.
Besides this post, you can also check our atv drag harrow list. This is also a very handy tractor and ATV equipment for farming.  please let us know if you people have any queries regarding 3 points quick hitch in the comment section below.