Do you like strawberries? Also Love gardening? If your answer to the first two questions is "Yes" then this article is definitely for you! Instead of buying strawberries from the grocery store every now and then, you can easily grow strawberries in your garden. This will help you to save money and enjoy the fresh version of your favorite fruit for a lifetime! By using strawberry planters anyone can grow strawberries in bulk. Not only that, the strawberry planter can keep the garden organized. They normally took very less space. Another advantage of growing in planters is that when the fruits have ripened, they don't fall into the ground and get splattered with mud. Also, planters ensure that your strawberries don't get eaten by hungry snails or slugs. Our list of best strawberry planters that we are going to review today is given below
Best Strawberry Planters Reviews
For our readers convenience, we divide our whole review into some subcategory. So that, when they are in hurry they can easily pick their desired one without go through the whole review. Let's get started!
(All above text links are #ads of amazon)
1. Overall Best : Meiwo Vertical Strawberry Planter 
The first planter we have is from 'Meiwo'; a USA–based company. Over the time this company has earned a lot of fame for the extraordinary quality and design of their products. Their wall-mounted planter has gone very popular too for its elegant features. It has seven pockets made up of felt cloth material which helps to maintain the durability and sturdiness of the planter. A good thing is that it's resistant to corrosion. Its self-absorbing and breathable nature makes it an ideal planter for growing strawberries. You can vertically hang it in your balcony, garden, café walls, doors– typically anywhere you prefer. Then add two to three quarters of compost and water retention agent. Sow strawberry seeds/seedlings into the soil. Water the plants regularly and ensure them enough sunlight! Done!
PROS
Simple and quick operation

Easy to assemble

Reasonable price 

Transplant season is prolonged

Roots are not easy to grow around

Soil balls are tiny and easy to loose.
CONS 
Water dries out fast

Too small space for bigger indoor plants

Dirt or filth gets dry over the time

Leaves may get squished
2. Best Value for the Money: Mr. Stack's Large Strawberry Planter 
This one is  another widely-popular strawberry planter. This five-tiered vertical gardening planter saves a ton of space and at the same time maximizes the growth yield of your strawberries. You do not have to worry about taking out time from your busy schedule to water the plants regularly. This planter has a special self-watering feature that allows water to drip down the first pot to the next till the last one. This protects the roots from wilting due to excessive-watering. Also you won't have to go through any extra trouble to assemble the decks. From indoors to outdoors – its premium built and design fits everywhere consuming very little space. You don't have to hang the planter, simply placing it in a place exposed to sunlight and your work is done.
PROS 
Big stackable sections

Good drainage

High durability and sturdiness

Saves space

UV protected
CONS
Difficult to move around

Too heavy

No water tray at the bottom
3. Strawberry Planter with Internal Watering System: GreenStalk Strawberry Planter 
Made with excellent quality, these GreenStalk vertical strawberry planters are manufactured completely in East Tennessee. This five-tiered planter has earned a lot of appreciation by gardeners worldwide. Watering your strawberries is just made so easy! If you simply fill up to the 5 tier mark on the top water reservoir then your job is done! 
Water will automatically travel on its own through an internal system to each tier below – reducing your headache. No special solutions, chemicals or electricity needed since it is soil-based not hydroponic. GreenStalk planters are the only patented gravity-based that waters all tiers at the same time. Other stackable vertical planters over-saturate the top tiers to get to the ones on bottom. Not only that, it can hold up to 5 cubic feet (approximately 40 gallons) of soil mix. Each tier holds 1 cubic foot of potting mix and has 12 drainage holes so excess water can drain out. Excess water can easily redirect by using the GreenStalk Mover. 
PROS 
Interlocked tiers for stability

Deep enough to grow full size root strawberry

BPA, PVC and BPS free

Can be used for organic gardening

Resistant to cracks

Very thick and sturdy

Made with food-safe polypropylene plastic
CONS
Not applicable for greenhouse

Difficult to assemble

Little bit pricy 

Too heavy to be portable
4. Affordable Choice: Self-watering Strawberry Tower
A very simple yet efficient way of growing strawberries is made easier by "Mr. Stacky Self-watering 3 Tier Stackable Planter". This planter is manufactured in the USA. This has several different compartments that ensures a high yield for your strawberries – and of course, a better growth too! The vertical planter comes in dark hunter green color and the pots even have a central hole for a support pipe if required. You just need to water the top tier and the planter will handle the rest of the job on its own. You can maintain up to 12 plants with 14 quarts of soil mix overall. 
PROS
Saves space

Reasonable price

Unique design and build

Easy to assemble and customize
CONS
The top dries out quickly

Most of the moisture is soaked up by the bottom tier

Too short, very shallow

Color not so attractive
5. Heavy Duty Strawberry Bucket Tower:  Mr. Stack's Stackable Planter 
 Here we have another planter in recommendation for you which is once again made in USA. Also, the planters are widely used by commercial growers and universities. These large stacking planters are made to last long and has strong durability. Not only is the material strong, it is flexible and lightweight as well which makes it easier to shift its position and carry around. Furthermore, the plastic is made up of food safe high grade polypropylene which gives the planter the sturdiness it has. 
You can grow strawberries in this planter in your backyard, balcony, terrace, garden, apartments, glasshouse, classrooms and patios.  Just water the top, all tiers below will receive water on its own. The whole thing is comprised of 5 large stacking planters and can altogether accommodate 64 quarts of soil mix.   
PROS
Easy to maintain

More growth with less space

Large and durable plastic

Less chances of weed growing around
CONS
Much soil runs out from the bottom

Moisture dries up quickly

The central hole needs plugging up
6. Fabric Strawberry Planter: BloemBagz Strawberry Planter 
Growing Strawberries is super fun, simple and easy especially when you have BloemBagz Fabric Grow Bag. This bag is made in the USA from polyethylene from different recycled materials. Strawberries have shallow roots that's why this planter bag features 8 side pockets to maximize airflow throughout the roots. It also includes mesh grommets on the base to prevent over-watering. Even if you mistakenly garnish the plant with excess water, the planter will handle the trouble itself by removing excess moisture. 
The planter itself is extremely light weight, and designed with sturdy handles so that it can be easily rotated and moved around, ensuring all your berries are exposed to sufficient sunlight in all seasons! Bloembagz are BPA free, and its fabric quality and unique design makes it stand out amongst other traditional pots available.
This planter bag has been designed in such an elegant way that allows utmost airflow and product longevity. The highly durable material is UV resistant and provides exceptional air flow throughout the soil and root system. The double-layered stitched fabric helps to keep the plants cool in summer and warm in winter. These BloemBagz strawberry planters are available in multiple sizes, styles, and colors. These can accommodate up to 38 qtrs. (9.5 gallons) of soil mix, and if you can ensure proper nutrients and sunlight then your strawberry growth will be a hit in your garden! 
PROS
High durability

Saves up a lot of space

Double-layered breathable fabric

High drainage and aeration

Washable material 

BPA free

Mesh grommets

UV protection 

Heavy duty handles 
CONS
Side-pockets are too shallow

Soil dries out very quick

Water gush dislodges a lot of soil

When watered, the bottom becomes discolored

Not applicable for greenhouse
7. Hanging Strawberry Planter: Pri Gardens Strawberry Planter
Last but not least, we have one final product to introduce you to – Pri Gardens Hanging Strawberry planter. With this planter around, you can grow hundreds of fresh strawberries in your backyard or on your patio and deck. Moreover, in case if you've accidentally over-watered your berries, the planter is designed in such a way that it gets rid of excess moisture and keeps the immature roots healthy. The felt cloth material is very comfortable and breathable. Therefore you longer have to plant strawberries in mounds so that they get ample oxygen. Furthermore, this planter will barely allow weeds to grow nearby. As well, it will reduce all fungus and insects diseases and eliminate decaying of fruits.
The planter bag also includes sturdy reinforced handles which makes it very strong and resistant against tearing apart or the fabric withering off. Cup hooks are also ensured so that you can vertically hang it anywhere be it be indoors or outdoors. Eleven holes per planter can accommodate at least 22 strawberry plants. The safest and recommended way is to at first drill hole into solid-wood surface and insert hook. Proceed to filling inside of the planter with soil mix until the first tier of the holes is reached. Insert one strawberry root through each hole with only the crown sticking out. Go ahead, keep repeating until the planter is filled to the top. Now comes the final step – hang the planter in a place where it may receive proper sunlight. Also, don't forget to water regularly at least one gallon per day! 
PROS
Uses very little space

Protects against excessive moisture

Reduces weeds and diseases

Better growth yield

Naturally air prune the roots

Washable material

Hooks included

Patented
CONS
Moisture may dry out

Bottom plant leaves may wilt

Shallow space for each plant
Things We Need to Check While Purchasing the Best Strawberry Planters
The following things need to check while choosing a planter for strawberry…
Wide Space Planter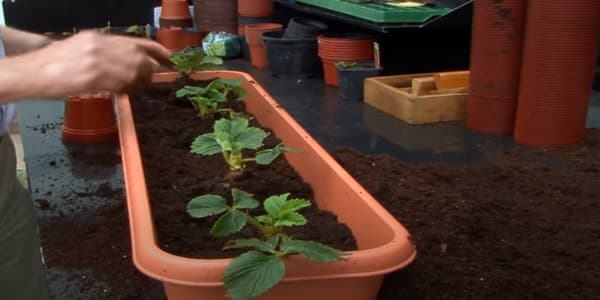 Strawberries are a compact plant, well-reputed for being very tricky to grow .This plant requires lots of space. Make sure whichever planter you choose for this fruit can accommodate wide space. The plants may suffocate due to the lack of oxygen in shallow spaces and photosynthesis will be less. Therefore growth will be smaller too.
Big Size Planter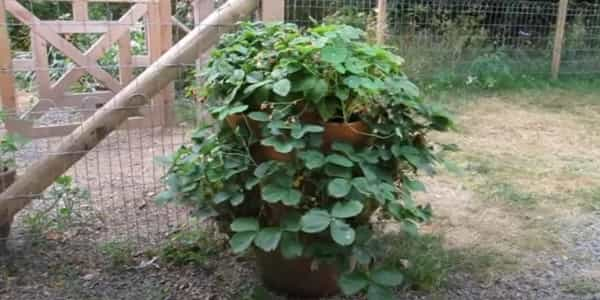 Strawberries can adapt to a wide variety of containers, from, 6-8 inch pots for individual plants to grow in a healthy state. These fruits have relatively small root balls and can be grown in planters as small as 10 to 12 inches in diameter and eight inches deep. However, the smaller the container the more frequently you'll have to water the plants every now and then. That's why it's best to have larger sized planters that use up less space but maximizing growth.
Good Draining Feature     
Whether the strawberry planter is a pot or a vertically hanging basket, always check if they have good drainage features. It's better to have  several holes throughout the planter or at least multiple holes at the bottom face. If there's no proper drainage, over-watering can be hazardous. As a result the roots will grow weaker and start to rot. 
Synthetic and Light Color Pots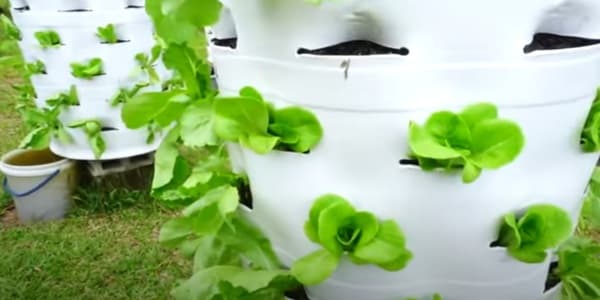 Synthetic pots or very light-colored planters are supposedly more ideal. Because mild colors reflect more light. These will keep the roots of the strawberry plants cooler than darker colors will do, and natural materials that that conduct heat such as clay or metal.
Planter Weight
It is very important that your planter is light-weight and not too heavy, so that it can be easily moved and rotated around. The advantage in having a portable planter is that you can decide on when and how shall plantations receive sunlight in different seasons or under various weather conditions.
Material of the Planter
If you want to grow strawberries in outdoor planters, make sure you check that the material is not metal since the outer coating may rust in case if it rains. If you have small children or domestic pets always running around the house, then it is better not to have ceramic or glass planters – they might easily break. Vertically hanging planters are comparatively better in this case.
Frequently asked Questions
Question: How Do You Water a Strawberry Planter?                                                                            
Answer: Put the soil mixture in your planter and spray water until it is moist but not soggy. Fill the soil mixture then almost to the level of first holes. 
Question: Can You Use Fertilizers for Strawberries Growing in Hanging Planters?
Answer: Yes you can. Sprinkle fertilizers across the top of the soil every ten days. That will suffice. 
Question: How Long do Strawberry Plants Last in Planters?
Answer: Strawberries are short-lived perennials, and your plants will need to be replaced about every three years. It's best to grow them in planters as annuals
Question: Does it Require Extra Insulation for Strawberries in Planters?                           
Answer: Not really. If the weather is cold, wrap the strawberries planter with some insulating item or at the time of winter put them in garage or some indoor area. 
Question: Do Planters Prevent Soil-Borne Diseases?                      
Answer: Yes, as long as your compost is of good quality and you are watering regularly in the correct proportion. In fact, planters keep away insects from nibbling your berries though.
Question: How do You Care for Potted Strawberries?                                                                                  
Answer: Your soil mix should have enough nutrients (compost) which should be kept moist by watering whenever the soil dries out. You can use pesticides and fertilizers too. Adequate sunlight is the most important of all. The ideal pH of the soil should be between 5.5 to 6.5 
Last Words : 
Last but not least, it is true that even many professional gardeners too find growing healthy strawberries very tricky. But it's all easy and simple if you have the right and best strawberry planters with all the necessary features and mechanisms. Then again, not all planters may completely be 'perfect' as per your environment and requirements. There can be minor drawbacks here and there. However, if you can utilize a good-quality planter in the right order, ensuring proper amount of sunlight with regular water access then there's nothing to stress further – your strawberries are on their way to becoming the delicious fruits of the year! Besides this review if you wish can also check out list of top bonsai pot